Entertainment
Jessica Parido Bio: Her Life With Ups and Downs - Cancer Battle and Divorce
Jessica Parido Bio: Her Life With Ups and Downs - Cancer Battle and Divorce This scenario seems fit for the young actress and cancer survivor Jessica Parido, who has it all, from battling cancer to a cheating boyfriend, divorce and making it through that difficult time.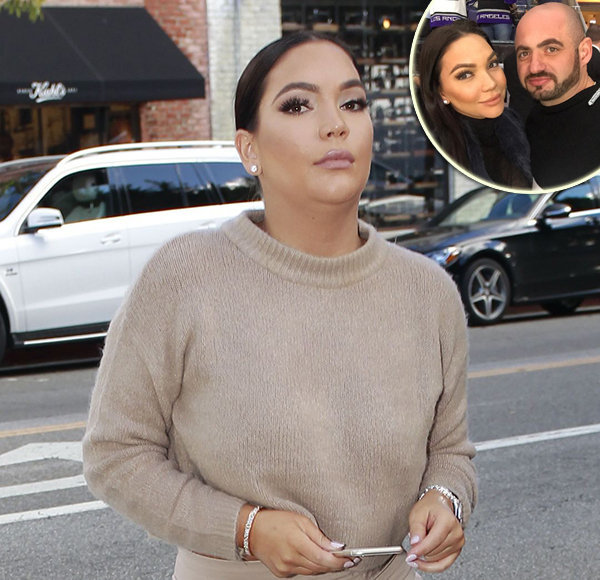 Life is like a roller coaster ride, full of ups and downs. The ups have its fair share of happiness while the downs can be equally brutal. 
This scenario seems fit for the young actress and cancer survivor Jessica Parido, who has it all, from battling cancer to a cheating boyfriend, divorce and making it through that difficult time.
Bio Unveils Cancer Battle & Parents
Born in California in 1988, Jessica Parido grew up in an Iranian-American culture to an extremely affluent family. She was into acting from her childhood days and even participated in school plays and performed on stage.
Fighting Cancer:- Vanderpump Rules' Ariana Madix, 33 Shares How Her Cancer Got Removed
But during her rehearsals, Jessica often complained about weakness and dizziness to the point where she had to stop. The actress was just 14 years old when her father broke her with the news of Leukemia. Recalling her reaction when she first heard the news, Jessica shared,
"It was a complete and utter shock. I remember just one tear dripping down my cheek. I remember saying, 'Don't cry, Dad. I'm going to be okay. I'm going to beat this. There is no way I'm dying. "
Even though the doctor assured only 20% chances of survival, she underwent one marrow transplant, where her sister Kristina, who was 12 years old at that time, was the suitable bone marrow donor.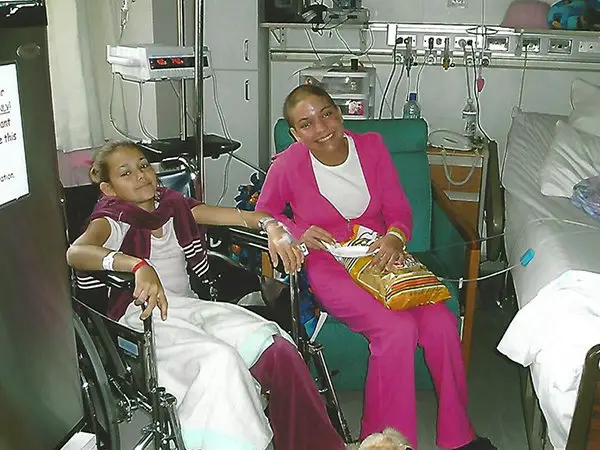 Jessica and her sister Kristina after bone marrow transplant (Photo Credit: People.com)
When asked about her sister's forgo, she expressed:
"I literally owe her my life." 
But the surgery wiped out Jessica's immune system, and she lived in hospital bubble for eight months; even celebrating her fifteenth birthday in the hospital.
During the time, she was home-schooled and spent most of her time making arts and crafts for other sick kids in the hospital. She did not let the depressing environment along with the scared & crying parents break her. Instead, she took it in the right way and became spiritual.
After struggling eight months for survival, Jessica finally got released from the hospital. Expressing the feeling she had when she got discharged from the hospital, she divulged,
"I just started crying because I hadn't even smelled fresh air in, like, eight months," she says of taking her first steps outside the hospital.
After surviving from cancer, the reality star completed nursing and persuaded her pending acting career.
With Mike Shouhed - Engagement Ring & Divorce
Jessica got her big break from the show called "Shahs of Sunset," through which she got romantically linked to Mike Shouhed.
From The Same Show:- Asa Soltan Rahmati, Proud Baby Mama At Age 42! With Boyfriend Amid Drama
The couple later turned their relationship into engagement after Mike proposed Jessica on 4th June 2014, while they were skydiving. Recalling the moment, Mike exclaimed,
"Right before I jumped – and my heart was beating out of my chest – I yelled to Jessica, 'I love you! Will you marry me?'
Jessica replied with a "Yes," and the couple began their journey to a wedding.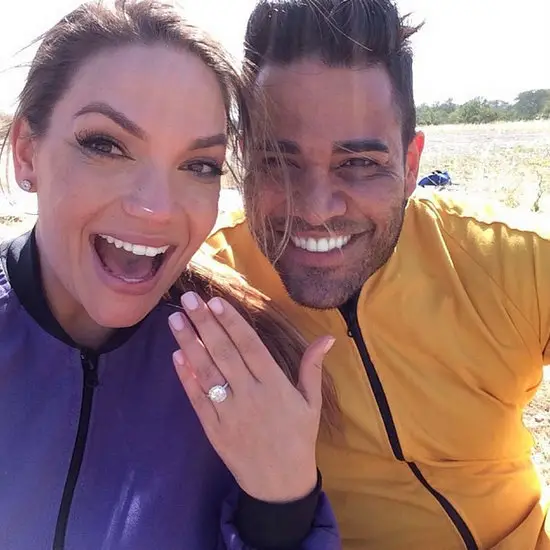 Jessica flaunts her engagement ring with Mike by her side in June 2014 (Photo:- realitytea.com)
Just nine months after the engagement, the couple exchanged their vows on 29 March 2015 at the Biltmore Hotel in Los Angeles. They had an elegant wedding with both the bride and groom doing every bit of justice to their wedding attire.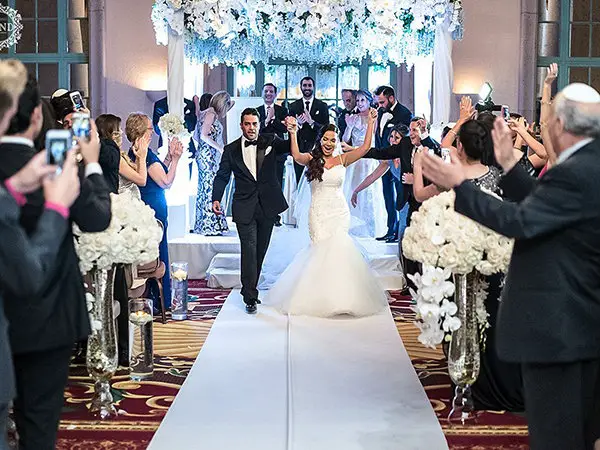 Mike Shouhed and Jessica Parido as bride and groom on 29 March 2015 (Photo Credit: People.com)
Although not many details are available about the wedding, the pictures assure that the wedding was like a ceremony on a fairytale.
But the rumors of divorce started floating in while people were not even done gushing about their wedding. In the show, 'Shahs of Sunsets,' Mike admitted that he cheated his newly married wife multiple times. Jessica filed for divorce after the truth of Mike came out that way.
Post-Divorce Life: Net Worth & New Boyfriend
During their divorce, both Mike and Jessica each had a net worth ranging from $2-$2.5 million due to which a considerable controversy hiked regarding the spousal support. However, Jessica later cleared the issue, saying:
"I want to clear the rumor that I am asking Mike for spousal support. I am not asking him for anything. When I left Mike three months ago, I left with my clothes on my back and two small duffel bags. I haven't gone back for one thing. I don't want anything from him. I don't want anything from him at all. I want to move on with my life. I don't want a penny from him. That couldn't be further from the truth. I want to move on with my life and I want to give all my time, energy and love that I gave to him to someone that deserves it, and it's clearly not Mike."
While the news of divorce was still going around, Jessica surprised everyone by getting linked up with Karlen 'Chris' Shubaralyan.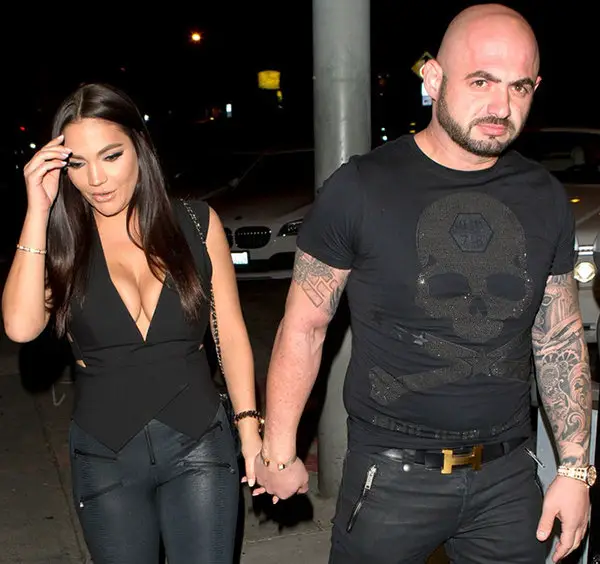 Jessica Parido holds hand with rumored boyfriend, Karlen 'Chris' Shubaralyan (Photo:- etonline.com)
Jessica, who seemed to have moved on despite her divorce still on process, shared that she was having a hard time moving on from her first marriage. She explained,
'It may seem that I moved on quickly, but I've been separated with Mike for over three-and-a-half months. 'I'm ready to start a new life and be happy. Karlen makes me extremely happy."
Jessica and Karlen even took one step further and got engaged just eight weeks after filing for divorce. Karlen proposed her with the most beautiful engagement ring in a romantic way. Explaining it further, Karlen added:
"I'm going to show Jessica how a real man treats a woman," 
Everyone was happy for Jessica as her divorce with ex-husband Mike came through in 2015 and her fiance, Karlen seemed like a good man, or at least we thought so!
Fiance's Dark Past Resurfaces
Karlen had pending charges including domestic violence, forcible rape, stalking, first-degree burglary, injuring a spouse and hindering witness. All of which stemmed from the cases against his ex-wife, Taline Bilamjian, back in 2014 and was he was supposedly out on bail.
Jessica did not make any statement in this regard, but she did post a picture of herself without the engagement ring, putting an end to the engagement with Karlen in February 2016.
Welcomes Baby; Who's The Father?
Through numerous setbacks and upsets, Jessica stood still. Her perseverance finally paid off when she had her first baby in February 2019.
Baby In 2019:- Kendra Caldwell Pregnant, Baby, Husband
She, however, initially opted to hide the pregnancy from the world fearing judgments. But on 16 April 2019, the registered nurse-turned-reality star finally opened up about giving birth to a baby boy.
Sharing the joyous news via a poignant Instagram post, Jessica expressed her disbelief on being pregnant - while prefacing her cancer background.
"The level of shock and disbelief I had when I found out I was pregnant naturally was unimaginable... "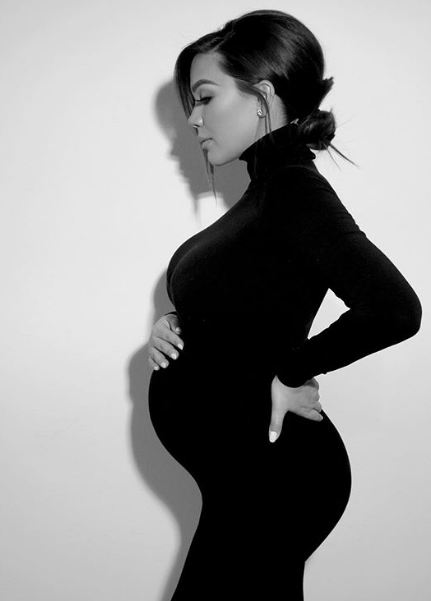 Jessica Parido cradles her baby bump circa late 2018 (Photo:- Jessica Parido's Instagram)
The Bravo starlet refrained from disclosing the identity of the baby father.
Upon the revelation, her ex Mike Shouhed shared that he knew of Jessica's pregnancy early on. According to him, he wished then-expecting mom all the happiness in the world.