Entertainment
Cool Mom's Jinkx Monsoon & Son Talks, Married At Age 30? RuPaul's Winner Details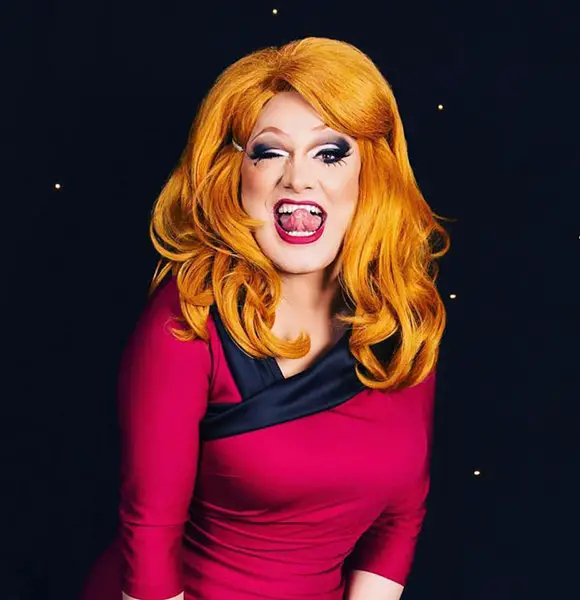 Drag performer, Jinkx Monsoon came out as victorious in the fifth season of RuPaul's Drag Race held in 2013. Jinkx later became a household name after they created a new show and also featured their son on the series. 
Often joking about their love life, Jinkx has made fans wonder about their dating status and if they have a boyfriend or not. Continue to learn about the twisted life of Jinkx and their son along with other details including married status, age, tours and more.
Cool Mom Of A Gay Son
Jinkx, who plays itself in the drag show Cool Mom with Jinkx Monsoon, has a twisted relationship with her onscreen son. The show, which is based on Jinkx and its 29-year-old gay son, Nick Sahoyah ( real-life best friend).
The series is based on the onscreen mother and son's weird conversations related to topics like hook-ups, smoking weed and more. 
See Also:- Transgender Actress Jamie Clayton And Her Dating Affair With Actor Keanu Reeves Amid Of 'John Wick 2'
Although Jinkx and Nick are parent and kid only in the show, it seems like Jinkx has taken method acting to a new level as they often introduce Nick as their son even beyond the camera. 
Jinkx regularly features Nick on their social media and has also dedicated several posts towards him. Jinkx, who considers their fake son as the family, posted a picture of the two on 28 March 2016 and called it "armpit fetish shoot" as Nick could be seen raising his arms in the air.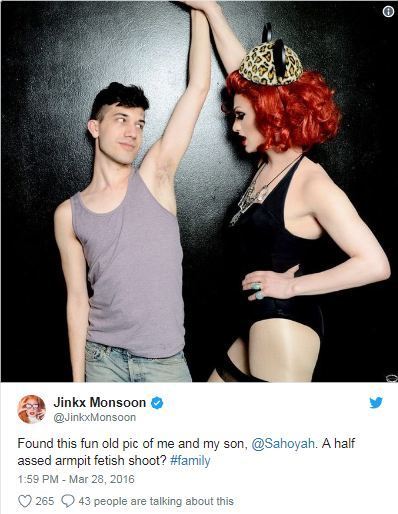 Jinkx, along with the onscreen son, Nick Sahoyah (Photo: Jinkx Monsoon's Twitter)
Further, on 14 May 2017, Jinkx posted another tweet mentioning that they had a beautiful mother's day.
You May Also Like:- Nicole Franzel & Victor Arroyo - Big Brother Stars Dating, Fans Go Haywire
Apart from their relationship with onscreen son, Jinkx also continually jokes about their love life and wish of having a boyfriend.
Jokes About Getting Married; Wishes For Boyfriend
Jinkx, who identifies as a trans and a non-binary, is known to joke about their dating life frequently.
On 15 February 2013, Jinkx mentioned that they had gone to a matchmaker to find a suitable partner to celebrate Valentine's Day and was matched to drag queen Alaska Thunderfuck, but unfortunately, Alaska was already in a relationship with Sharon Needles. 
Jinkx later posted on 10 July 2015 that they were about to get married to comedian Ed Gamble and even joked that his girlfriend had already permitted for them to marry. 
In desperation to find a boyfriend, they posted on 9 December 2015 that they didn't want to be single but was too lazy to work on getting a boyfriend. They wrote in the tweet, 
"I don't wanna be single anymore. But I also don't want to go through all the work of getting a boyfriend. How do lazy people find love?"
Jinkx, who ages 30, is still single and due to their lack of effort, they may have to remain single and unmarried for quite a while. 
Read Also:- Ring! Emma Louise Connolly Age 26 & Super Hot Boyfriend Engaged To Get Married
In the meanwhile, the drag performer has a hectic tour ahead. They are scheduled to perform in different cities around Europe and America including London, Dublin, Manchester, Glasgow, California, and Toronto in October 2018.
With such a busy schedule, Jinkx might not have much time to focus on their personal life.