Entertainment
Is Joe Namath Married After Divorce With Wife? At Age 75, Here's Answer
Despite being the top face of AFL and gaining a grandeur success, theJoe Namath still struggles with lots of hidden details about life and love. Getting dumped by his wife, Namath still lingers today in a search for the same sensational love that he once had. Has the sports star found the one at the age of 75? Is still a popular question buzzed by everyone!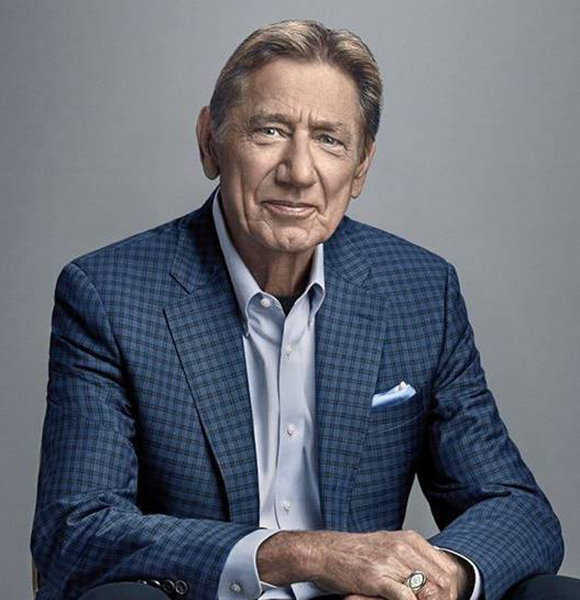 Talent just spurred out for Joe Namath since he was a kid. Exceptionally good at sports, the Pro Football Hall of Fame quarterback became the most excellent American footballer of the '60s who is looked upon as the face of AFL till today!
Despite such grandeur success, the footballer still struggles with lots of hidden details about life and love. Getting dumped by his wife, Namath still lingers today in a search for the same sensational love that he once had.
Has the sports star found the one at the age of 75?
Once Married Happily: Namath Starts A Tragic Tale After Getting Dumped!
Joe Namath is the first player in the U.S pro football history to throw for 4000 yards in a season. Being a sensational footballer, he wasn't just popular amidst fans and rookies but equally among ladies too.
Don't Miss: Noelle Watters Age 42 Wiki: Nasty Divorce With Jesse, Net Worth & Facts
For his love of New York City's nightlife and his great enthusiasm for indulging with girls, Namath earned himself the nickname "Broadway Joe."
Amidst all glamour and girls, Joe finally found the kind of love that got him off his feet. Meeting Deborah Lynne Mays in the year 1983 while attending his singing lessons for the stage performance that he had heartily loved doing besides football, he knew for sure that he had finally met the love of his life!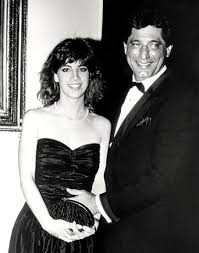 Joe Namath with his former wife Deborah Lynn Namath (Photo: Whodateswho.com)
Soon after crossing paths with Deborah, he made her his wife by tying the knot in the year 1984 and leading a happy married life together. The couple welcomed their two daughters, Jessica and Olivia, together.
Joe was more intrigued in pleasing his wife and spending time with his daughters than making a fortune out of football at the time.
But after the easy-going life the duo shared, the two ended their ties with a rough divorce. Their split was partly due to Deborah's issue with how the relationship was going and partially because Joe had turned into an alcoholic.
Deborah ended the fourteen years of marriage saying that:
"We have two beautiful daughters, but finally I had to tell Joe the marriage wasn't working for me, I was bored. I'm in love with Brian. He's different from Joe. He's very sensitive."
Does Joe Namath Have Plans For Marriage Again At The Age Of 75?
When his former wife dumped him and went away with a Beverley Hills plastic surgeon Brian Novack, Joe was left with nothing. Dark days hit the footballer hard leading him deep into depression.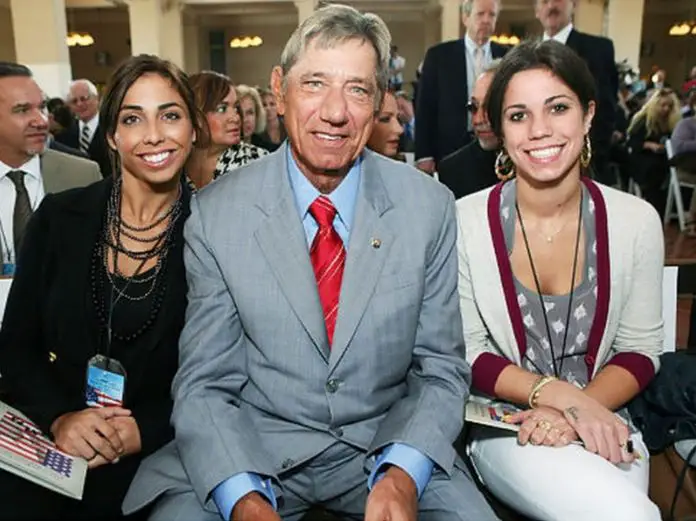 Joe Namath with his beautiful daughters (Photo: Medium.com)
But coming out of it all, the NFL star then coped up with his loss and grief and later led to more splendid performances in the field.
After getting his name down in the Hall Of Fame, the footballer now spends time playing, going for interviews and writing his autobiography which was released as "Namath" in the year 2006.
Read Also: Packy Lee, 35, Keeping Married Life & Career Afloat, Secret To Happy Family Revealed
After his divorce, the former rookie was reported to have indulged with a couple of ladies, some of his official fling being Suzie Storm and Randi Oakes.
Even with romance swirled with few of the hottest girls in the celeb world, Namath never considered of getting married to anyone again till he was settled still after his break.
The Beaver Falls, Pennsylvania native reported to the Playboy magazine saying that:
"Not at all. I've been going out with a girl named Suzie Storm for a few years and I feel that someday I'm going to marry her. But I'm not ready to get married yet; I don't think I could be faithful. It's very idealistic and seldom true, but when you're married, I think you're supposed to be married and that's it — no clowning around."
At the age of 75, American football has left his brutal episode of devastating divorce, his severe period of depression and failed attempts to escape alcohol behind and has moved ahead with a brighter side to life.
More About AFL Players: Bonnie-Jill Laflin Likes To Keep Dating Affair With Boyfriend Hushed-Up!
However, one thing's straight that he doesn't seem to be settled enough for another marriage soon enough!
Opens Up About Dark Phase In Life
The beloved footballer opened up about the dark days in his life in the NFL champ's new offering, a book named All the Way: My Life in Four Quarters.
Joe recalled how deep he went with his alcohol addiction, so much that it nearly caused his death. He reflected that he made his divorce a reason and drank himself to oblivion.
NFL Player's Interesting Life:- Ezekiel Elliott Girlfriend, Married, Background
But one incident changed the course of his life. During an interview, a drunk Joe told ESPN reporter Suzy Kolber that he wanted to kiss her. The uproar that followed after the incident didn't leave the Super Bowl MVP behind. His friend, family, and the fans were left disappointed, and the man himself went into self-reflection.
After the infamous episode, Joe went sober and didn't touch a drop of it. While promoting his new book, he recalled that incident as a  blessing in disguise. Also, his book also touched upon the brain issues faced by ex-NFL players.