Entertainment
Joey Birlem Girlfriend Confusion At Age 16; Dating Maddie Ziegler For Real?
The news about his dating life with the dancer Maddie Ziegler started to swirl after her Instagram account which she said to have hacked started following and flirting the coolest Instagram star Joey Birlem in November 2017.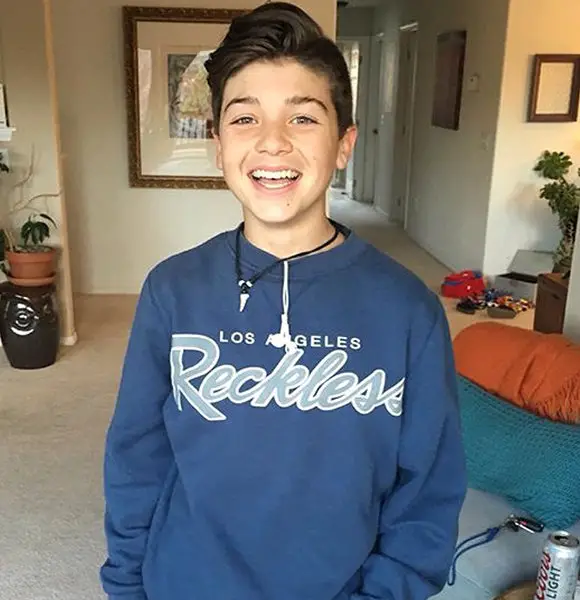 American social media star Joey Birlem, whose real name is Joseph Birlem, is blessed with the millions of followers and supporters at the young age of 16.
His sky-rocketed career not only benefitted his stardom but also benefitted his entire family life. His siblings and parents usually get featured on his YouTube video.  
With his dashing personality enhanced by his charming face, he has not openly talked about his girlfriend. But once he was engaged in the flirty interactions with the beautiful dancer, but their interaction ended after his rumored girlfriend cleared the confusion.
Flirty Interaction With Maddie Ziegler; Rumored Girlfriend Turned Foes
The news about his dating life with the dancer Maddie Ziegler started to swirl after her Instagram account which she said to have hacked started following and flirting the coolest Instagram star Joey Birlem in November 2017.
See Also:- Lauren Elizabeth Young Age Success! Loving Boyfriend | Soaring Jewelry Line
Soon the fans started noticing their secret romantic comment; their followers started accusing Maddie of cheating on her boyfriend Jack Kelly with the 16-years-old Joey.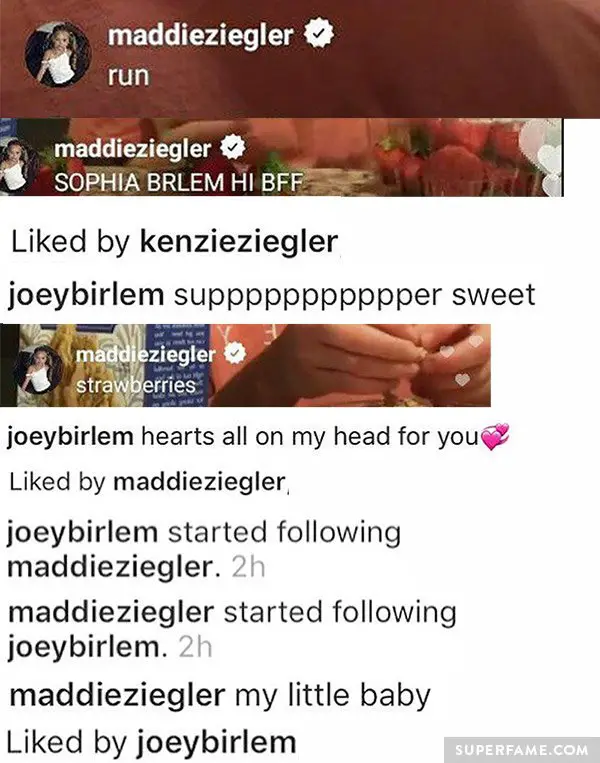 Joey Birlem, Maddie Ziegler public interaction (Photo: superfame.com)
When the internet started bombing the young Maddie for her mischievous behavior, she went live with the 15-minutes video claiming she was not the one who was being flirty with Joey.
With their open flirty interactions, fans thought either they have been dating each other or that her relationship with her boyfriend Jack Kelly was on the verge of a split.
You May Also Like:- Where Is Daisy Marquez With Cutest Boyfriend At Age 20? Dating Status Now
In her 15-minutes video, she explained how someone hacked her Instagram account and claimed that she is not lying on this matter as she does not lie usually. Additionally, she shocked the audience when she uttered that she has no idea who Joey Birlem is. 
"I have never heard of him before. One day on my account it said I was following him!"
After accusing the mysterious hacker of misusing her account, she further described that she would never cheat on her boyfriend, Jack Kelly.
"I am not that type of girl. At all. I am in a relationship. I would never do that! EVER! I would not comment flirty things on some other guy's Instagram while in a relationship."
Also, she cleared the rumor directing stating that she is still together with Jack and is not aware of the whereabouts of Joey.
"Jack is the only boy I love. We're together. I have no clue who this other guy is."
After she cleared the confusing air, Joey seemed to be badly hurt with her statement. Joey was not ready to accept that her account was used by someone else and immediately threw some shade that Maddie was lying and a cheater. And so, he quickly tweeted quoting "You're a bad liar" to somebody.

Joey Birlem satiric tweet (Photo: superfame.com)
Similarly, he also went to like the comment of his followers on Instagram where the commentator was accusing Maddie of lying and cheating. Also, the commenter stated:
 "She commented on every Joey + Sophia live. She still follows Joey on Musical.ly and Twitter. Were those hacked too?"
Well, whether she was lying or she was telling the truth, that cannot be clearly affirmed but after knowing the facts that her account was being misused she has not unfollowed Joey. Her Instagram account might have been hacked, but it is hard to believe that her twitter and musically account was hacked too.
Read Also:- Aspyn Ovard, 21, And Husband Are Goals! Shares Stunning Wedding Ceremony
Moreover, as of 2018, So You Think You Can Dance: The Next Generation teen-judge is strongly marching her relationship with her boyfriend, Jack. After many allegations and bad-claims, the 15-year-old dancer was strolling on California with her boyfriend holding hands.
But Dailymail made the audience more confuse after citing Jack as the Instagram star, Joey Birlem.
Though his alleged girlfriend is going strong with her boyfriend, defying the gay rumors Joey shared the picture on Instagram in July 2018 where his female fan was giving a sweet kiss on his cheek. 
YouTube Career Includes Parents, Siblings; Hefty Earnings
Joey, who celebrates his birthday on 29 May every year, successful career benefitted his entire family members as his siblings which include two sisters Sophia and Bella including his mother are ranging to the height of popularity.
Unlike his two sisters, his two brothers, Scotty and Kashius remain under the shed and their whereabouts have not been disclosed. His mother, step-father, and sister Sophia usually get featured on his YouTube channel where he posts his vlogs, challenges and other videos. Also, he created a YouTube channel along with Taylor Holder as Joey and Tayler back in January 2016.
Also, along with his social media career, he teamed with Charles Gitnick to form Team Choey in April 2018 to create an official music video titled Anything. From his YouTube career, he is estimated to earn a monthly salary of between $40 to $647 which made his annual earnings in between $485 to 7.5K.