Entertainment
Movie Star John Michael Higgins Wife & Family | Is Their Old Love Struggling?
Working as an actor for over three decades, John Michael Higgins is known for his immense versatility and his ability to do justice to a wide variety of characters he portrays on screen, However, off-screen, the actor has stuck up to a single role and remained extremely loyal in that; the role of a husband.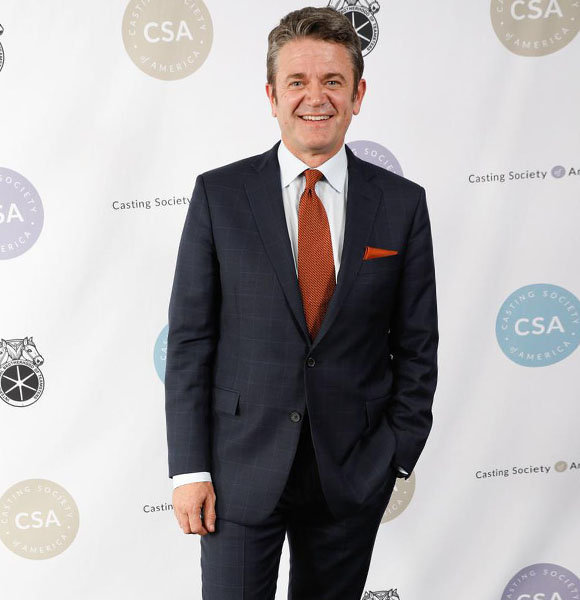 Working as an actor for over three decades, John Michael Higgins is all about versatility, his range of characters on screen and ability to do justice to all! 
However, the actor's best defining role is that of a family person, the role of a loving husband and proud father. Married to his actress wife, John, along with his wife, has nothing but an exemplary power couple.
With a never-ending romance and similarity in profession, John and his wife has kept divorce talk out of horizon. Instead the actor has let his marriage be the source of inspiration. 
With no hesitancy whatsoever in performing whatever roles he's provided with, John, with his hard work and dedication as an actor has been able to build a massive net-worth for him and his family to enjoy.
Movie Star's Romantic Fairytale With Wife: Growing Age Taking Its Turns?
John has been married to the Grey's Anatomy actress Margaret Welsh since 1 February 2003. With a preference to maintain a low key personal life, both John and his wife have kept a fair share of marriage details to themselves. 
You May Also Like: "Workaholics" Star Adam DeVine Calmly Dating While Girlfriend Wishes Wife Tag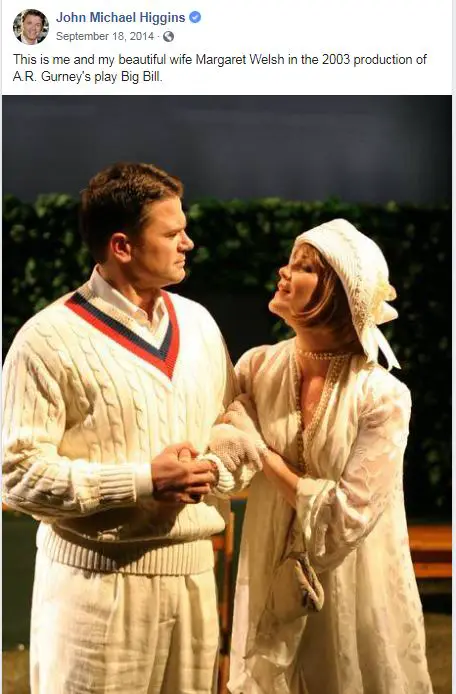 John Michael Higgins along with his wife Margaret Welsh. (John Michael Higgins' Facebook)
The married couple was soon blessed with their wedding gift in the form of their daughter Maisie Higgins, born on 3 August 2003. Another member got added in their small family via the addition of their son Walter Lloyd Higgins, born on 29 August 2006.
Extremely secretive about his personal life unlike his character portrayals onscreen, John has been extremely careful to not reveal any personal life details. However, the Pitch Perfect star has been seen spending some family time with his wife and children in public places.
The Boston born star was identified visiting the International Spy museum along with his wife and two children on July 2015.
With the growing age of the couple, John and his wife have not been seen together on recent occasions. This has sparked the rumor of their old love struggling in recent times. However, John cleared all the rumors with a Twitter post on 10 April 2017, where he appeared alongside his wife and family.
Read Also: Kether Donohue To Get Married And Have Husband - Just Not Yet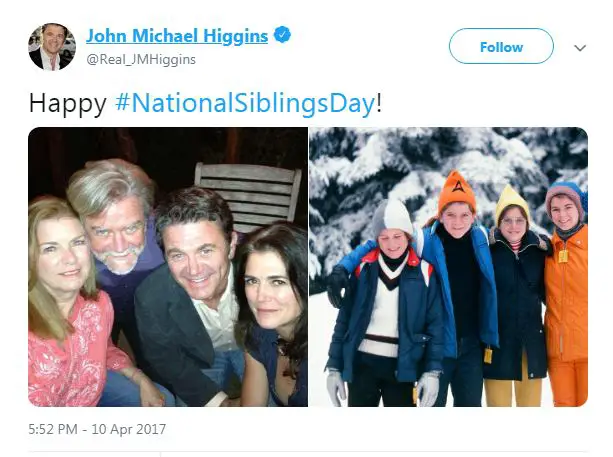 John Michael Higgins' entire family including his parents, wife, and children. (Photo: John Michael Higgins' Twitter)
Marking their 15 years together, John, at age 55, has thus shown no signs of his love towards his wife Margaret decreasing by any means. The movie star is thus all set for happily ever after along with his wife and family.
Bio Reveals Career Highlights and Net Worth
Born and raised in Boston, Massachusetts, John began his career at the comedy show National Lampoon's Class of '86 in 1986, portraying various roles. The actor has never turned back since then and has gone on to portray several memorable characters on screen.
John is most widely recognized for his roles in movies like Best in Show, A Mighty Wind, and Pitch Perfect. Furthermore, his character portrayals as a gay in his career have been enormously applauded.
Among many of them, one gay role of his that caught everyone's eye was his role of Peter Lovett in American sitcom Happily Divorced.
Don't Miss: Bob Barker Health Issues Arise: Hospitalized At Age 94 As Backache Sears
John, who has over 120 acting credits to his name, is currently the host of a game show named America Says. With a wide display of roles in movies, tv series, and game shows in his career, John has managed to accumulate a massive net worth of $5million for him and his family to enjoy upon.