Johnny Dawkins is a true legend of NBA who has not only played the sport but also contributed in the...inclined towards coaching and signed for the Stanfords in...wife met each other at the age of sixteen and realized their love for each other...impressed all the selectors with immediate success in his first two seasons with...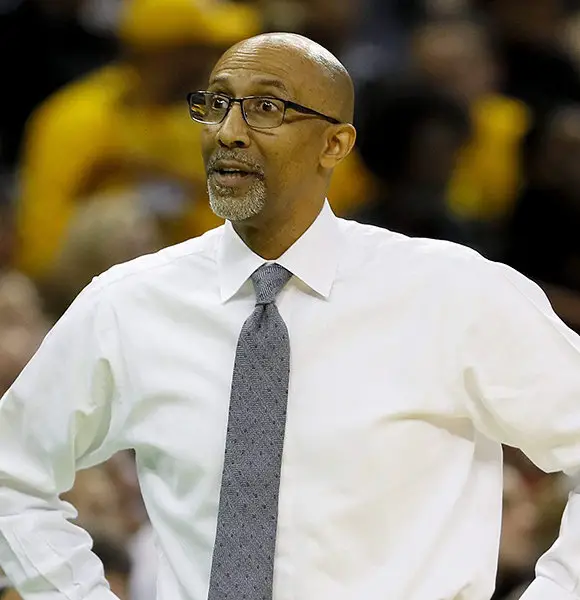 Johnny Dawkins is a true legend in basketball as a player and coach for college basketball teams. 
Giving up his playing shoes after the 1994-95 season, Jonny inclined towards coaching and signed for the Stanfords in 2008.
Now, after prolific seasons in coaching, the University of Central Florida Knights' boss is looking to clinch his first college basketball title at NCAA tournament 2020.
Family, Wife & Son
Johnny Dawkins has been longtime married to his wife, Tracy Dawkins.
The couple met each other at the age of sixteen and realized their mutual love instantly. In 2008, they tied the knot and started a family. The married couple share four children; Blair, Sean, Jillian, and Aubrey Dawkins.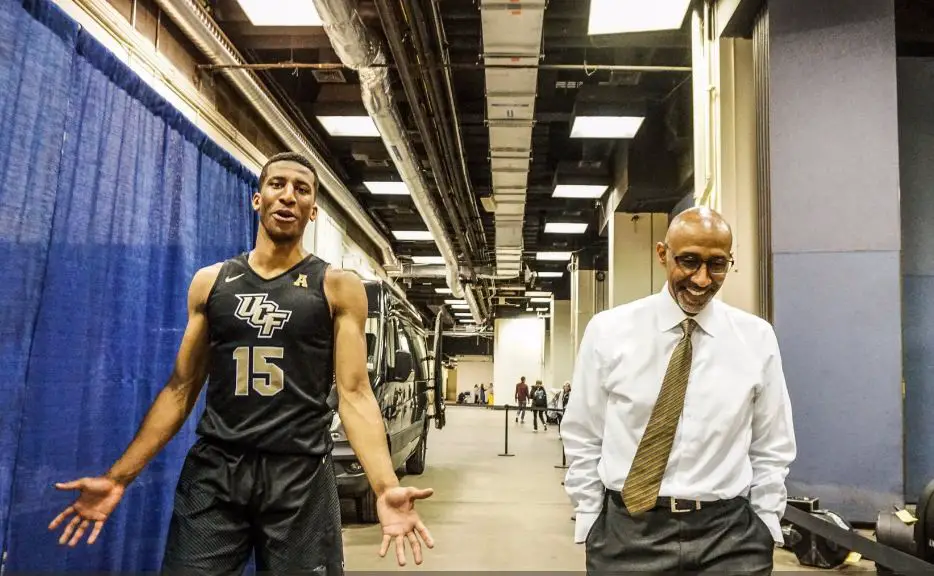 Johnny Dawkins and son Aubrey Dawkins walk together after a match in January 2019 (Photo: Johnny Dawkin's Instagram)
The youngest son Aubrey decided to pursue a career in basketball and joined his father's team UCF Knight in 2017. The father-son duo are looking to win their very first college basketball title together.
Salary & Net Worth
Signing a new contract with the UCF Knight on March 2016, Johnny impressed the selectors with immediate success in his first two seasons with the Knights.
He propelled the 12-18 men squad - who had never finished above 500 since the 2012-13 season - to a record-high 24-12 in his very first season. The perfectionist head coach led them to a fourth-place, the team's highest in the American Athletic Conference Tournament, falling short to champs SMU in the semi.
San Antonio Prodigy:- LaMarcus Aldridge Contract, Net Worth, Wife
From his contracts alone, Johnny previously earned a decent salary of $1.1 million, which was extended in 2017 to an additional $1.5 million.
The former Duke guard's net worth as of now is yet to be publicized. But, judging by his salary, he could be worth a few million.
Bio: Age, Height 
Johnny Dawkins was born on 28 September 1963 in Washington, D.C. He was raised by parents: mother Peggy and father, Johnny Sr. 
His parents worked multiple jobs to support the family. Johnny' father, a former military man, also served as a bus driver, train operator, and station manager for Metro. His mother, meanwhile, works at the University of Maryland and the H&R Block.
Growing up, his father managed morning shifts to teach his son basketball in the afternoon. Soon, the point guard joined the Duke Blues High School.
There, Johnny played for Duke Blue Devils team and scored 133 goals in 133 games for the college basketball, which added to his fabulous stats. His height of 6 feet 2 inches (1.88m) further helped him to maneuver the ball and defend against the opponents.
Former Basketball Coach:- Dan Dakich Show, Wife, Son, Net Worth, Family
In 1986, he was drafted as the tenth player by San Antonio in the NBA. After playing for three seasons with the team, he joined Philadelphia 76ers in 1989. As an athlete, he played 541 games and scored 303 points in his NBA career.
After ending his playing career in 1995, the former point guard made his coaching debut in 2008. Further, Johnny gained high praise during his time at UCF, scoring four 20-win seasons with the team.