Entertainment
Jon Lovitz Sparked 'Getting Married' Rumors With Notably Young Girlfriend But Was That All True?
There's one thing called a "surprise," and there's this thing called "shock." It came out as a shock to everyone when Jon Lovitz revealed that he is engaged to Jessica Lowndes and is about to get married and share a husband-wife relationship. But was it really the truth?
Girlfriend Soon Becoming Wife? Getting Married Or Just Rumor?
Everybody got surprised when the famous comedian Jon Lovitz shared a photo of himself and the 90210 stars, Jessica Lowndes riding in a Bentley convertible.
Related: Jessica Lowndes Revealed Dating Affair With Older Boyfriend For Fun! But It Back-lashed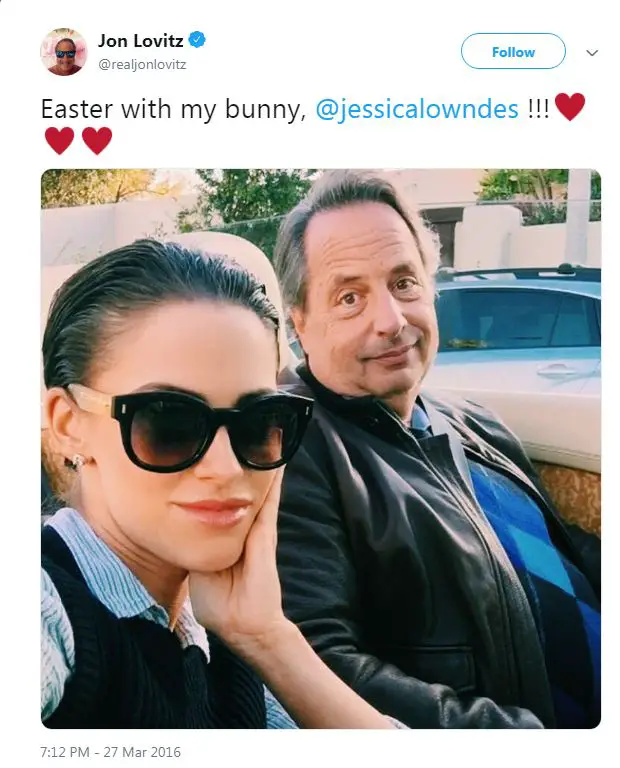 Jon Lovitz alongside his rumored girlfriend Jessica. (Photo: Jon Lovitz's Twitter)
This tweet denoting his younger girlfriend ignited the fire as nothing did. While some goofed up claiming it to be a prank, others went with it feeling happy for the couple. But the fire got its fuel when Jessica shared another picture over her Instagram.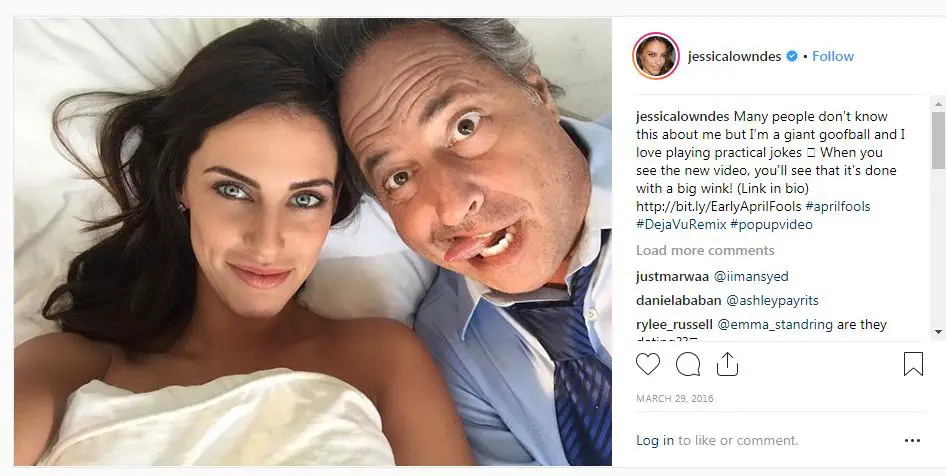 Jon Lovitz and Jessica appearing together for a prank. (Jessica Lowndes' Instagram)
Finally, these two posts from Jon and Jessica led them to the headlines with speculation that they were really engaged.
But Jon and Jessica revealed the truth behind the nature of their relationship in an interview where Jon gave the statement,
"I came up with the idea for [the fake relationship] last week. I thought maybe it would get some traction but I wasn't expecting it to blow up like this."
And when the mic turned to Jessica, she stated that April Fools came early for the two of them.
Read Also: Eddie Izzard Despite Partner History, A Heavily Rumored Gay; Here's Why
Jessica Lowndes posting a ring sparking rumor of her to be engaged. (Jessica Lowndes' Instagram)
Moreover, Jessica revealed that the picture of the ring she posted without any caption on her Instagram wasn't even her's. She said.
"It was a picture from Google."
The 90210 stars took the full responsibility for the dating prank, which lasted almost a year.
"I love playing practical jokes, so last year on April Fools' Day, it leaked I was in Will Ferrell's Lifetime movie [A Deadly Adoption], so this year, I decided to pull an April Fools' joke of my own, and what better partner in crime?"
It was later revealed that Jessica played the practical joke just so she could grab all the attention before the release of her new music video. Hence, basically, the whole 'getting married' fiasco was just a promotional stunt by Jessica, where she was well supported by her good friend Jon.
Jon And His Vocal Nature About Gay Rights?
Although he is straight and fancies relationships with ladies, he has not backed down from being pretty vocal about his support for gay rights.
He has been found to voice his opinions about gay people on more than one occasion.
"Gay people can get married in all 50 states. And everyone's worried about who's going to bake the wedding cake??? I'll tell you who. ACLU of Washington "When gay people go to a business, they should be treated like anyone else and not be discriminated against. No. It's about letting gay people marry, if they want, in all 50 states. It's not about you"
These tweets from Jon shows he fully supports gay rights and he is not backing down from making him as well as the gay people being heard.
Recently appearing in his comedy hit, Chasing The Blues in 2017, Jon has had a long and successful career as an actor and a comedian. This hard work thus sees the famous comedian enjoy a net worth of $12 million.