Jonathan was born on 16 April...enrolled at Coral Gables High School from where his football career...parents were Haitian immigrant who immigrated to the United States from...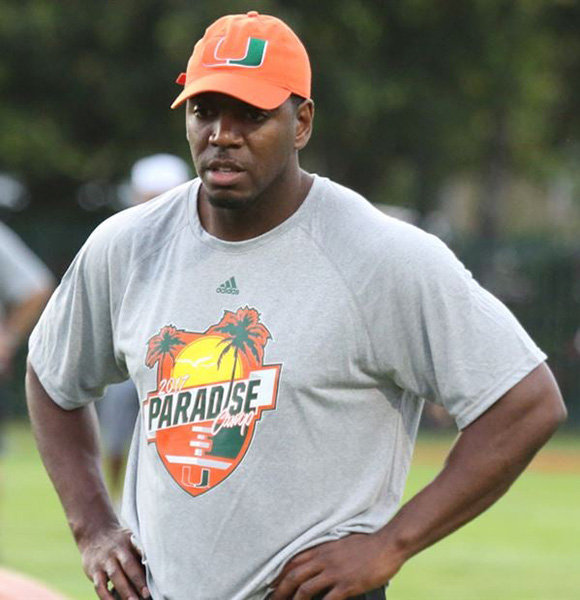 Jonathan Vilma is an American TV host. He is best known for appearing on ESPN as a college football commentator.
However, Johnathan is not just all talk and no play. Before his journalism career, he was a star football player. Drafted by New York Jets in 2004, he spent almost a decade in the game before a tragedy struck.
Footballer-Turned-TV Host Net Worth
Although Jonathan is known for his outstanding commentaries on his TV shows, he was a person in the stoplight long before.
Johnathan was a famous football player early in his years. He started his career during his college years. After leaving his college, he played professionally as a linebacker and became the NFL's Defensive Rookie.
In 2012, he played 11 games for New Orleans Saints. But, his career came to a halt when he was placed on the Reserve/Injured Designated as he had to undergo knee surgery in 2013. He officially retired from football on 6th of December of 2015.
Another Footballer In ESPN:- ESPN's Charles Woodson Keeping Wife & Family Closer; Shows True Love
Even after leaving the sport, he found a way to be with what he loved.
He joined ESPN in July of 2016 as a college football commentator. With his career change, the star athlete has been able to keep himself busy and also provide for his family.
Despite ESPN not revealing his salary, there is no doubt he gets paid handsomely. Considering that he sold his house in Tahiti Beach Island, Coral Gables for $14.38 million, his net worth is certainly well above in the range of millions.
Secretly Married Or Single?
Jonathan has always been a secretive person; he keeps his personal life away from his stardom. However, in 2012, he did slip up on his social media Twitter that he was married.
The linebacker mentioned his wife in response to a fan commenting on his photo. However, that is all of it. He remains tight-lipped on his partner's information, since then.
Meanwhile, he doesn't shy away from being open about his daughter, Samara. The host flaunts his wonderful daughter whenever he can. Jonathan's social media, Instagram, Twitter, and Facebook are filled with pictures of him and his daughter.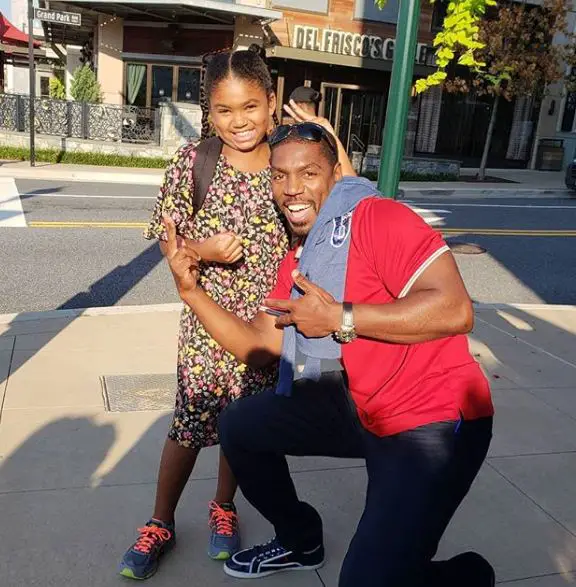 Jonathan Vilma with his daughter Samara on 6th of September 2018 (Photo: Jon Vilma's Instagram)
With how Jonathan has kept details of his partner under wraps, it may be that Samara might be a product of a quick fling, not uncommon amongst athletes. Or it could be that his wife or girlfriend doesn't want to be a part of the glamour.
Whatever the case may be, the world will only know more on the matter if Jonathan decides to share anything.
Jonathan Vilma Bio
Jonathan was born on the 16th April 1982 in Coral Gables, Florida.
He grew up in the family of father, Fritz Vilma, and mother, Nelly Banatte. His parents were Haitian immigrant, who immigrated to the United States from Haiti in 1970.
Despite his background, Jonathan had a sound upbringing. He went to G.W. Carver Middle School and attended Coral Gables High School for his education. With his athletic prowess, he received an athletic scholarship from the University of Miami.
A Football Legend:-Is Joe Namath Married After Divorce With Wife? At Age 75, Here's Answer
Regarding his physical appearance, the athelete is a tank of a man. He stands with a giant's height of 6 feet 1 inch (1.85 m) and weight of 104.32Kg.