Entertainment
Jordan Cameron Wife, Girlfriend, Children, Net Worth
Bulldozing his way in the National Football League, pro tight end Jordan Cameron is a renowned American football player with a lot of history.
Originating from Cleveland Brown in the year 2011, Jordan was an accomplished USC college football player destined for greatness. While he used to play various sports in the college like basketball, volleyball, and football before, his interest in a career in football took him to the USC.
During his time at the institution, he transitioned from a wide receiver to his favored position of tight end. As of 2017, he is a retired professional who worked for six seasons in the NFL scene.
Relationship With Tiger Woods' Ex-Wife & Children
For those who do not know about Jordan's existing relationship, the retired American footballer is enjoying his days with Elin Nordegren.
The romance between the two started in 2016. Remaining entirely private about their status, the two dated for years without ever coming out to the media.
Surprisingly though in 2019, news of their pregnancy shook the entire world and caught many by surprise. 
Elin was first spotted with a baby bump at an event not too far from her home in Florida in June 2019. A source even confirmed their relationship status then after. Soon on 19 October 2019, it was confirmed that the couple had welcomed their first child together.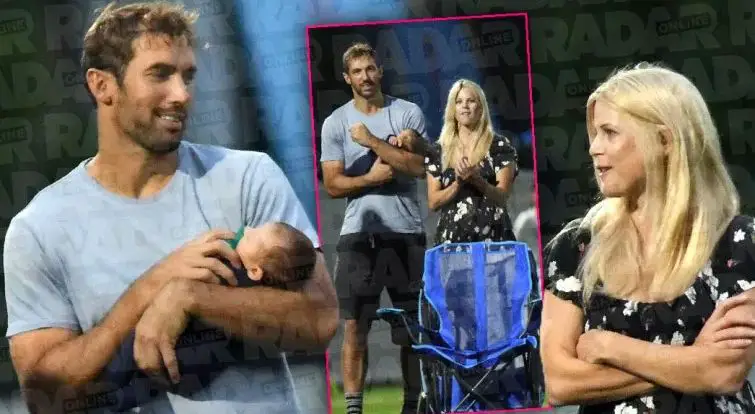 Jordan Cameron with girlfriend Elin Nordegren and their child in 2019 (Photo:radaronline.com)
From a previous relationship, the retired American footballer is a father to a single child. However, any details about the baby mama are missing.
About the child, he is ten years old, and his name is Tristan Cameron. While not much was ever discussed about his previous relationship or past dating history, the child is proof that Jordan had quite the life. 
Juicy Intel:- Sarah Jessica Parker Husband, Wedding, Age
However, if she was just a fling, a one-time thing, a dedicated girlfriend, or a married wife, none of the details exist.
As for Elin, the baby is her third child. From her previous relationship with Tiger Woods, she has two kids; Sam Alexis Woods and Charlie Alexis Woods.
Jordan's Bio & Net Worth
Jordan Cravens Cameron was born in an American family to father Stan Cameron and mother Cathy Cameron. Raised in a religious Mormon household, he has one sister Brynn Cameron and a brother Colby Cameron.
From a very young age, Jordan had the physique to play various sports. He and his brother would play a variety of games in their locality. When his family moved to Newbury Park, California, he joined the Newbury Park High School, where he entered the football team.
Quite Interesting Topic:- Nicolas Batum Wife, Dating, Parents, College
With experience from his youth, Jordan - height 6 feet 5 inches (1.96 m) - went on to be a star athlete, no doubt.
During his tenure as a professional footballer, he amassed thousands of dollars. By the end of his contract in 2016, he made a whopping $12.562,500 in total.