Entertainment
Joy Nash Wiki: "Dietland" Actress Age 37, Married & Family Details Amid Struggling Career
One of the uniques TV shows, Dietland has risen on the horizon and American actress Joy Nash has turned herself a household name from the AMC's series.
Joy was able to land the major lead role only after landing different supporting and guest roles, which marked a major step in her career's success. However, when it comes to dating, it seems the actress' success is yet to come.
However, her social media has shed some lights as she claimed herself as the mystery married woman of a dictator.
Today, let's find out the more romantic side of Joy along with her wiki-like details.
"Mystery Married Woman Of Dictator"
Joy Nash may not bring out her own words for her dating life but lets her social media do the talking. Back in July 2012, Joy joked about being the mysterious wife of the world's most ruthless dictator via a tweet.
See Also:- Matthias Schoenaerts, Married? Where Is Romance With Girlfriend Alexandra?
She jokingly stated that she might be the mystery woman married to Kim Jong Un, whom people talk about every time. Perhaps, she might be hinting her fans about her desire of dominating boyfriend, but she did not talk never multiplied the tweet more.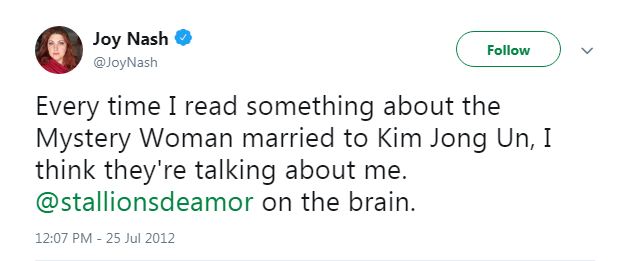 Joy tweets about being the mystery wife of Kim Jong Un on 25 July 2012 (Photo: Joy Nash's Twitter)
Since the tweet, Joy, age 38, remained fairly mum about her love life for several years until 2018, when she hinted towards being possibly single.
In May 2018, she gave an interview with The Curvy Fashionista mentioning her resemblance with her Dietland's character, Plum. Joy said that she like her onscreen character was hopeful about her love life, which she can resemble in her real life too. Joy stated that she thought finding a suitable boyfriend and building an established career would make her life prosperous.
Mother Calls Husband "Daddy"
Her dating life may not be open to all, but her family life is an open book. She has regularly talked about her parents on her social media.
On 24 June 2012, Joy posted a tweet about her parents in which she wrote her father suffered from a restless leg syndrome. However, Joy also revealed that her father's illness was not necessarily bad as he would get his exercise biking and shaking his legs. Further, she also mentioned that her mother referred to Joy's father as "daddy."
Read Also:- Teagan Croft, Young age Actor Parents Revealed; Dating Status Of Titans' Star
Later on 29 June 2015, she posted a picture taken in 1965 of her mother along with her sisters attending the wedding of one of Joy's aunts to a Maths teacher.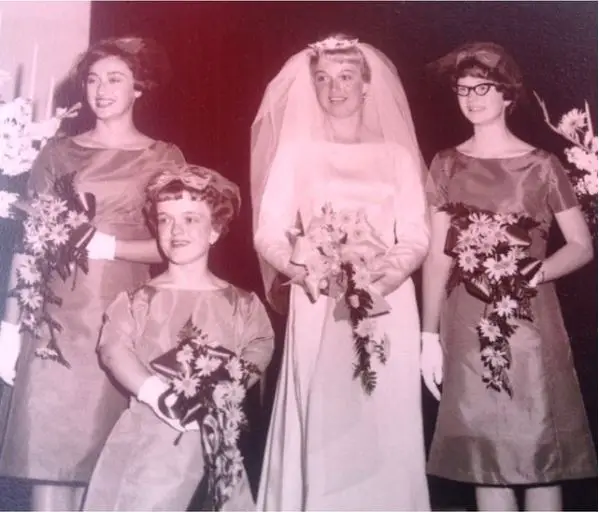 Joy's mother (on the left) attends the wedding of her sister in 1965 (Photo: Joy Nash's Instagram)
Further, Joy also posted a childhood photo on Father's Day on 20 June 2016. In the picture, a baby Joy could be seen alongside her dad and a little boy who could be her brother even though she has never mentioned about having a sibling.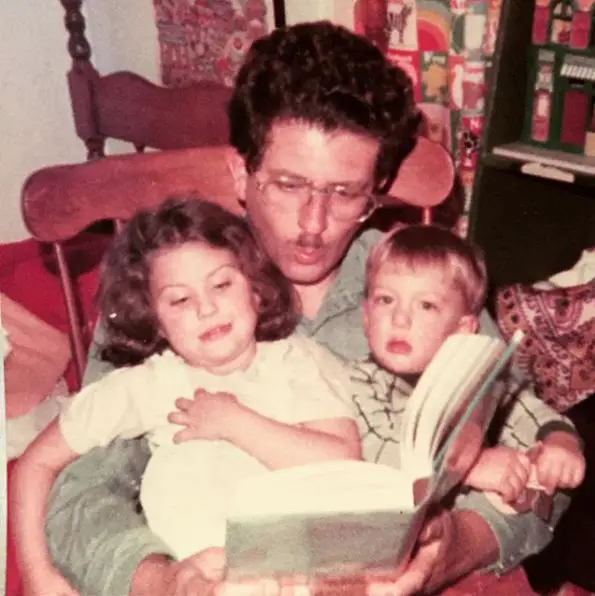 Baby Joy listens to bedtime stories from her father (Photo: Joy Nash's Instagram)
Joy's life is also full of struggles as she has been continuously fighting to establish herself as a versatile actress instead of a chubby woman.
Struggling Career Due To Weight Issues
Joy has not gained much recognition in her acting career except for her much-awaited show Dietland. In her entire career, Joy has landed only a handful of acting jobs most of which were supporting or guest roles.
Similar Article:- Hayley Hasselhoff, 25: Plus-Size Model Keeping Weight Loss Just As Option
Talking to thecurvyfashionista.com in May 2018, she revealed the struggles of a plus-size lead actress. When asked about the ups and downs of being a plus-size actress, she stated,
"For me, the hardest part of being a fat actress was the dearth of roles to audition for. Some people talk about rejection, but I never got that far. I couldn't even get into rooms, much less get kicked out of them."
The series, Dietland released its pilot episode on 4th June 2018. The star-studded cast for the TV program includes Tamara Tunie, Robin Weigert, Rowena King, Erin Darke and more. And it seems like, the series is about to be the major breakthrough in Joy's professional career. In the show, Joy played as Plum Kettle, a feminist weighing 300-pounds who accidentally gets involved with a group which is suspected of attacking men with a history of sexual assaults.
The season 1 finale, which premiered on July 30, left the show in a cliffhanger. At the end of the first season, Joy's character Plum is left with two choices. One, she can go back to her boring life in the male-dominated society where a woman's beauty is measured by her physical attractiveness or she can remain with the vigilante group which is willing to pay any price to rummage the established system.
The second season of the show has not yet been announced, but it seems like fans are already excited to know which of the two options will Plum choose.