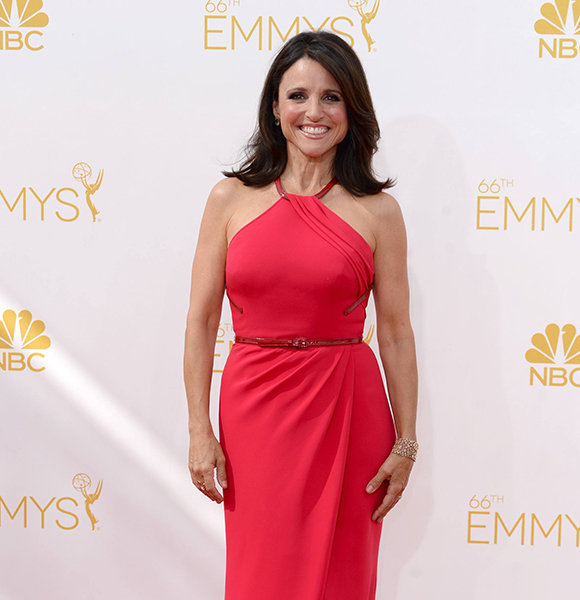 Almost two decades have passed since the penultimate airing of beloved '90s sitcom Seinfeld, but actress Julia Louis-Dreyfus still gets addressed as Elaine.
Since it's her most iconic role till date, it's understandable that the fans would immediately associate her with the stated on-screen character.
But has Julia done anything in between to change the public perception about her? A slow breeze through her personal life shall reveal more!
Height, Parents & Family
Born on 13 January 1961, Julia comes from a wealthy family with a French Jewish heritage.
Similar Background:- Is Willy Cartier Gay Or Dating A Girl? Bio Reveals - Sexuality, Age, Net Worth
A native of New York City, she later moved to Washington DC following her parents' divorce. After the split, both of her parents got remarried and went on to have children of their own.
Her billionaire father Gérard Louis-Dreyfus spearheaded the French conglomerate Louis Dreyfus Group. Meanwhile, her mother Judith LaFever was an author and a special needs tutor.
Standing at 5 feet and 3 inches (1.6 m) in height, Julia often downplays her family fortune in interviews. According to her, she doesn't like the title of "billionaire heiress."
Behind Julia's Net Worth - TV Shows & Movies
No doubt, it's her humbleness that propelled her to acting -- but it's her sheer charisma that made her an acting sensation.
Throughout her school and college years, Julia made a name for herself as an impromptu comic. She eventually made it to Saturday Night Live. It is there that she met Seinfeld co-creator, Larry David.
Related To Larry David:- Laurie David Tells All-Tale On Her Relation With Husband After Divorce! Dating Someone Now?
Portraying the role of Elaine Benes, she wowed the TV audience for nine straight seasons from 1989 to 1998. In the year 1996, she snagged her first ever Emmy for the performance.
Breaking the Seinfeld curse, Julia would go on to win five more Emmys for the TV shows, The New Adventures of Old Christine and HBO's Special Veep.
Elsewhere in movies, the Curb Your Enthusiasm actress has starred in projects such as Enough Said, Picture Paris, Hannah & Her Sisters, and Planes. She will also have a lead role as a voice-over in the Pixar's Onward due in 2020.
Julia, today, boasts a reported net worth of $200 million. In contrast, her husband garners $10 million in net worth.
Children & Husband
Julia and her husband Brad Hall crossed paths during their time at the Northwestern University in Evanston, Illinois. The two are the only married couple in SNL's history to appear on the variety show.
After working together in 1986 film Troll, the Veep actress stayed with acting while her then-boyfriend Brad shifted his focus on TV producing. The Single Guy and Watching Ellie are Brad's most notable creations.
Fellow TV Producer:- Who Is Jordan Schlansky Fiance & Wife-To-Be? Wiki, Age, Net Worth
In 1987, Julia and her husband got married. Five years later, the pair welcomed their first child Henry Hall. And then in 1997, the family grew to four after she gave birth to her second baby Charles Hall.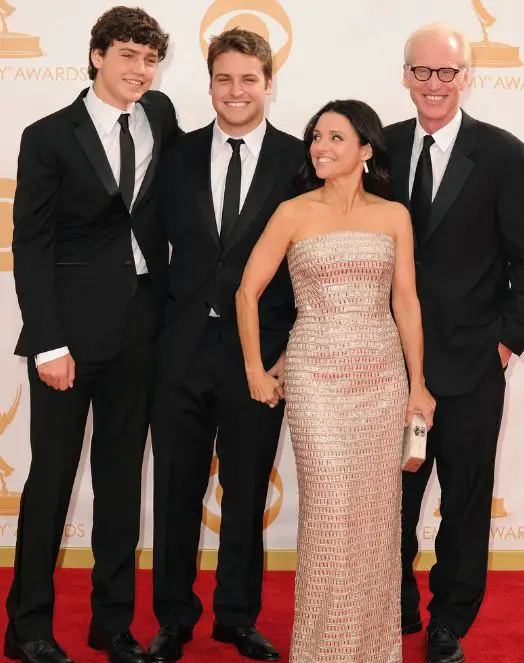 Julia Louis-Dreyfus with her husband, Brad Hall, and their two kids attend the Emmys in 2018 (Photo:- People.com)
Together for more than 31 years now, the parents of two children have yet to face a divorce scare.
Cancer Diagnosis & Recovery
In September 2017, Julia informed the world of her breast cancer diagnosis via Twitter. The diagnosis came a day after she clenched a Primetime Emmy Award for Outstanding Lead Actress in a Comedy Series for her performance in Veep.
She took the platform to raise awareness about the disease while demanding affordable healthcare for all.
Cancer Danger:- Vanderpump Rules' Ariana Madix, 33 Shares How Her Cancer Got Removed
A year after cancer reveal, in October 2018, the Seinfeld actress announced that she was cancer free in a sit down with Jimmy Kimmel.