Entertainment
Juno Temple Dating Again After Split? Her Possible Boyfriend
Juno Temple Dating Again After Split? Her Possible Boyfriend Likewise, the 'Vinyl' star, Juno Temple has also been through stumbling relationships in the past, but it seems that she has taken one more chance to enjoy her love life with a possible boyfriend.
Despite the failure in relationships, life always gives us a second chance, so that we can correct something that went wrong in the past.
The 'Vinyl' star, Juno Temple shares similar scenario, as she has also been through stumbling relationships in the past, but it seems that she has embraced her second chance to enjoy her love life with a possible boyfriend.
So today, we are getting a hold on to all the aspects of Juno Temple's love life remunerating her fans and well-wishers with it!
Juno Temple's Possible Boyfriend!
Some celebrities in the industry love to keep their relationship status close to their chest, probably because they don't want to stir up rumors regarding their love life. On the other hand, some celebrities are very active in flaunting their love life all over social networking sites.
When we talk about Juno, the twenty-eight-year-old actress seems to be one among the crowd of stars who don't hesitate to share the details regarding their love life.   
The rising star, Juno currently seems to be dating a producer and writer, Joshua Thurston. Though the duo has never confirmed their relationship in any of the interviews, their social media posts hint their budding romance.
In October of 2016, Juno shared a picture of herself kissing Joshua where she wished him 'Happy Birthday,' exhibiting her love towards the man.
She later shared an image of him in January of 2017 with a caption that depicted
'I Love You.'
Juno's relationship with her boyfriend is going on very well, and she never misses a chance to show her love towards him. Back in October 2017, Juno wished her boyfriend Joshua on his thirty-first birthday through Instagram, saying that he is an amazing creature and she loves him endlessly.
After a couple of months, Juno again shared a picture of her boyfriend on Instagram, where he was seen lying in bed with a heart-shaped pillow above him. 
With Juno's post on Instagram, it seems that the pair shares a friendly bond and is very happy together. All in all, they enjoy each other's company very well!
However, Juno's love life was not the same in the past; she had a failed relationship with Kristen Stewart's ex-boyfriend, Michael  Angarano, which began back in 2012.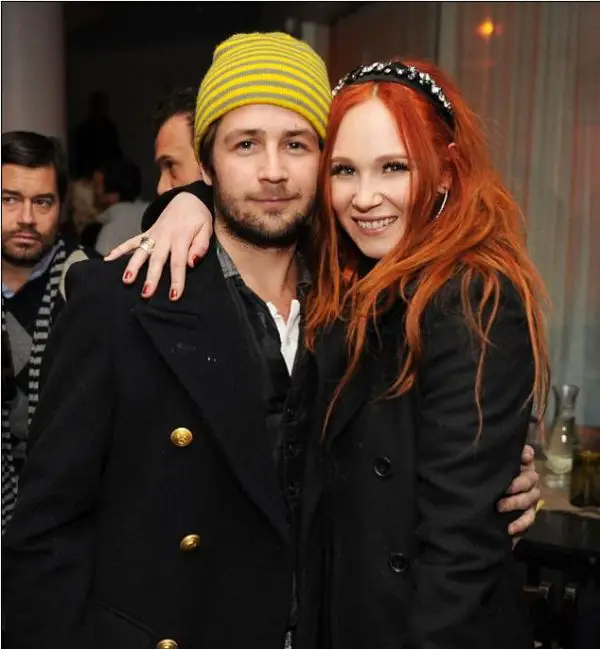 Michael Angarano and Juno Temple spotted at Sundance Film Festival in Park City, Utah, in January 2013. 
Photo Credit: dailymail.co.uk 
Juno and Michael first met on the set of fantasy thriller 'The Brass Teapot.' According to a source, the pair hit it off instantly and had great chemistry from the start while working on the 2012's fantasy thriller.
After a year, in January 2013, Michael was witnessed supporting his new girlfriend Juno at the Sundance Film Festival at the premiere of her new film, where the pair made their red carpet debut as a couple.
The duo cuddled and held hands as they posed for the photographs. Juno even wrapped her arms around Michael and kissed him before leaving the Film Festival.
Undoubtedly, she loved having him around and was pretty much happy with him; but unfortunately, the couple ended their long-term relationship in 2016. 
Before Michael, Juno was rumored to be dating an American actor Shiloh Fernandez from 2007 to 2010, but the matter remained unclear as neither of the involved parties came forth to clarify the matter!
Think we're missing something? Do let us know in the comment section below!