Entertaining viewers across multiple platforms, American TV host Karamo Brown's voice has echoed around each media outlet in the world.
In the earliest year of his career, Karamo gained prominent recognition as a cast member on the MTV reality series, The Real World: Philadelphia. Since his days on the popular reality show, his work has transcended from a cast member to hosting shows.
With works ranging from the field of journalism to the world of entertainment, Karmo has worked on various platforms, including Huffington Post, CNN, and the famous Netflix's Queer Eye. As of 2019, Karamo stars in the hit TV series, The X Change Rate.
Openly Gay & Proud
A proud member of the LGBT community, Karamo Brown, first realized his gay sexuality at the age of 16.
When he came out with this information to his parents, his dad was very troubled by the news. According to Karamo, his coming out caused difficulties in his family, causing them even to split apart.
His father, in particular, didn't speak to him for ten years. But, the good news is everything is fine now. Though the family never went back to become whole again, Karamo and his father have mended their relationship.
As of 2019, Karamo - born 2 November 1980 -  is an openly gay man happy and proud of his sexuality.
Engaged To Partner Or With Husband?
Everyone knows who the TV host is romantically linked to. Dating for more than nine years, Karamo is now engaged to assistant director Ian Jordan.
The pair had gotten engaged after knowing each other for eight long years.
Karamo went down on one of his knees to propose on 9 May 2018, at a surprise birthday party for his then-boyfriend.
More About The Engagement :- Emotional! Karamo Brown, 37, Makes Boyfriend Cry; Engaged To Get Married
Since then, the couple has been all but ready to finalize their wedding date, and it seems it is going to take place on 10 October 2020. Revealing exclusive details, Karamo shared an interesting tidbit about his upcoming nuptials.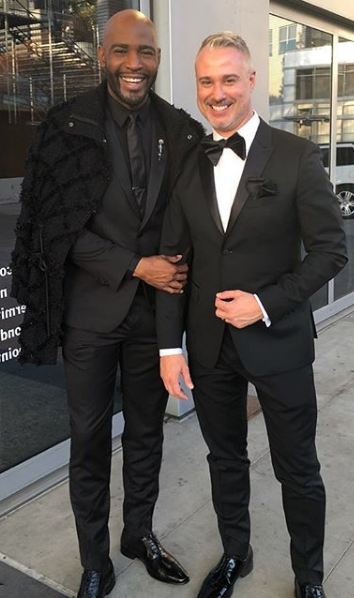 Karamo Brown with fiance Ian Jordan in May 2019 (Photo: Karamo Brown's Instagram)
His fiance was needed to be taken to the hospital due to a severe anxiety attack. Not to worry, everything is fine, Karamo's husband to be suffered a case of anxiety after talking about their wedding.
Karamo and Ian reportedly have secured a 30-acre venue for the ceremony and have reportedly planned an entire three-day wedding event.
Further, the pair are already parents to two beautiful children, both sons Jason and Chris. Jason is Karamo's biological son (before he came out as gay), and Chris is his Jason's half brother.
Karamo's Net Worth
Through hard work and effort, Karamo Brown has taken a giant leap on the road to success. Working since 2005, the host has made a significant contribution to the entertainment industry.
Check This Out:-  Queer Eye Star Tan France In Style With Husband At Age 35; Gay Love Goals
His contribution, on the other hand, has been rewarded handsomely.
With his popularity and successful name, Karamo Brown boasts a net worth of $3 million in amount The American TV host further enjoys a lavish lifestyle with his $1.24 Million, 2,622 square feet, five bedrooms & 3 bathrooms home in Woodland Hills, California.