Entertainment
Katherine Ryan Thoughts On Having Boyfriend | Keeps Daughter In Private
Canadian stand-up comedian Katherine Ryan's interesting takes on relationship matters mirrors her burgeoning profile as one of the most sought-after comics in the world today, in that she seems to have figured it all out.
Also the TV show host stand-up routines and performances on stage encapsulate the universal motif of motherhood, relationships, and sibling rivalry. Of all the subjects Katherine tackles on her routine, boyfriend related materials seem to garner more notoriety than others.
Her interviews are no different.
Katherine Ryan: "I'm on a manbatical."
The interviews the Sarnia, Canada native gives capture her personality in its true essence; some might argue there's no distinction between the real her and the persona she portrays on stage.
You May Like:- Vogue Williams, Age 34, Intimate Wedding Just A Start! New Mom Explicit Details
There's no telling whether she's playing the on-screen persona or she's her genuine self when she tells:
"Well, I'm going to be single for ten years. I'm on a manbatical, [a term] coined by my friend Claire."
The above excerpt is taken from Madam Claire interview she gave in October of 2017. In the same interview, the How'd You Get So Rich host would double down her current state of singlehood by adding:
"And if I don't have a boyfriend until I'm 75, that'll be fine."
Katherine followed up by claiming that she hires her unnamed friend's partner, who she calls rent-a-husband, to accompany her to red carpet events.
A month earlier, speaking to The Sun, she had claimed that she was dating the 28-year-old comic Alex Edelman, which makes her Madam Claire interview all the more confusing. Her fans were left with scratching their heads when she added:
"We've been on-and-off for three years, so he's in some of my stories and then he's not. But he's definitely the best one I've ever dated. He's never done anything egregious."
She concluded her interview by admitting that she had dealt with troubled boyfriends in the past, but Alex wasn't one of them.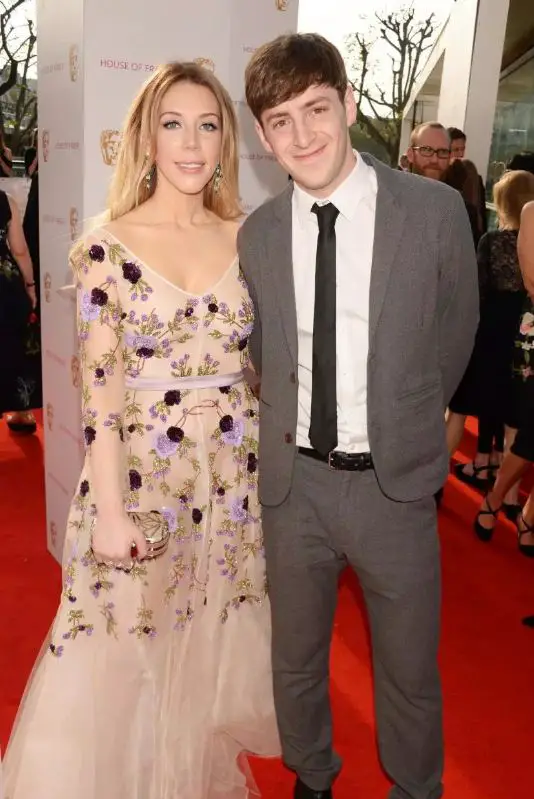 Dating Or Nah?:- Katherine attends a red carpet event in Hollywood with rumored boyfriend, Alex (Photo:- thesun.co.uk)
One of her run-ins with troubled ex-boyfriends includes the 35-year-old Just A Minute host confronting one of her former partners about a nude she had found on his phone. It's still unclear whether the boyfriend she inferred to in 2014 ES interview is the father of her daughter, Violet.
On Daughter's Father: "We weren't right for each other."
In the summer of 2007, Katherine and her then-partner & father of Violet moved to UK while working for the restaurant chain Hooters. The pair made the move permanent in the January of 2008 and enjoyed a blissful relationship up until 2011.
Discover:- Lisa Riley & Musician Partner Soon To Get Married! Spills Future Husband Details
Despite the separation, Katherine claims she remains on good terms with her daughter's father.
Speaking to The Sun in August 2017, the 35-year-old comic delved into the importance of maintaining a good relationship with her daughter's father and said:
"We weren't right for each other, but we still get on. He's a different parent – he wrestles with Violet and takes her to sporting events. It's important they have a good relationship."
Katherine has managed to keep the identities of both her daughter and her daughter's father under the wrap. Even when she shares Violet's photo on social media, she chooses to pixelate her daughter's face.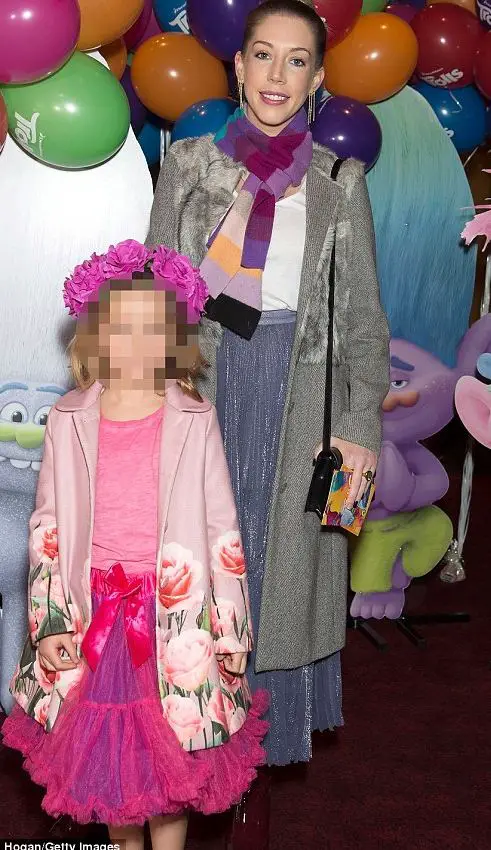 Like Mother, Like Daughter:- Katherine and her daughter, Violet whose face is pixelated on purpose, snap for a photo (Photo:- thesun.co.uk) 
Violet, who turned ten this year, makes up a big chunk of Katherine's stand up materials; so much so that she accompanied her mother to the stage when she was few months old. Besides her, her aunt Karrie (Katherine's middle sister) is also featured heavily on Katherine's comic materials.
Sisters "In Trouble": A Love-Hate Thing
In 2017 Netflix stand up special titled Katherine Ryan: In Trouble, Katherine sends the crowd present into hysteria at her middle sister's expense. In Trouble featured Katherine rehearsing the speech, she would give at Karrie's wedding.
Following the release of Katherine's Netflix special, she sat down with Rotten Tomatoes to discuss the now-infamous speech. She said:
"My poor sister. What you never want to do with comedy — what I certainly never want to do — is hurt, anyone."
Earlier in the interview, she had confessed to being much kinder while giving the speech in real life.
Interesting:- Natasha Lyonne Is Not Gay/Lesbian But Likes Sleeping With Women! Has A Boyfriend Or Actually Hinting on Sexuality?
Back in December 2016, Katherine spoke of her love-hate relationship with her sister, Karrie in an interview with Interview Magazine. She confessed:
"I just completely clashed with my middle sister. It's kind of a benevolent hatred that we have for one another."
Despite having a tumultuous relationship with her sister, she claimed that they were close. Her relationship with the youngest sister is a different story. She was quoted as saying:
"I got along really well with my baby sister."
Love or hate, the tales involving her sisters are a recurring theme during her stand-ups; be it in disguise or in the open, by a direct reference.