Entertainment
Kathy Orr's Married Life: Get Acquainted with Her Husband and Children Here
Being in the spotlight is hard. It is especially even harder if it contradicts with your introvert and secretive personality. However, with the fame of a celebrity, comes public interest as they adore different celebrities and some even accept them as their idol. An automatic interest arises from the public about their favorite star's profession and personal life.
The same context seems appropriate for Fox 29's Emmy Award-winning meteorologist Kathleen "Kathy" Orr. One of the most popular meteorologists of the modern day, much thanks to her attractive personality and deep analytical skills, she has managed to keep a very low-key personal life, raising much interest from her viewers.
Kathy Orr: Married Life, Husband, and Children?
Lady with captivating beauty, Kathy Orr, who is in her fifties is a married woman. However, she hasn't revealed any information about her husband and their wedding. Her privacy in her personal life has created difficulty for most of her viewers to have a glance on her married life.
You May Also Like: Laura Tobin & Husband's Premature Birth To First Baby, Wedding Talks!
Though she hasn't revealed the name of her husband, she has mentioned about him in some of her tweets.
"@rynmite57 I think my family did! My husband bought a new grill! @FOX29philly #wishfulthinking"
She has two children with her husband and resides in South Jersey with them. She has a daughter named Isabella, age 14 and a son William, age 11. She sometimes talks about them on social media. Here are some of her tweets mentioning her daughter and son.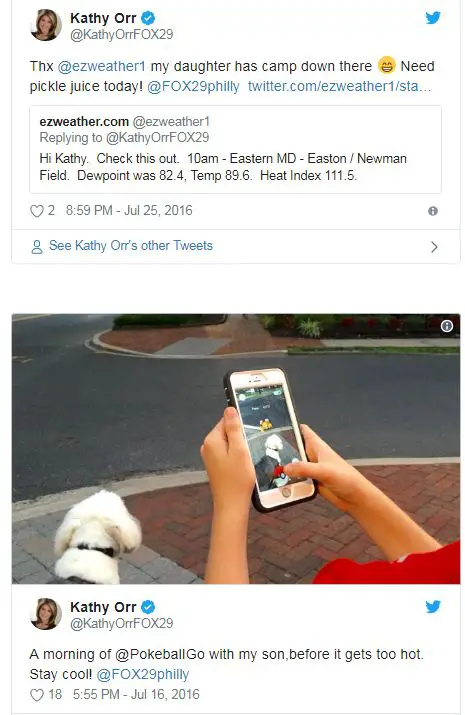 Kathy Orr tweets about her children. (Photo: Kathy Orr's Twitter)
Don't Miss: Weather Forecaster Joe Bastardi Eternal Love With Wife | Family Status Now
Although extremely secretive about her intimate details, Kathy has in no regards kept it a secret that she remains a family woman who is loyal to her husband and extremely caring about her children.
Her Instagram is flooded by posts about her children, and the award-winning journalist seems to have a good memory of dates, as she never misses an opportunity to wish her family well through her posts, be it in mother's day or father's day.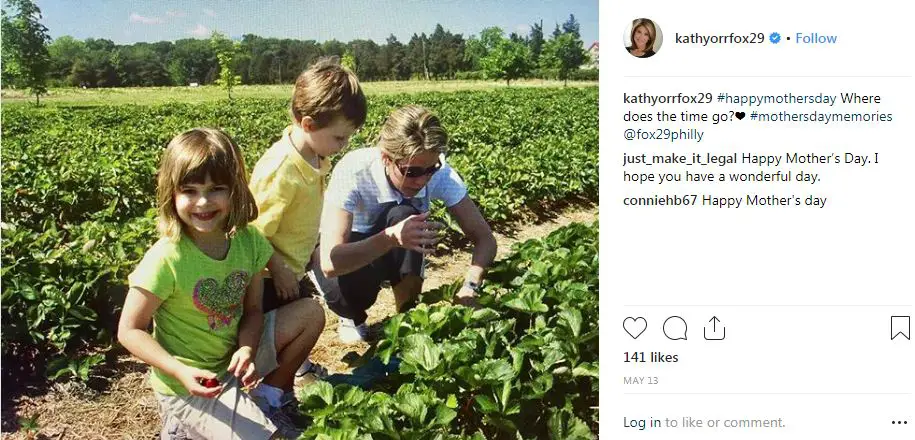 Kathy Orr along with her children on the occasion of Mother's Day. (Photo: Kathy Orr's Instagram)
Hence, going by her social media accounts, it would be safe to assume that Kathy is sharing a wonderful relationship with her kids and husband.
There might not be an issue of divorce between Kathy and her husband as there is no any hint or evidence of a sour relation between them, and the duo seems all set for happily ever after. 
Kathy Orr's Short Bio:
Born on October 19, 1965, Kathy Orr is a four consecutive regional Emmy Awards winning meteorologist. She is one of the most talented and trusted weathercasters of Philadelphia.
She works for the Fox 29 Weather Authority team as a meteorologist on WTXF in Philadelphia, Pennsylvania since September 2015. She attended the S. I. Newhouse School of Public Communications at Syracuse University.
Read Also: Jane Bunn Age 39 Had Secret Wedding! Who Is Her Husband?
In the year 2003, she joined KYW-TV as their chief meteorologist. She also worked at CBS3's and for MTV and Nickelodeon. She is thus well compensated by the channel for her career longevity.
While an average Fox 29 meteorologist earns a salary of around $100k per annum, it would be safe to assume, Kathy, with her huge stature, gets paid even more than average. This has thus resulted in her massive net worth of $20million.