Entertainment
Maria Bamford & Husband Keeping Wedding Vows Strong, Baby At Age 48?
Maria Bamford is an American stand up comedian and actress best known for her portrayal of her... Happily married to the love of her life, Maria's husband has helped her escape from her illness of ... With a career resurgence following... Maria is...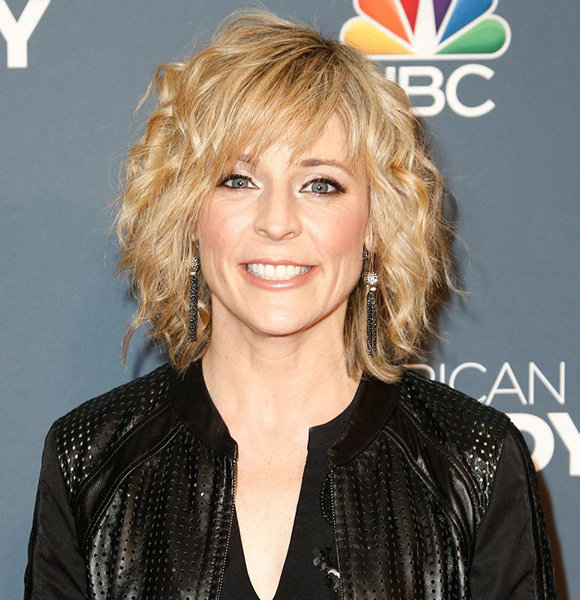 It's unbelievable just how much of an impact does one person has in someone else's life. Suffering from anxiety and depression, comedian Maria Bamford found her knight in shining armor in the form of her husband, and life has never been the same again for the star comedian.
Sharing laughter and happiness to the audiences through her performances, comedian Maria Bamford's own life lacked the spark she shared on stage. However, things took a turn for the good after she met a certain individual. Now, happily married, Maria, with the support of her husband, has been an inspiration for everyone suffering from mental illness ever since.
With a settled personal life, her professional life that once showed so much promise has also gradually come back to its original path.
With numerous successful performances in movies and TV shows, Maria's career resurgence is a wonderful story of its own.
Set For Happily Ever After With Husband After Secret Wedding; Baby Coming Soon?
A keen practitioner of online dating, Maria went through 96 unsuccessful online dates before finally landing gold in the form of her husband, Scott Marvel Cassidy. The duo, who first met each other through an online dating app named OkCupid, have been together ever since their first meeting.
You May Also Like: Zoe Lyons Candid On Partner/ Wife; Lesbian Love At Finest
Having never been in a relationship lasting over a year, Maria broke the pattern with Scott as the two got engaged to each other on December 2014. Their relationship soon escalated to the next level following a secret wedding on 14 March 2015.
Maria later updated her followers about her wedding news in a Facebook post on 22 March 2015.
"Hello, all lovers! My beloved fiancé (now HUBBY!), Scott Marvel Cassidy, and I decided to elope and just had Marilyn and Joel, Bert and Blueberry, and the Mark Salzman and Jessica Yu Family for a home ceremony. Thank you for all the love and support! We look forward to celebrating with everyone throughout our first year of marriage : ) Continuing on your journey as you were! Love, Maria"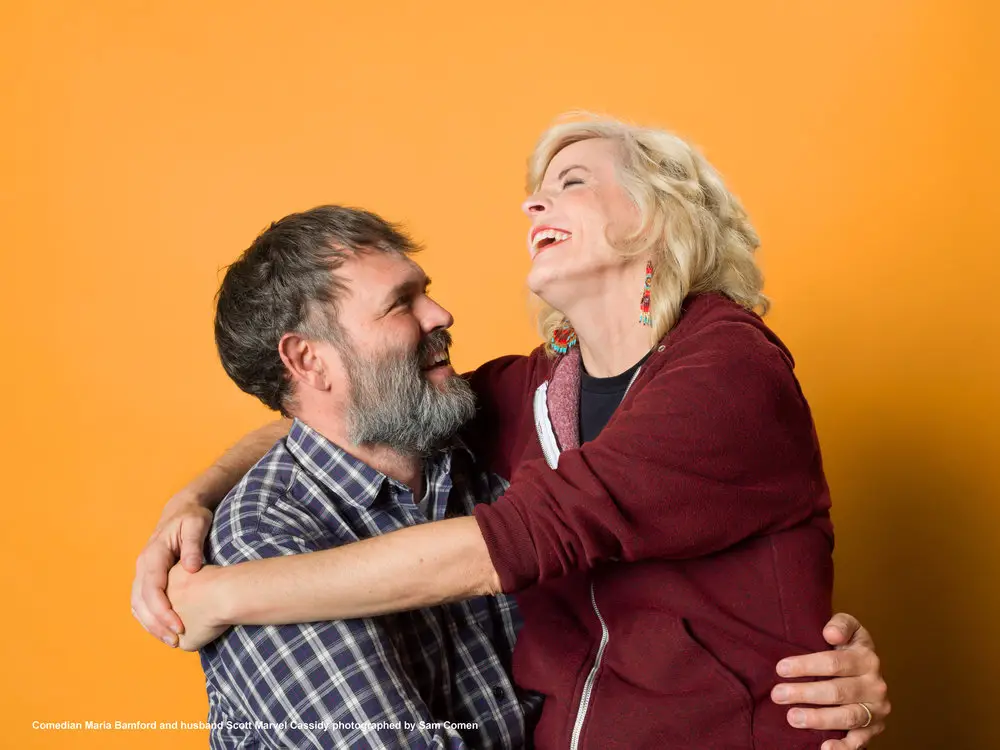 Maria Bamford along with her husband, Scott Marvel Cassidy. (Photo: florencenash.com)
Following their secret wedding accompanied by a limited number of guests, the duo has been together ever since. Scott, an artist, seems to possess just the adequate qualities to work through Maria's mental health struggles.
Read Also: Openly Gay Matt Lucas Husband Death Left A Dent, Affecting Present Partner?
With their marriage going ever-so strong even after three years, talks about the couple's first baby have been widely speculated. However, there has been no hints from Maria nor her husband about their baby arriving anytime soon. Hence it seems Maria, age 48, along with her husband have decided to focus all their attention on their wedding vows and divide time for only each other.
Bio Reveals Career Highlights and Net Worth
Born and raised in Port Hueneme, California to her doctor parents, Maria possessed a love for standup ever since her early days. With humor her only medium to escape her mental struggles, Maria soon escalated her passion into a profession.
Beginning her career through minor appearances in movies, TV shows, and voice-overs in cartoons, Maria gradually built her small fan base. Her recognition further grew following her comedy success over the years.
In a career affected by her mental health issues, Maria's career resurgence came after she accepted her illness and sought help in 2013. In 2016, Netflix announced a series solely based on Bamford's own life titled Lady Dynamite, with Maria in the lead role herself.
Following the success of Lady Dynamite, Maria expanded her association with Netflix with her comedy special Old Baby in 2017.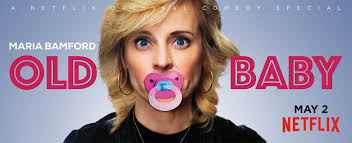 Maria Bamford in her comedy special Old Baby. (Photo: marriedheight.com)
Don't Miss: Randy Rainbow, Out Gay Man's Partner & Dating Status - Finally Discussed
The ups and downs Maria has overseen in her career have thus seen her own a net worth amounting to $300 thousand. With the 48-year-old's career taking an inclining trend lately, Maria is all set to further build her net worth with the support of her husband.