Entertainment
Keenan Allen Girlfriend, Married, Family, Net Worth
Keenan Allen is a force not to be reckoned with on the pitch...American Footballer...wide receiver for the Los...engaged with a longtime girlfriend on the...has two daughters and a...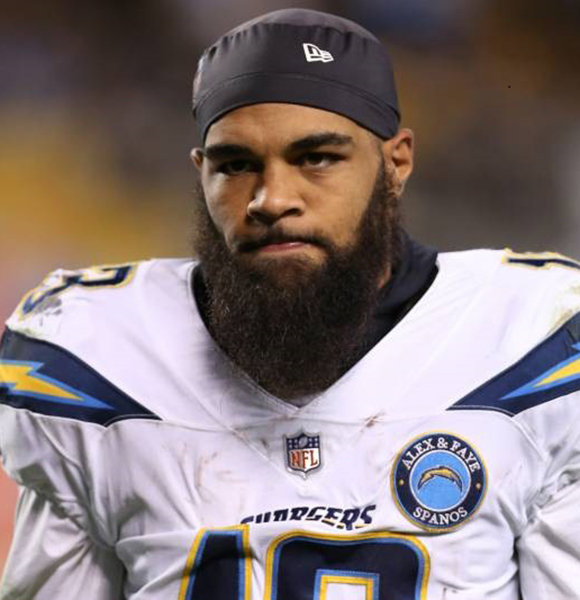 Physical fitness and strength are the determining factors of an athlete's performance in the field and his career's longevity.
With a weight of 95 kgs and height of 6 feet 2 inches (1.87 m), American footballer Keenan Allen is a force to be reckoned with on the pitch. Keenan is a wide receiver for the Los Angeles Chargers.
On 3rd November 2015, Chargers revealed his kidney injury and mentioned that the player would miss the rest of the 2015 season. But, Keenan later returned to the game and made a terrific comeback, which became the sole reason for his Comeback Player of the Year-win in 2018.
Keenan Allen's Bio
Born on 27 April 1992, the 27-year-old footballer hails from Greensboro, North Carolina. Keenan comes from the family of Keith Allen and Dorie Allen. 
His father died of a heart attack at the age of 42. Meanwhile, his mother had ended the relationship with Keenan's dad after getting pregnant. Later, she married  a man named Scott Lang, 
Another Wide Reciever :- Julio Jones Salary, Net Worth, Contract, Trade, 2019
From his mother's side, Keenan has an older half-brother named Zach Maynard. Zach is also a former footballer and played for teams like Buffalo Bills and Golden Bears during his career.
Also, Keenan's cousin Maurice Harris is a sportsman. Maurice plays as a wide receiver for the New England Patriots.
Engaged With Long-Time Girlfriend
Keenan has it all - he is successful both in terms of his career and personal life. The athlete has been in a relationship with Ciandra Monique for several years now. 
Keenan and Ciandra started dating in December 2012. And, after dating for five years, the pair got engaged in May 2017.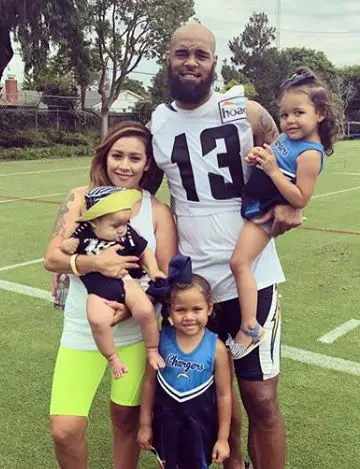 Keenan Allen with fiancee Ciandra Monique and kids at Jack Hammett Sports Complex in July 2019 (Photo: Ciandra Monique's Instagram)
From their relationship, Keenan and Ciandra have brought three beautiful children into the world. The couple witnessed parenthood for the first time with the arrival of their daughter named Kamari Aniya on 19th May 2015. Their second daughter Kaliyah Alani Allen was born on the 26th of January 2017. 
After two daughters, in 2019, the pair welcomed a son named Kado Alexander Allen. Kado was born on the 16th of January.
While Keenan and his fiancee are yet to be legally married, the star athlete still adress Ciandra as his wife.
Career & Net Worth
Keenan began his professional career back in 2013. The Los Angeles Chargers picked him in the third round, 76th overall. He signed a four-year contract worth $2.81 million with the Chargers on 9 May 2013, which included a $613,800 signing bonus.
Father Of Three :- Marshall Faulk Moved On From His Wife! A Divorce After Married For More Than Five Years
Again on June 10, 2016, Keenan agreed to a four-year, $45 million contract extension with the Chargers. Out of his time in football, the wide receiver has managed to garner lots of fame and glory. He has also accumulated a net worth of $1.5 million as of 2019, which is sure to grow in the future.