Entertainment
On-Reel Gay Keir Gilchrist Has Dating Affair Going On | Stunning Girlfriend Revealed
English born-Canadian actor, Keir Gilchrist portrayed the role of a gay character in United States of Tara. Performing the gay character made the audience doubt on his ......But in real life, he has a girlfriend named......He has been dating since.....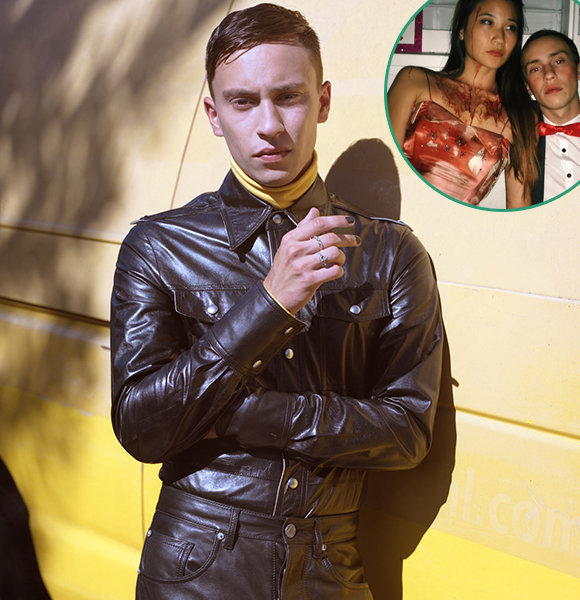 If hooking the audience on their seats is the game, English born-Canadian actor Keir Gilchrist is an ace player of the game!
Known for his gay character in the TV series United States of Tara, Keir's famous gay role has certainly brought a level of fame but also brought the doubt on his sexuality. 
However, the doubts could not penetrate further into his real-life for he has been enjoying his dating life with his girlfriend in real life. He has been blissfully dating his actress-girlfriend, who was also cast along in the series Atypical, flaunting their relationship on social networking sites. 
He also proudly regards her as "the partner in crime."
On-Screen Gay; Real Life Girlfriend As "Partner In Crime"
On reel life, Keir is the gay character, Marshall Gregson in the comedy series, United States of Tara. But, in real life, the actor enjoys a dating life with his girlfriend, who was cast along with him in the series, Atypical. 
See Also:- Amy Okuda Wiki: Her Height, Ethnicity, Dating Affair With Boyfriend And Perhaps Other Interesting Facts
While their dating timeline is still under the wraps, Keir and his girlfriend Michelle Farrah Huang probably started dating after meeting on the sets of Atypical. The news of their dating life only aired after he shared the picture with actress Michelle on Instagram in May 2017 captioning the picture, "Hit up NYC with my girl".
Shortly after Keir introduced his girlfriend to her millions of followers, his girlfriend also made an official announcement of their relationship by sharing the picture on her Instagram back on 28 July 2017.
Also, Keir, who stands at the height of 5' 7", calls his girlfriend as "partner in crime," which he described on the Instagram post of September 2017.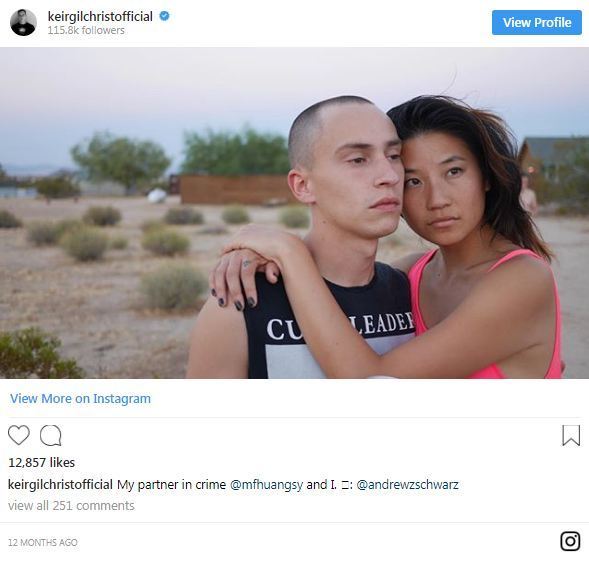 Keir Gilchrist with girlfriend Michelle Farrah Huang (Photo: Keir Gilchrist's Instagram)
The pair also stunned the Halloween party as the gorgeous couple in 2017 where Keir wore a Black suit with white shirt and red bow-tie whereas his lady-love looked bold and beautiful on the blood-stained dress.
The American actress, Michelle, who stands at the height of 5' 7", shared the cat-effect picture where she shared her Asian ethnicity and also dispised the audience who called the character Julia played by Amy Okuda as Michelle.
Don't Miss:- Daniel Zovatto Has Girlfriend? Dating Status Amid Throbbing Career
Despite their busy professional lives they always try their best in managing their time to spend time with each other. With their busy schedules, Keir and his girlfriend spend their vacation together. He took to Instagram on 2 August 2018 sharing the picture of his girlfriend writing:
"Enjoying summer with my ride or dies. Hope you're all getting plenty of fresh air."
Well, the couple has already embarked on the first year anniversary of their dating life, they are still going strong with their relationship. Before tying the name with the Asian native actress, the dashing actor, whose fans are dying to watch him shirtless, was not indulged in any dating affairs.
Won Best Actor Award; Net Worth In Thousands
Born on 28 September 1992 in England to the Canadian parents Catherine Gilchrist and Ian Gilchrist, Keir Gilchrist grew up along with his brother Evan in Toronto. He has been acting since he was 10.
He had the first lead role in The United States Of Tara where he portrayed the character of gay high schoolers. Then he portrayed the character of lovestruck teens in the indie dark-comedy films It's Kind of a Funny Story, and  It Follows.
You May Also Like:- Guy Ritchie New Wife Bliss! Children Battle With Madonna To Wiki Details
Following his emerging talent, Gilchrist is drawn to complicated characters with the lead role of an autistic boy with an independent streak in the new Netflix series Atypical. He also claimed to Interview magazine on August 2017 that it was the toughest role he has ever played.
"That was the toughest role I've ever played. He doesn't make eye contact with any of the other characters. You're playing against the other person as opposed to engaging them." 
With the lead role in the TV show Atypical, he seems to have realized his passion for the acting. He added, 
"It has been a bit of a slow burn, but it's gotten me to the point where I'm doing things I really want to do. If a movie is made to make money, then I'm not overly interested."
In the second season of Atypical, which premiered on 7 September 2018, his character expands his wings further and applies for the art school. In his aim of Independence, his portrayal of Sam visits graduate students with autism. He believes that Atypical has left a positive message in the community and especially with parents. While talking to Entertainment Tonight, he said that his role in the series had inspired people to go out there and challenge their belief.
Gilchrist, before the premiere of the second series, often updated his fans about the show on his Instagram page. He expressed his excitement from the show when he shared the first look of the series. Critics are divided in their opinions about the series. The New York Times' stated that the season explored the new prospects of autism and applauded the maker's decision to make Sam's autism more than misery to his family.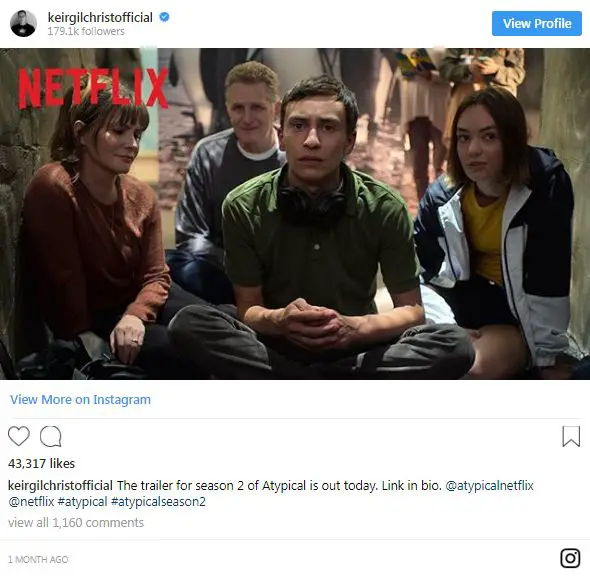 Keir Gilchrist shared the glimpse of Atypical's season 2 trailer (Photo: Keir Gilchrist's Instagram)
Keir, who has a net worth of $400 thousand, is appeared in numerous TV shows and movies including Room 104, Fight Xchange, Delete and Life with Derek among others. He has also won the best actor award at the 2013 Williamsburg Independent Film Festival for the short film Seasick Sailor.