Entertainment
Does The Flash Star Keiynan Lonsdale Have a Boyfriend? Comes Out as Bisexual-Crushing All Gay Rumors In a Post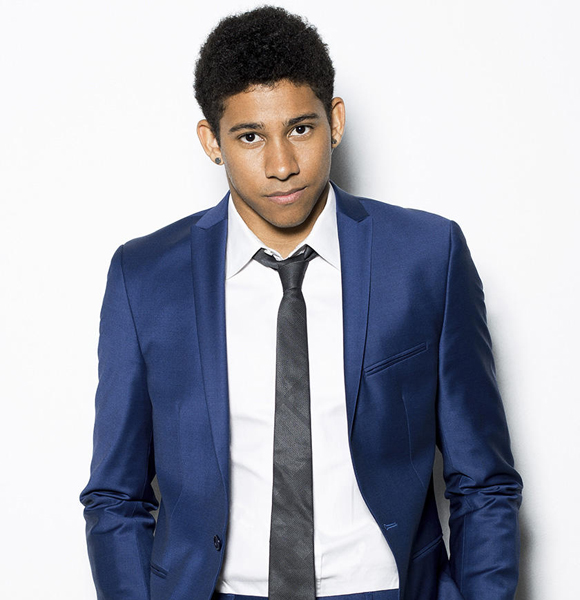 For many, social media can be a life-changing platform. Keiynan Lonsdale, better known as Wally West from "The Flash," knows that well, as it helped the actor openly share the facts about his sexuality.
The actor Keiyan Lonsdale, who was often speculated as gay, has finally spoken that he is a bisexual, which was inside him like a cold stone in the chest. Now many want to know about his present relationship status, along with the information regarding his boyfriend.
Let's Get Into It:
Keiynan Lonsdale Came Out As Bisexual
For 'The Flash' star, who portrays the role of Kid Flash in the series, is as brave as he represents himself in the show. Well, May 13 was the day for the star to be the person he actually is.
When there were assumptions and rumors about the star being gay, he took to Instagram to clarify that he is rather 'bisexual.'  
The 30 years old star wrote a strong message about self, which has been a great inspiration to many as he embraced his true identity.
In the lengthy post about being bisexual, he first stated,
"I like to change my hair, I like to take risks with how I dress, I like girls, & I like guys (yes), I like growing, I like learning, I like who I am, and I really like who I'm becoming. Spent way too many years hating myself, thinking I was less valuable because I was different.. which is just untrue."
He added how excited he is to get along with the actual identity of own.
" A couple years ago I was able to accept myself, & it saved my life, but now I've gotten to a new road block & I feel kind of lost. I gotta take the next step & actually embrace who I am, which is pretty exciting. Not faking **** anymore, not apologizing for falling in love with people no matter their gender."
The actor also mentioned that the reason for coming out openly as bisexual was because he was bored of being scared, ashamed, and insecure.
" I've become bored of being insecure, ashamed, scared... no one should feel like that about themselves, especially when there is so much good life to live. Ya know more & more I see so many young people being their best / truest selves, it's ******* inspiring... so what have I been waiting for!? Who knows. Everyone in their own time."
He concluded the post as,
"I hope we can all learn to embrace who we are & not judge people who aren't exactly the same as us. The truth is we are all family, we're all one. Just love. Keiy."
Also Read: Ron Stallworth and His Wife- An Old Love Story that Rekindled
As the Kid Flash shared about his sexual orientation as bisexual, he got support from many, and that started with his co-stars.
He also shared his coming-out story with Hollywoodreporter.
Caption: Keiynan Lonsdale got the support from his co-stars for coming out openly as a bisexual. (Published on May 15, 2017)
Well, after openly being a bisexual, people are conscious and want to be informed if Keiynan has a partner/boyfriend.
If we take a good look at the Instagram post of Keiynan, it says another story. We can see pictures of him with the beautiful Isabel Durant, who is also an actress.
Keep Reading: Justin Laboy Surprises His Fans with His Pictures with Rihanna- What Is It All about?
Keiynan Lonsdale and Isabel worked together in the Australian Television film "Dance Academy" from 2010-2013.
Speculations have been made that the pair is probably dating, but both of them are yet to share the fact of their relationship.
Adding on, the star uploaded a post on Instagram with his boyfriend Zac Frio back in 2019.  As of now, Keiynan has not uploaded pictures with Zac, so their relationship status is unknown.
More on Keiynan Lonsdale
Keiynan Lonsdale was born to a Nigerian father and an Australian mother. He professionally got into acting in 2007 after landing the role of Miss Elizabeth's Dance Troupe in the dance film "Razzle Dazzle: A Journey Into Dance."
As he got his interest in dancing when he was a kid, he worked in another dance series in "Dance Academy." In 2015, he was able to get cast as Kid Flash in the series "The Flash."
He has also worked as VJ on MTV for almost two and half years. Additionally, he released his iTunes single "One and Only" in 2014 and later, went on release his single titled "Higher." His future project is "Simon vs. The **** Sapiens Agenda."
All love for the bisexual star paving the way for the new generation to become who they truly are, we are proud of you.
Stay with us for more updates!