Entertainment
Ken Baker Isn't Gay! He Is A Married Man - Has A Family With Wife; But Once He Had A Troubled Boyhood!
Everyone has a story to tell, and it is important to share your story, as it might positively impact somebody else's life.
Sharing the similar thought is former E! News reporter Ken Baker; he too shared his story of a troubled life which brought forward the issue related to low sexual drive in the past due to a brain tumor.
After treatment, today he enjoys a happy married life with wife and children. So, let's take a stroll in his life to know more about his troubles along with his current married life.
Troubled Boyhood; Not Gay Only Hormone Troubles
Teenage is the period where one explores their sexuality. While Ken's friends were gushing about sexual encounters, he suffered from low sex drive. The sudden freeze on his sexual drive happened when he was 14, followed by emotional paralysis.
See Also:- Carissa Culiner Parenting with Husband! A Wedding that Started it All
Ken felt that he was missing out a huge part of his teenage life, but he did not know how to fix it. Moreover, Ken knew that he was not gay as he had no interest in men. Quoting the same, he said,
 "I was always attracted to women,"
As Ken approached mid twenty's, he noticed strange physical symptoms like headaches, persistent fatigue and loss of energy. And to top it, all his nipples became swollen and sore; further, a milking fluid started to leak. Ken lactated ten times more compared to a breastfeeding woman.
Don't Miss:-Catt Sadler Shows Amiable Feeling Towards Her Past Married Life; Will She Look After Kids Or Pass The Responsibility?
Ken suffered without seeking a medical help, but upon promising his then-girlfriend to visit a doctor and wishing to live a life without depression and denial, Ken visited a doctor.
After the medical examination, the reports showed the high level of prolactin hormones, which stimulates milk production in women post-childbirth. The doctor said,
"With levels this high, I'm surprised you've been able to have an erection in the last five years,"
Moreover, the MRI report of Ken indicated the presence of 2.3 centimeters-wide tumor in Ken's pituitary gland, which hindered his puberty. Ken felt he had an answer to his problems.
 "I have just learned that the cause of my male inferiority complex, of all my sexual failures, is not…my fault,"
Ken was prescribed anti-tumor medication which showed effects immediately and Ken underwent the biochemical equivalent of puberty at the age of 27. The tumor got removed via surgery, but still, Ken takes his pills twice a week, diligently.
"It's a reminder that I'm lucky, that this is very fragile. If I stopped taking the pills, within a year, I'd be a mess."
Ken shared his troubled life in the book called, The Late Bloomer: A Memoir of My Body in 2001, which got re-released in 2016. Moreover, taking inspiration from the book, a comedy movie called The Late Bloomer was released in 2016 starring Blake Cooper, Johnny Simmons, and Charlotte McKinney.
Read Also:- Exclusive! News Anchor Tamron Hall Decides to Exit from Today Show and MSNBC
Married Life; Family Life In Chicago 
As the trouble with Ken's sexual life ended; his romantic life bloomed. When the 47 aged Ken was 30, he met his wife, Brooke at work.
They got married, but the details of the wedding is yet a mystery for the fans. Ken and Brooke shares two children together, a son, Jackson, and Chloe and the family resides in Chicago.
Read Also:- Cancer Survivor Giuliana Rancic's Blissful Married Life With Husband And Son! Baby Alert?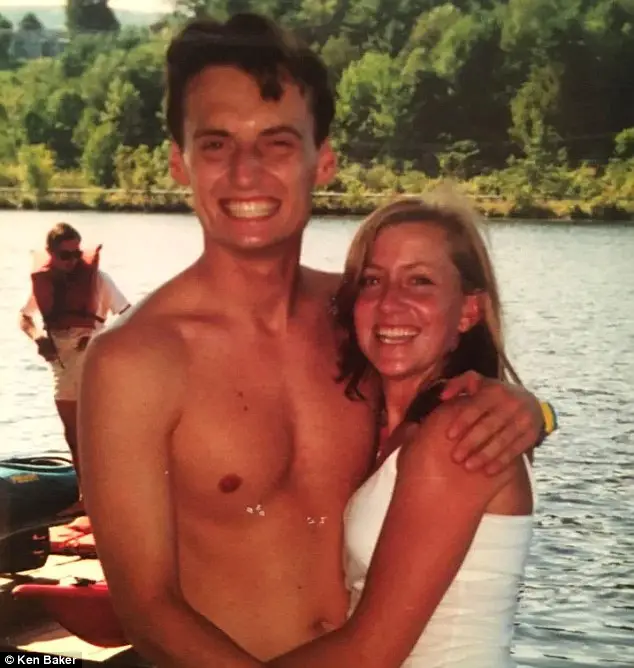 A throwback picture of Ken Baker and his wife, Brooke Baker (Photo: Dailymail.com)
Ken loves to spend time with his children; he shared a picture of his fun time via Instagram in August 2017. The former journalist also shared the glimpse of his family time on Facebook where Bakers' family was spending his time on Christmas.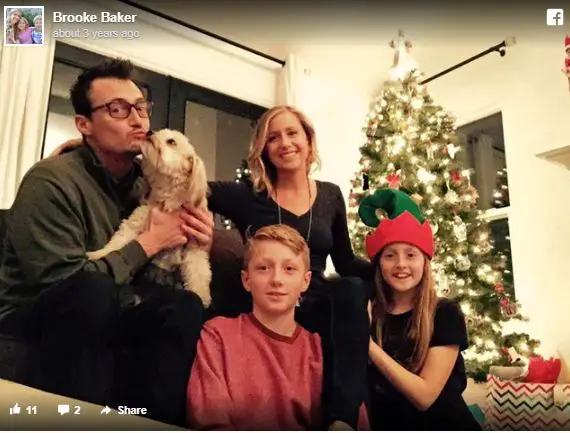 Ken Baker with wife, daughter and son on Christmas (Photo: Brooke Baker's Facebook)
The former journalist is spending his time with his family and he updates on his family life usually on his Facebook. On April 2017, he shared the proudest moment of his life where his daughter, Chloe's team won the game over Finland.
Similarly, sharing the old picture of his son, he claims that "time flies when you are a parent." He further announced that his son got his new profile on the Elite Prospects website. 
Don't Miss:- Catt Sadler Shows Amiable Feeling Towards Her Past Married Life; Will She Look After Kids Or Pass The Responsibility?
Since he is busy in gushing his children's progress in social media, seemingly he is spending the quality time with his family after leaving the E! News due to the controversial issue of sexual harassment.
Although his name belongs in the list of successful people, he is yet to reveal the details of his salary as well as net worth.
Sexual Allegation; Farewell to E! News
With his highly popular lifestyle, he was not spared with the sexual allegation. He was accused by two women and both of them used to work in E! News. 
A former E! News employee came forward in 2012 with the accusation that Baker invited her into a dimly lit room in the office and asked to sit on his lap. In addition to this, she disclosed his bad intention of touching her inappropriately that made her uncomfortable.
You May Also Like:- Grant William Robicheaux Age 38 Surgeon, Sexual Assault Allegation Corners
Similarly, another victim was also the former E! News internee who blamed Baker for repeatedly asking her for the physical relationship over the years. Back in 2011, she accused him of kissing her without her consent and in 2015 she claimed that he sent her a text message writing he wanted to gift her a Tiffany & Co.sex toy with his name written on it.
After the accusation aired on the media,
"I take them very seriously. I care deeply for people's feelings and sincerely live in a way that treats people with dignity and respect."
In an interview with Patch back in February 2018, the E! News correspondent bid his farewell from the Hollywood life and shared that he would like to spend the time with his family.
"I loved my time at E!, but through writing 'The Ken Commandments' I determined that my work gossiping about celebrities no longer aligned with my spiritual values. And with the kids wanting to take their hockey to the next level and shoot for college scholarships, it was the perfect time to make the move."
Moreover,  he stated that the accusations have nothing to with his change in career and claimed that he and E! News has mutually agreed upon the decision.
"E! was awesome and put out a statement saying it had nothing to do with the gossip. But, still, I was like, 'Oh, great. Just as I am embarking on a new phase, I have to deal with people literally throwing past things out there to hurt me.' I felt terrible about the whole thing and the hardest part was not knowing where it was coming from."
He relocated to Chicago with his own digital marketing agency named Something Clever. 
But worry not, as we've reached Ken on the matter, and we'll update you with the facts as soon as possible!