Entertainment
Kieran Culkin Married Status, Gay, Siblings & Family Insight
Kieran Culkin is one of the Culkin brothers...is married to his longtime girlfriend Jazz Charton...married her in Iowa, during a road trip... with his wife...has six siblings, one of whom died in 2008...comes from a family of performance artists...his age is...stands at a height of 5 feet 7 inches (1.7 meters)...started dating in 2011 when they met at a New York bar...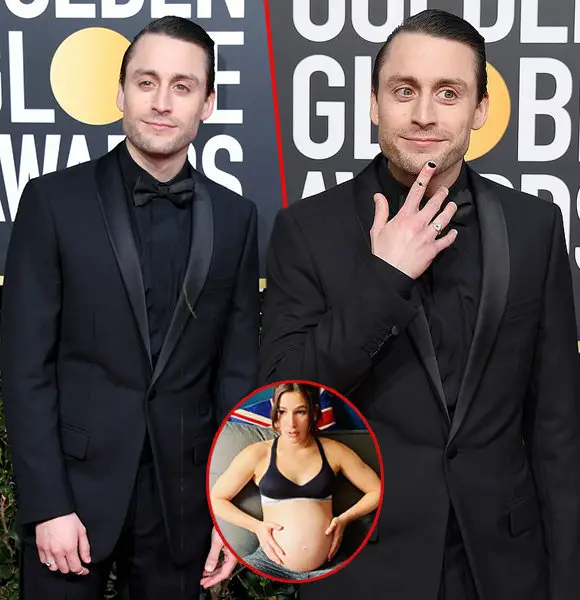 Kieran Culkin rose to fame after his appearance in the famous 1990 movie, Home Alone, alongside his brother, Macaulay Culkin. He portrayed the character of Fuller McCallister, cousin of Macaulay's character, Kevin McCalister.
Kieran acted in several cinematic productions such as Father of the Bride part one and part two (1991 and 1995), Home Alone 2: Lost in New York (1992), Go Fish (TV series - 2001), and Succession (TV Series - 2018-2019).
Kieran's Personal Life: Wife & Children
Kieran is married to his longtime partner, Jazz Charton. The couple started dating in 2011 when they met at a New York bar. 
Kieran and Jazz went on their first date on the 22nd of September 2011. And the couple took only two years to get married to each other. 
Another Culkin Story:- Macaulay Culkin Returns As Kevin McCallister, Recreates Home Alone Scene
Their wedding was held on the 22nd of June 2013. They got married on a road trip. The pair made a pit stop in Decorah, Iowa, took some time out, and got married to each other in a spontaneous fashion. 
Despite Kieran having no immediate plans to expand his family, Jazz took to her Instagram to announce her pregnancy on the 14th of May 2019. And their first-born, daughter Kinsey Sioux, came into the world on the 13th of September 2019.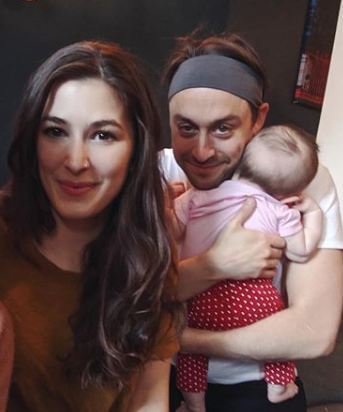 Kieran Culkin with his wife Jazz Charton and daughter Kinsey Sioux (Photo: Jazz Charton's Instagram)
As of now, the actor is leading a small family. His wife records all the moments of their family life on her Instagram.
Parents & Family
Kieran comes from a family of performance artists. He is the son of Christopher "Kit" Culkin, a failed professional actor, and mother Patricia Brentrup. He grew up in and around acting scenes, auditions, and fame. 
Kieran was one of the seven children of Kit and Patricia. His siblings are Shane (born - 1976), Dakota (born - 1979), Macaulay (born - 1980), Quinn (born - 1984), Christian (born - 1987), and Rory (born - 1989). Kieran, unfortunately, lost his sister, Dakota, to a car accident in west Los Angeles in 2008.
More About Kieran's Sister:- Quinn Culkin Bio, Siblings, Net Worth, Now
The actor's parents never actually married, but Patricia started the procedures for separating from Kit in 1995 after being with Kit for 21 years. She cited the reasons for demanding the split to be "excessive drinking, physical abuse, and unfaithful behavior." 
Before and after his parents' split, Kieran experienced both abject poverty and huge wealth during his childhood. He also saw first-hand what wealth could do to a person like his brother, Macaulay.
So, Kieran chose not to get into the life Macaulay had and found the balance between his career and personal life. He told the following in regards to the damage that fame could do in an interview with The Daily Beast in 2014:
I think if anybody saw real fame first or secondhand, they would not want to pursue it at all. It is not attractive... I don't do this for fame, I do this to be good.
Now, the siblings live separately, as do their parents. His father married a woman named Jeanette Krylowski in 1995 and lives a secluded life with her.
Facts About Kieran Culkin: Age, Height
Kieran was born on the 30th of September, 1982 in New York City, New York, USA.
His full name is Kieran Kyle Culkin.
The actor stands at the height of 5 feet 7 inches (1.7 meters).
Before his relationship with Jazz, he dated actress Emma Stone from October 2010 to June 2011.