Entertainment
Who Is Kiernan Shipka Boyfriend At Age 19? Dating Status To Family Insight
Kiernan Shipka is better known as Sally Draper in the entertainment industry. Starting career from when she was a baby to her 18-year-old self, the actress now has swirling rumors about her boy crushes and her potential boyfriends. Who the Mad Men star is dating is still a guess.
Talented young celebrities are the new cool of Hollywood, for they know how to book their spot in Hollywood. Among such names comes the promising young actress, Kiernan Shipka, who first made her screen debut as a baby model for a commercial!
While graphing many big projects under her resume, the actress won the hearts of the audience.
Acting since the age of seven, Kierman portrayed the lead role on Netflix's series, Chilling Adventures of Sabrina. Growing up before the eyes of every audience, the young lady has also reached the age where she could look for some love in real life.
So, has the actress dating early already?
Getting To Know Kiernan Shipka Better:
Nineteen years old Kiernan is a glamorous young actress who began her career in the entertainment when she was a toddler. Baby Shipka, who had hit the camera at such a young age, has aspired her talents and stardom ever since.
Popularized from her role as Sally Draper in the AMC's hit series Mad Men, she has successfully won two SAG awards. With the guest appearance in multiple shows and contribution in various series, Shipka has earned herself a total net worth of $3 million.
Her constant hit in Hollywood and acting career makes her stand as an independent and confident lady at the age of 19. She even told the New York Times in 2015 that:
"Obviously, I started when I was very, very young, but when I got older, and actually started acting, I loved it. And that's why I stuck with it."
Success and fame are taking a climb for the star at a great height at such a tender age.
Read Also:- Jon Hamm Finally Embracing Dating & Girlfriend? Wife Rift & Adaptation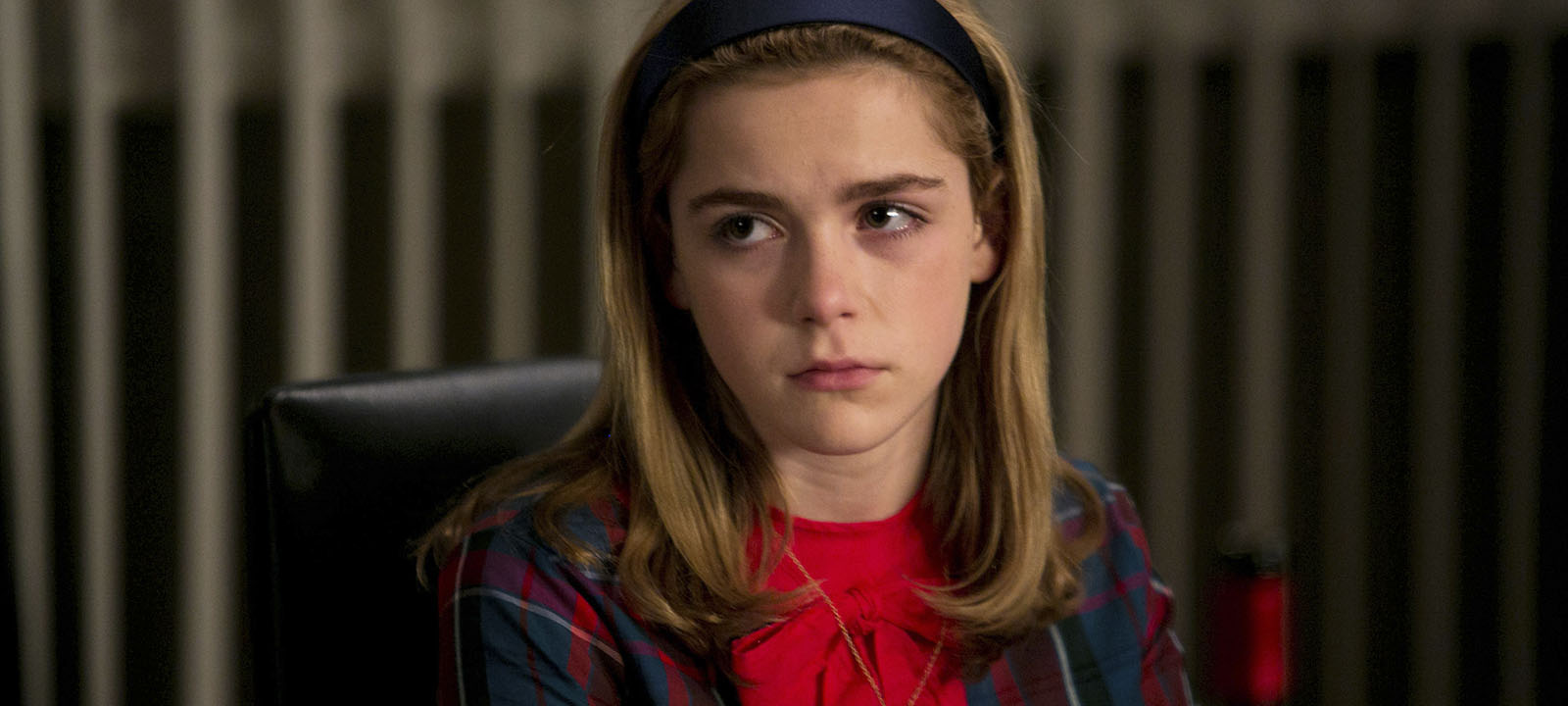 Kiernan Shipka giving her spectacular performance as Sally Draper In Mad Men (Photo: AMC.com)
Born and raised to a family in Chicago, the Flower In The Attic star is not only a talented actor but a gifted ballet dancer as well! 
With her interest in both music and dance, the young celeb has proved herself as a pure entertainer. While focusing on Netflix's Chilling Adventure Of Sabrina, Shipka had more fun for her fans on the way. Working with some of America's cutest guys, Shipka has had her fans guessing about her inside a love story.
Who Is Kiernan Shipka Dating?
It's no wonder how such a young actress at the peak of teenage, with so much beauty, wouldn't have any exciting romance in her life. Claiming to be 'single' earlier, it's only in the recent years that the Draper daughter has been leaving hints about her interest in guys through social media.
Back in late-2018, Kiernan had posted a story on her Instagram of Noah Centineo with the caption,
"@ncentineo this is an official proposal let me know if you're down and I can make myself available."
It is without any doubt that the internet heart throbber Noah has had many girls throwing love notes in his inbox. Witnessing Shipka's such gesture, it could mean something big for the two. Shipka's followers, however, had a positive response to her public proposal, saying the pair would look cute together!
Inside Story: Noah Centineo And His Dating Affair; Appreciated By Girlfriend?
The next man with whom her name got romantically linked was Chilling Adventure Of Sabrina's co-star, Ross Lynch. The two, portrayed as the main character and her boyfriend in the show, got seen holding hands and locking lips on screen.
Such heated chemistry could only leave the viewers with a swirling doubt of whether the two have something in real life as well?
Kerman's story genuinely resembled that to Sabrina, both in terms of individualism and independence. It would make a Hollywood drama come to real life if she shared the same boyfriend both on and off the screen.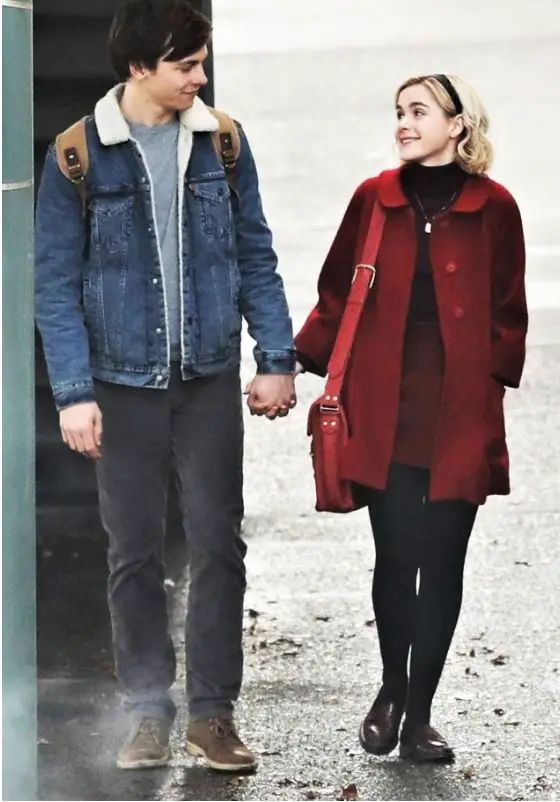 Kiernan Shipka and Ross Lynch Holding hands-on screen for the series, Chilling Adventure Of Sabrina (Photo: etonline.com)
Whatever the end goal, everyone knew that the 19-year-old wouldn't stay single for long enough. With such story posting and heated intimacy on-screen, fans expected Shipka to make her relationship and boyfriend official in the coming days.
New Boyfriend
To everyone's dismay, Kiernan alleged romance with Ross eventually petered out.
Unhinged by the split, the Mad Men actress then found a faithful companion in boyfriend, Charlie Oldman. A model by trade, Charlie is the son of actor Gary Oldman.
Igniting romance in the Summer of 2019, Kiernan and Charlie fueled dating speculation as they began popping on each other's Instagram. In mid-April that year, the duo appeared inseparable at the Coachella Valley Music Festival.
Showcased Love In Coachella:- Emily Ratajkowski Wedding, Ring, Boyfriend
A month before the Coachella appearance, the lovebirds' fueled dating rumors as they dined at the Chateau Marmont in West Hollywood.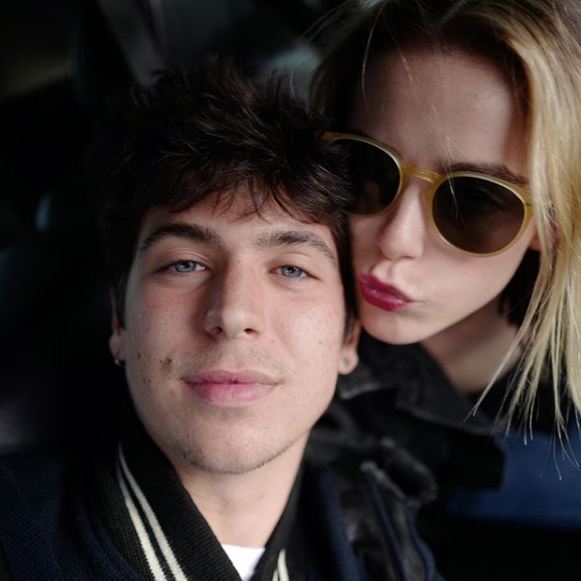 Kiernan Shipka with Charlie Oldman strike a pose for selfie circa April 2019 (Photo:- Charlie Oldman's Instagram)
Continuing with their high-profile public sighting, Kiernan and her boyfriend Charlie showcased amazing chemistry at the premiere of a new documentary in early-April 2019 in LA. At the said event, fellow attendees were in awe with how well the pair jelled together.
Despite the frequent appearances - be it on public or social media - neither the child star nor the child-of-a-star had outrightly acknowledged the budding relationship.