Entertainment
Kim Wayans Having Trouble With Husband Just Like Her Siblings Do? Reveals No Urgency For Having Kids
We might think that life of a celebrity is smoother than we ordinary people. But it is not like that because celebrities also have their battle to get over in their life. For example, let's talk about 'In Living Color' star Kim Wayans; a comedian who has made people laugh with her funny woman avatar.
Is her life as calm as we see? We know that her famous siblings have problems with their respective lives but does that mean she has a complicated life as well? Let's have a look at the life of Kim Wayans in our story today.
No Kids From Longtime Married life?
The American actress and comedian Kim Wayans has a fascinating married life but at the same time, quite pleasing to see as well. She has been married to actor and writer Kevin Knotts for almost 15 years now. In spite of the racial differences, the duo stands to their ground strongly.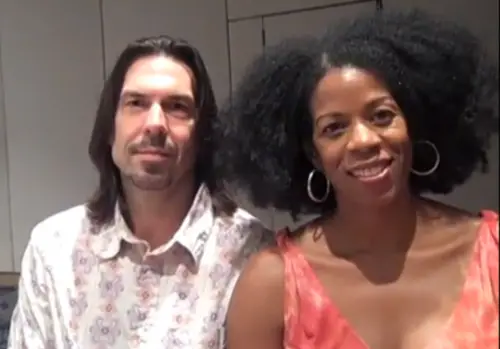 Caption: Kim Wayans have been married for actor and writer Kevin Knotts for one and half decades.
Photo Credit: theballerlife.com
But the interracial dating affair or marriage is not a new thing for Wayans family, as lots of Kim Wayans family members have married a white man and also have adorable kids together. Notwithstanding, Kim Wayans hasn't been into the parenthood yet.
After being married for so many years, Kim Wayans and Kevin Knotts are not planning for kids, not any time sooner. Referring to the lack of interest in having children, Kim says that her big family with a lot of kids is the reason behind not having children of her own. She said,
"I'm Auntie Mame. I think it's because I come from a huge family that I don't feel the need. I've always had kids to love and to cuddle. When I get tired of them, I take them back home."
Well! Kim Wayans cherishes her marital bliss but talking about her siblings they are going through some obstacles.
Kim's brother Damon Jr. had been in a relationship with his childhood sweethearts Aja for some time. They also share two beautiful daughters, but that did not stop them from going separate ways. Damon Jr. still fathers the girls.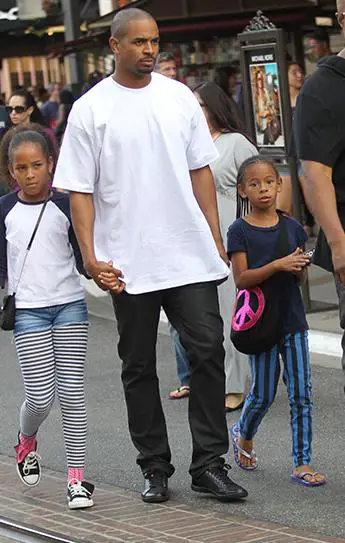 Caption: Kim Wayans's nephew Damon Wayans Jr. took his daughters to the movie theater(2014).
Photo Credit: honeygerman.com
On the other side, another brother of Kim, Shawn Wayans has a very perplexing life. He is a father of three children, daughters Laila, Illia and a son Marlon but he hasn't revealed the identity of the mother yet, and the reason behind this is a mystery that resides with Shawn himself.
Keenen Wayans, another brother of Kim Wayans, got married to his girlfriend and baby mama, Daphne Polk in 2001. The duo parents five children, Jolie, Nala, Keenen Jr, Bella, and Daphne.
But after four years of marital bliss, the pair ended their relationship without any clear statement regarding their divorce. And now, the couple have been co-parenting their children for more than ten years.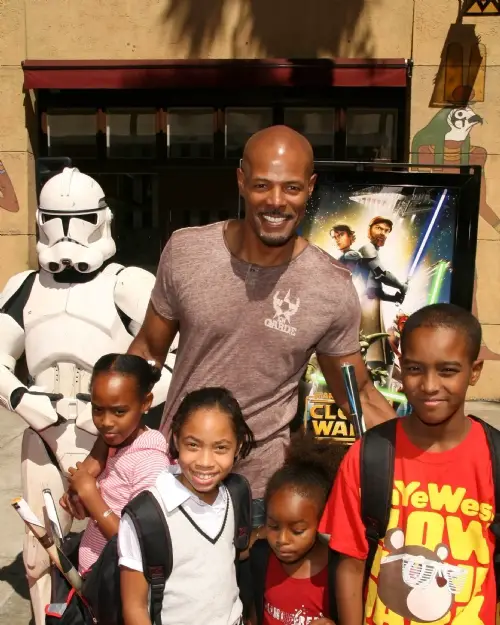 Caption: Keenen Wayans with his family at the U.S. Premiere of 'Star Wars The Clone Wars.'
Photo Credit: hollywood.com
That was about Kim Wayans's sibling's problems which they faced in their personal life. But she is happily spending her life with her husband of several years. We just like to wish her blissful life ahead with her partner.
Born on October 16, 1961, Kim Wayans has appeared in several TV and films projects like I'm Gonna Git You Sucka, Juwanna Mann, A Different World¸A Low Down Dirty Shame, In the House much more.
But Kim Wayans is well-known for her work in 'In Living Color.' She also showed up as the story editor for the sitcom "My Wife and Kids". Further, she has released a children's book with her husband, titled Amy Hodgepodge, together with her husband, Kevin Knotts.
All the work of New York native as an actress, comedian, editor and writer has helped a lot to make an impressive figure of net worth which tends to $8 million.