Entertainment
Damon Wayans Jr. Is Not Recorded to Be Married But Has Children- Who Are They?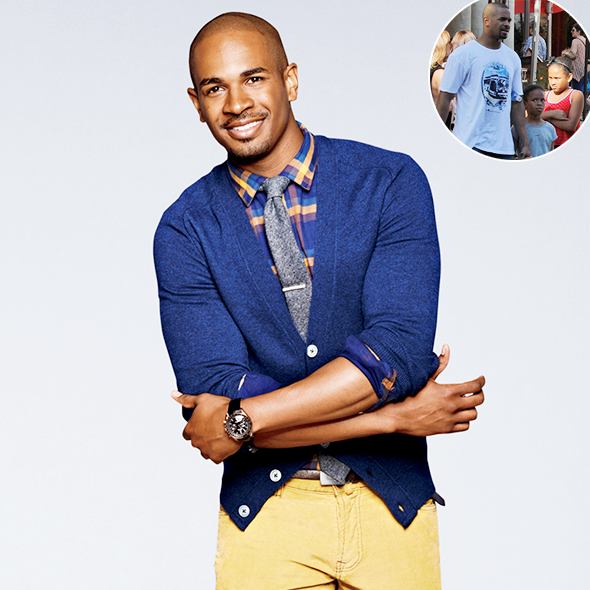 Damon Wayans Jr.'s bumpy love life has many questions about his relationship updates. So, does he have a wife or a girlfriend?
Keep scrolling to find out more about his personal life. 
Damon Wayans Jr.: Bumpy Road With Girlfriend Aja!
Damon Wayans Jr. is the father of two daughters from his ex-girlfriend, Aja Metoyer, whom he had broken off with before getting married without revealing any particular reason.
Damon Jr. and his ex-girlfriend, Aja, were childhood sweethearts who had been dating for some time, and soon they went separate ways while Damon Jr. still fathers the daughters.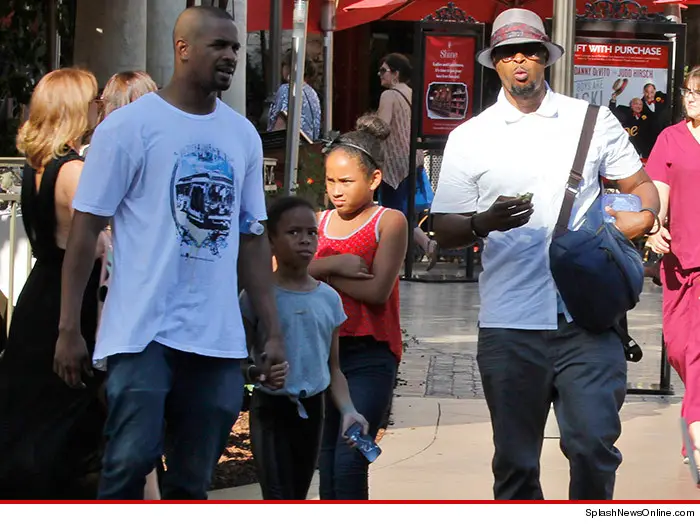 Caption: Damon Jr.(left) as he holds his daughter with his father next to him while out in the sun in 2013 (Picture: Splashnewonline.com)
No explanation on his part on why they broke up, but news revealed his ex-girlfriend, Aja's affair with another man, and the revelation of a third child relating to Damon's daughters. 
Damon Wayans Jr. Suits For Custody For His Children: Third Child Problem!
With drama that stirred up back in 2013, marriage would be the last thing on Damon's mind.
According to TMZ, Damon's ex-girlfriend gave birth to a third child, Xavier Wade, somewhere in October 2013. Despite having no confirmed relationships, she gave Dwyane the child's last name.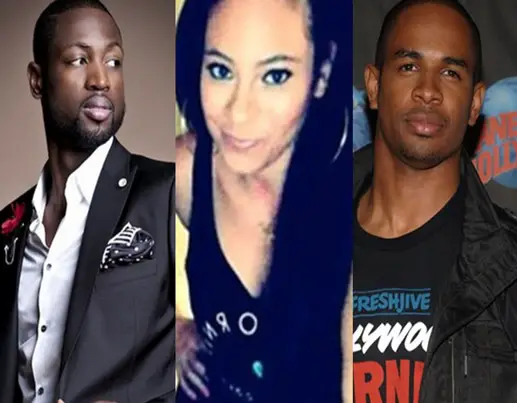 Damon's ex-girlfriend, Aja (middle), and the father of her third child, NBA Dwayne (Left) (Photo: bossip.com)
After some brief time, Damon's ex-girlfriend finally opened up to the father of her third child, who was not other than the NBA player Dwayne Wade.
Similar Stories: Rapper 6ix9ine 'Daniel Hernandez' Daughter & Baby Mama | Facts Uncovered
During the brief split that Damon and Aja had taken, the reality star had taken some time to stir some real-time romance with the NBA star, ending her with a baby bump.
Only that her baby Xavier came to the world when she had reunited her ties with the "Let's Be Cops" actor Damon.
When TMZ interviewed Damon Wayans Jr. about how he felt about all this commotion, he replied,
"I really have nothing to do with Aja's situation. We both live completely separate lives, aside from co-parenting."
Damon defended his daughters, as it may cause them some problems in the future, saying,
"My concern are my daughters and that they don't get hurt in any of this."
Adding on,
"love their little brother and that's all I care about."
But after the dramatic twist in Damon's life, Aja and Damon have been leading their separate lives. 
However, the recent tabloids hit the news about Wayans filing for full custody of his daughter to his baby mama after alleging her not taking care of his kid's education seriously.
The Basketball Wives star Aja, receiving financial support from both Damon and Dwyane, has reportedly put her wishes ahead of her children.
Don't Miss: Mike Epps Wife End In Divorce, Who Is His Two Daughter's Baby Mama?
The Happy Together star has been said to have declared his primary custody of his daughters claiming that they have been suffering in the school of "abitually absent" or tardy to class because of his ex-girlfriend, Aja's " inability to prioritize their education."
He also further claims about his baby mama leaving his two girls alone to care for their four-year-old half-brother Xavier.
With that power statement, Damon told the court that:
"I do not know how [Metoyer] spends the child support moneyshe receives from me or the father of [Metoyer's] other children, a 4-year-old whose father is basketball star Dwayne [sic] Wade."
With that, the actors faced one of the roughest times in their relationship, with the bigger responsibility towards their children and themselves.
However, Damon has now solved all the problems and co-parented with his ex-girlfriend. Apart from his messy relationship, Damon now has a beautiful wife.
Damon Wayans Jr.'s Wife
Damon is married to his beautiful wife, Samara Saraiva. Damon and Samara were first seen together in 2014 during the premiere of his film "Let'sBe Cops."
The couple kept their relationship private. On the other hand, Fans were expecting to see them together because they appeared to be a perfect match from the beginning.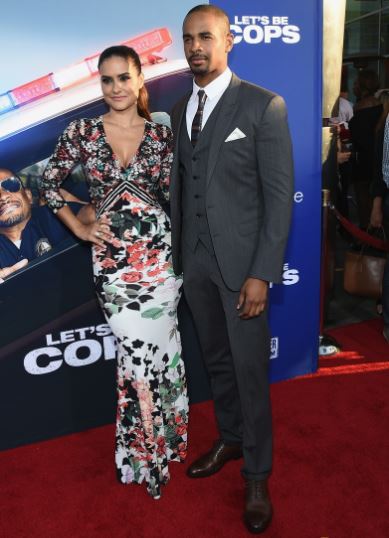 Damon and his wife at the premiere of his film Let'sBe Cops. (Source: justjared)
Damon confirmed that Samara was his wife two years later, in 2016. Although the date and details of their wedding have not been made public, supporters were delighted they were finally together. 
Damon and Samara have three children: one son and two daughters. Damon's wife appears to be the type who would rather not rely on her husband's fame to make her famous.
The actor has admitted that his wife has supported his efforts to gain full custody of his children from a previous relationship. Damon is living a peaceful life with his wife and children.
More On Damon Wayans Jr.
Damon Wayans Jr., son of Damon Wayans Sr., has a family of actors, including his twin brother, Michael Wayans, both looking remarkably similar and making a name for themselves in the movie industry.
According to Celebrity Net Worth, Damon Jr. himself has a net worth of $9 million through T.V series such as "ew Girl" and "Happy Endings" and movies such as "Let's Be Cops" has got him a good reputation in the film industry.
Discover More: NBA YoungBoy Wiki: Real Name, Baby Mama, Kids, Net Worth - All Revealed
Safe to say that he has no doubt his relationships exist issues. Nothing about his relationships exists on ships except for the daughter issues.
Fully focused on his career and personal life whaling on with a large family, he shouldn't have a problem that can't be solved.
Stay tuned to get more updates on Damon Wayans Jr.