Entertainment
Is Kristin Chenoweth Married ? Details On Husband, Boyfriend, Children
it'll be quite long before Kristin Chenoweth makes him her husband...she has a different stance on getting married and having... the Hollywood star did come close to getting married and...was honored by the San Francisco Gay
American actress Kristin Chenoweth is well known for onscreen role in Disney's TV movie Descendants (2015). Apart from her parts in big-screen, she is a prominent figure in the realm of stage acting as well.
After all, she was recognized with Tony Award in 1999 for her stage role in theatrical productions of You're a Good Man and Charlie Brown.
Is Kristin Chenoweth Married?
Kristen Chenoweth hasn't tied the knot yet. But, she is dating musician Josh Bryant- lead guitarist of the Arkansas-based band Backroad Anthem. The lovebirds were first spotted together in public at LA airport in August 2018.
Nita Strauss Guitarist :- Net Worth, Height, Family, Boyfriend
The pair have been going strong since then and even celebrated their first anniversary together on 3rd August 2019. However, the Descendants actress seems to be in no hurry to tie the knot and settle down with her lover. Moreover, she has a different stance on getting married and having children.
During her interview with Rebook in 2014, she shared,
"I still believe in marriage, but really and truly, I just want to find the right person."
Moreover, during her meeting with Bustle in 2016, the artist emphasized on her priority over career instead of maintaining a healthy family life. Interestingly, she doesn't plan on having children with her partner, either.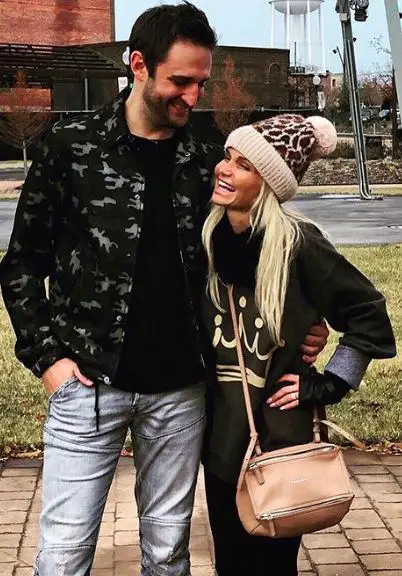 Kristin Chenoweth and boyfriend Josh Bryant in November 2019 (Photo: Kristin Chenoweth's Instagram)
Instead, she wants to adopt some kids if she ever finds herself coming across that decision. 
Past Relationships
Judging by her past relationships, the Hollywood star did come close to getting married. Well, she was engaged thrice. From 1998, she started dating stage actor Marc Kudisch, and the pair even got engaged. However, they broke off in 2001 without citing any reasons behind the split.
Pearl Thusi On Engagement Rift :- Married Rumors & New Relationship Struggle
Likewise, her lovers include actors such as Lane Garrison, Charlie McDowell (2008-2009), and Jake Pavelka (2012-2013). Also, she dated directors Seth Green and Aaron Sorkin in the past.
Furthermore, her other engagement was with producer Dana Brunetti. The two dated from 2013 to 2014, but she called off the engagement herself. As per her third engagement, there is no information regarding it and remains a mystery. 
Few Facts About Kristin Chenoweth Including Age :
Kristin's birthday falls on 24th July, whereas her birth year is 1968. Likewise, her place of birth is Broken Arrow, Oklahoma.
Information on her biological parents remains unknown as she was adopted as an infant by Jerry and Junie Chenoweth.
In terms of physical attributes, her weight is 99 pounds, whereas her height is 4 feet & 11 inches (1.5 meters).
Kristin relishes an impressive net worth of $16 million.
She was honored by the San Francisco Gay Men's Chorus in 2019.