Larry Page, who Co-founded Google in1998 with his close friend, Sergey Brin admits that he's more of a brainstormer who likes to foresee big-picture ideas, than manage people...His claim holds true as never shied away from massive plans, like mapping the entire planet or digitizing every book ever published...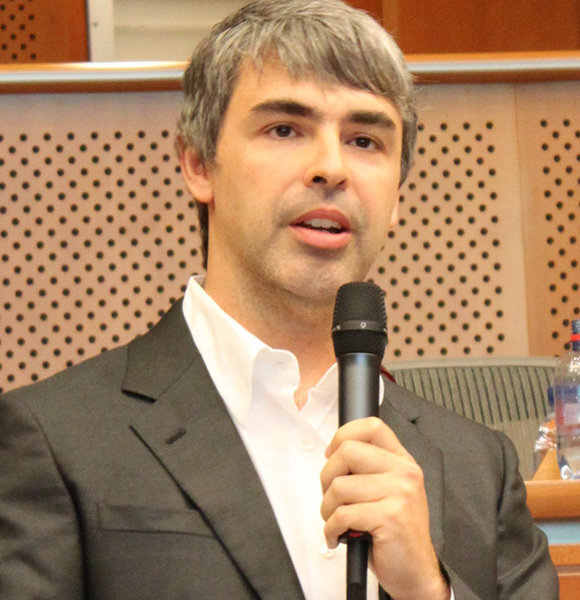 Who knew a project that started from a dorm room at Stanford between two friends could be the most significant money-making machine over the internet?
Larry Page was an Information Technology enthusiast, who began his programming journey from Stanford University. While in the prestigious institution, Larry developed a good friendship with Sergey Brin. And the two began working on a search engine; they initially named BackRub.
Their mission was to organize the world's information and make it universally accessible and useful. Hence, BackRub was soon named Google, as a mathematical term that mirrored their goal. 
As Larry and his friend launched their long-time project in 1998, Google shook the online world as the web's best search engine. 
Married Life With Wife And Children
Larry's wife is Lucinda Southworth. According to the tech prodigy, he got attracted to his lady love for her classy persona.
Well, Lucinda is a graduate of the University of Pennsylvania. Her parents encouraged her to pursue her higher studies at the prestigious collegiate research university, the University of Oxford, for her master's degree in Science. 
 IT Executive-Engineer:- Marissa Mayer Husband, Ring, Children, Family
The beauty chose collegiate research university as she was passionate about research and science. Her passion led Lucinda to become a researcher and a scientist. Moreover, she took her Ph.D. studies in Biomedical Informatics parallelly with her professional duties.
For her outstanding credentials, she is also known to be a smart woman breaking past her limits with elegance.
No wonder Larry found the one in her. He started dating her in 2006. Naturally, the dynamic duo tied the knot on 8th Dec 2007 on a private island with about 600 renowned guests. 
The couple extended their family welcoming two children, born in 2009 and 2011. Lary sure likes to keep his little ones' identity a mystery to date.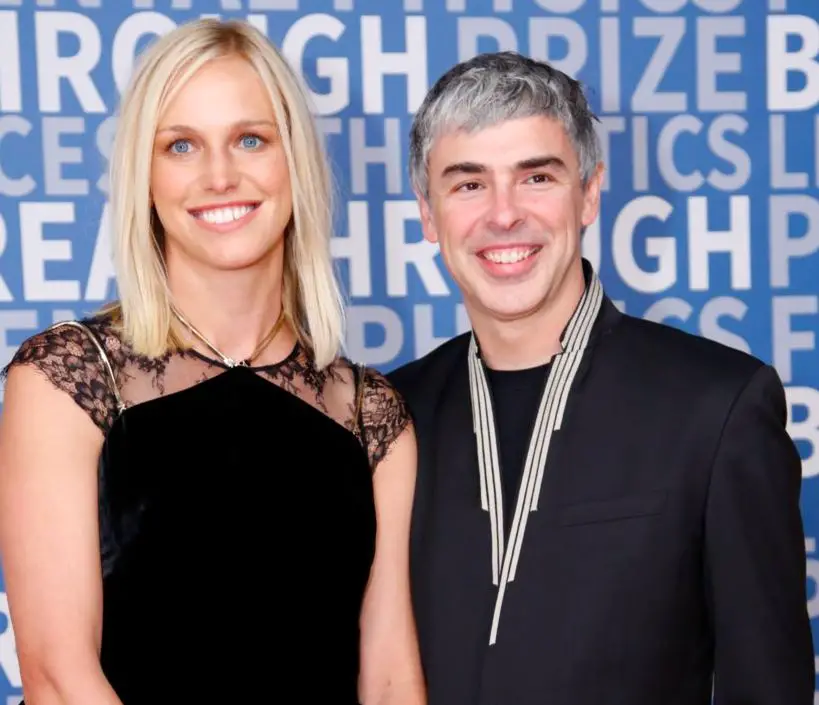 Larry Page with wife Lucinda Southworth at an event covered by ABC news (Photo: businessinsider.com)
Larry and Lucinda together make a great role model for their children as the couple are both unusually insightful and giving. As exemplary parents, they have together established their charity organization Carl Victor Page Memorial Foundation- which works in the field of education and health.
Net Worth, Salary, Cars, House
Larry has a net worth of $56.4 billion and is ranked 10th on the Forbes' 2019 list of billionaires.
The billionaire lives in a $7 million home on a Palo Alto compound, with his family. Also, he splurged on a $45 million, 194-foot super-yacht called Senses back in 2011.
Apple's CEO:- Tim Cook Inspiring Coming Out Story, Being Gay & Partner To Married Status!
He also has a unique taste in cars. He owns a Toyota Prius, world's first, mainstream hybrid vehicle for his daily ride. Moreover, he has now turned his investment to flying cars, staking $100 million on Zee. Aero- an aircraft company, working on a revolutionary new form of transportation.
Bio & Career Info 
Larry was born to parents Gloria and Carl Page, both Computer Science teachers at Michigan State University. Opportunely, he was very intrigued by the computers and tech magazines, that filled his house.
At 12 years of age, he read the biography about Nikola Tesla, which provoked him not just to invent a brilliant technology but also have people use them for their benefit.
Worked For Google:- Sheryl Sandberg Husband, Boyfriend, Children
Lesson from Tesla's life story remained with him, and he pursued his education as a weapon to change the world through technology. He graduated from the University of Michigan and preceded to Standford for his Ph.D. whereby he met Sergey Brin, and the rest became history.
Larry admits that he's more of a brainstormer who likes to foresee big-picture ideas than managing people. He claimed right as he never shied away from big plans, like mapping the entire planet or digitizing every book ever published.
Larry took on the post of a CEO at Google in 2001 and stepped out in 2011. His decision to change brought in good results for the company. 
Before the end of 2012, the company was able to launch its first Chromebook laptop, Google Glass, high-speed-internet service, and Fiber. The diversified launch was possible since Larry had managed to transform the senior management of the company.
After Google established a proper corporate structure, Larry became the CEO of Alphabet, Google's the parent company, in 2015.