Entertainment
Lars Larson Is Someone Who Balances Live Radio Shows and Family Life Like A Pro
Individuals committed to their professional career can barely manage time for their friends and family. On the other hand, people who prioritize their personal life can't give their cent percent to their profession.
However, there are some celebrities who can balance their personal as well as professional life like a pro; just like Erica Hill, Mike Brewer, and Petros Papadakis.
A name to add to the list is the talented American conservative talk radio show host Lars Larson, who not only enjoy a wonderful, successful career but also is showered with a blissful family life.
So let's take a closer look at his life and learn how he balances his life!
An Overview of Lars Larson's Personal and Professional Life:
Larson, who began his professional career in radio at the age of 16, is now already established in his field. He started his job by spinning records, reading news, weather, sports and till now, has worked for five television stations, followed by more than a dozen of radio stations and podcasts.
Active in the professional career for more than four decades, Larson is known for hosting 'The Lars Larson Show' since 1997. Being one of the talented and versatile hosts, Larson has a hectic career, but his career has awarded him a splendid salary as well, that consequently adds up to his net worth; but Larson prefers keeping his accumulation behind wraps, most probably for security reasons.
Talking about his married life, Larson got married to Tina Larson in the year 1997, and he has been experiencing a blissful married life with her ever since. ??????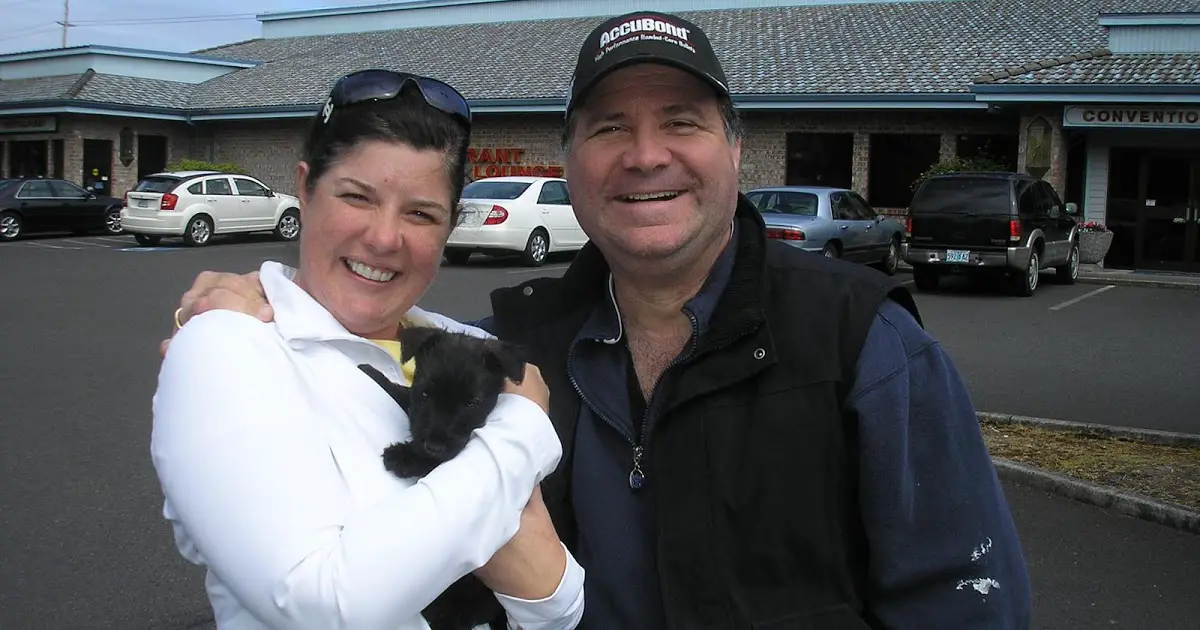 Caption: Lars Larson enjoys a blissful married life with wife, Tina.
Picture Credit: myscotties.com
Back in November of 2014, Larson took Twitter to reveal that his wife, Tina is in the hospital, and he has been by her side for last two days, showing his worry along with his concern for his fans, who would not be happy missing him on the show.
Pers update. My sweet wife Tina's been in hospital last 2 days. I stayed w her. Some listeners not happy. Priority family 1st.Ferguson Tues

— Lars Larson (@LarsLarsonShow) November 25, 2014
No doubt, Larson loves his wife a lot!
Talking about Larson's kids, he has two stepchildren; a son named Brandon and a daughter Dreama. If you follow Larson on his verified social media accounts, you might have seen him talking about his family and kids several times.
Here is a family image Larson shared on Facebook on Christmas of 2015, where we can see his wife Tina, son Brandon, daughter in law Marquis, and daughter Dreama.
Larson also has a granddaughter named Paisyn Kay, who was born in April 2016. Larson announced the arrival of his granddaughter via Facebook on April 2, 2016, soon after his son and daughter in law welcomed her, enduring 28 hours of labor.
Larson is fond of his very first grandchild, and he keeps on sharing the picture of Paisyn on Facebook. Earlier this year in May, Larson shared an adorable snap with his granddaughter, where he is seen giving Paisyn a bath, who had six teeth and half an inch of hair at that time.
However, getting married to Tina wasn't his first experience of marriage, as he lived through a failed marriage with Debb Janes earlier, which lasted from 1991 to 1995.