Entertainment
Petros Papadakis Married Life With Wife Has Evolved Into A Beautiful Family! Shares Plenty Of It
Petros Papadakis Married Life With Wife Has Evolved Into A Beautiful Family! Shares Plenty Of It. Striking a balance between your professional and personal life is difficult. Perhaps only a few have enjoyed a flourishing career along with a beautiful family. As we mention these lines, we would like to introduce American Radio and TV personality, Petros Papadakis, who has been no short of enjoying a booming career and a wonderful family life, simultaneously. married,wife,famiily,salary,net worth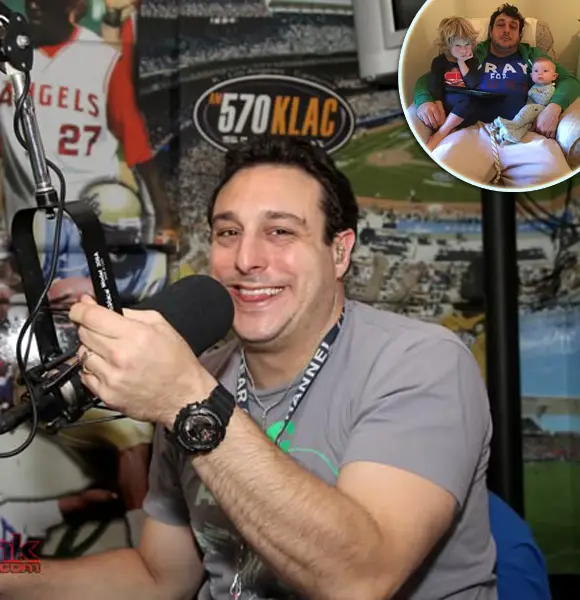 Nuptials are special, but the married life that begins afterward needs proper nurturing for the relation to evolve into a beautiful family life. Sometimes, it's difficult to strike a balance between your professional and personal life, and only a few lucky ones get to enjoy a flourishing career along with a beautiful family.
American Radio and TV personality, Petros Papadakis fits the later statement very well, as he has been enjoying a booming career and a wonderful family life, simultaneously. So let's have a look at the nearly perfect life of this person to find out how he does it!
Petros Papadakis' Married Life With His Wife, Family 
Petros, who ages 41 and celebrates his birthday on 16 June, has been very secretive about his love life following which least information regarding his romantic life has surfaced in the media. However, it's known that he is a married man with a wife and children.
See Also:- Jose Diaz-Balart with Simple Love to Family! Considers Wife and Children as Life
Petros Papadakis exchanged wedding vows and got married to his wife, Dayna Zapke-Papadakis back in time. Dayna, who worked as an instructor at Bar Method before her marriage, tied the knot with Petros on 25 June 2009.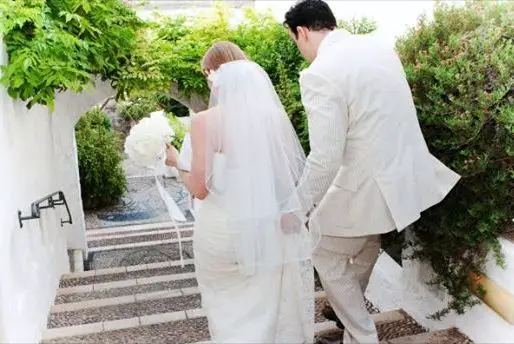 Petros along with wife Dayna on their wedding day in June 2009 (Photo: Dayna Zapke-Papadakis' Facebook)
However, the information regarding their initial meeting, dating affair followed by a marriage and the tenure of their relationship remains in the shadows.
Nevertheless, in an interview with Los Angeles Magazine back in December 2011, Petros gave a little insight into his personal life and mentioned about his married life with a wife.
"I'm married, and I go home at night, and my wife and I watch bad reality TV together. I've got to be honest with you—if I had to go on the air every day and talk only about the Dodger woes or what Angels rookie-of-the-year candidate Mark Trumbo's batting average is or the NBA labor dispute, I'd go nuts. I always enjoy telling  stories and opening the door a little to my life. People have responded to me making fun of myself and calling myself fat or ugly or lispy."
Despite keeping the details regarding his love life under the wraps, he fondly shared the pictures of his children via Instagram, and his fans were delighted to see him spend quality time with his kids.
Petros' wife Dayna gave birth to a son named Fletcher in July 2012, three years after the couple got married. Petros and his wife are also parents to a second son, however, the birthdate and other details about the child has not been disclosed.
Petros shared a picture of his son, Fletcher where his son is flaunting his dinosaur glove back in August 2016.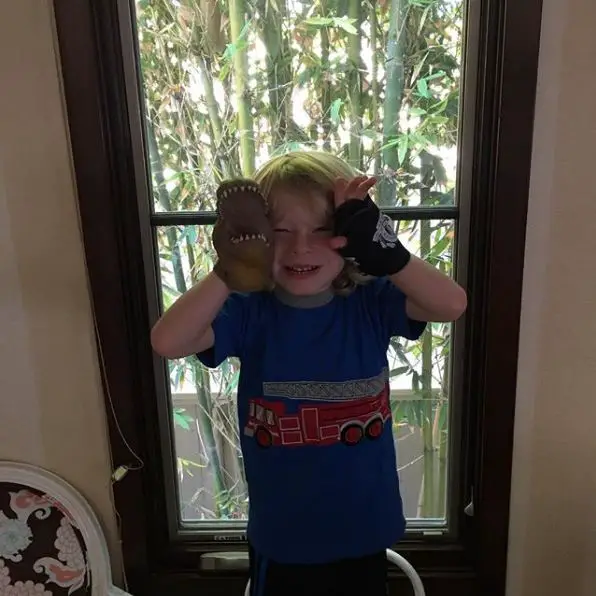 Petros shares the picture of his son, Fletcher on 30 August 2016 (Photo: Petros Papadakis' Instagram)
Petros also flaunted a picture, where his son is wearing a cap of the American professional baseball team, Los Angels Dodger via Instagram in October 2016.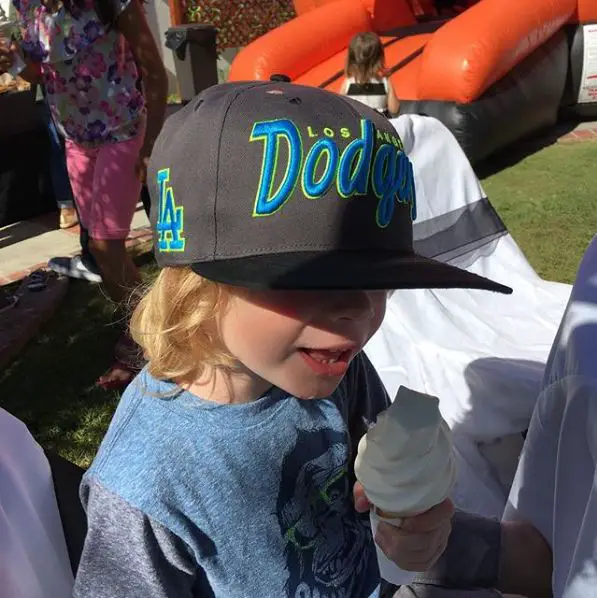 Petros' son Fletcher licks his ice cream wearing a Dodger's cap on 16 October 2016 (Photo: Petros Papadakis' Instagram)
Petros shared a photo with his son, holding another baby. It seems that daddy Petros was posing with his two adorable kids, but it is still not clear as Petros did not caption the picture.
You Will Find Interesting:- Danny Glover, From One Wife To Other; Children At Age 72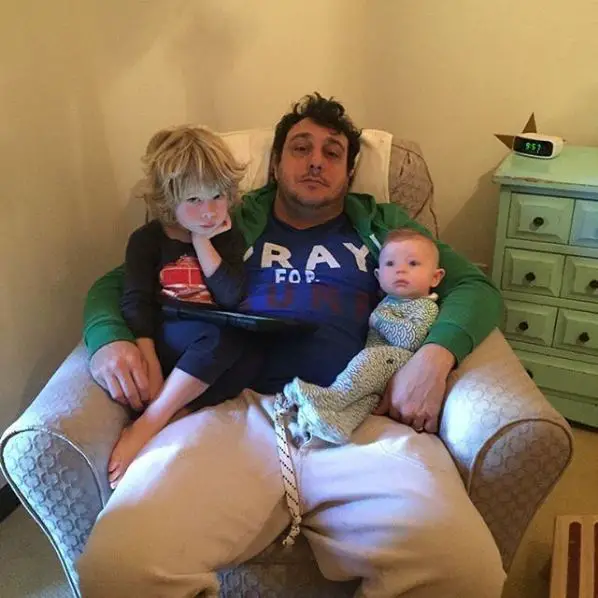 Petros along with his two adorable sons on 9 February 2016 (Photo: Petros Papadakis' Instagram)
Taking out time from the busy schedule, Petros seems to be enjoying the joy which parenthood brings along. Most recently on 14 September 2018, he shared a video clip of his son Fletcher doing the laundry on his own while Petros could be heard providing his child with instructions.
Moreover, Petros is not the only one, who was inclined to sports from his family, as his father, John Papadakis and his brother, Taso played sports at the University of Southern California.
Career, Salary, And Net Worth Details
Young Petros was an aspiring footballer and even took the responsibility as the captain of his college football team while studying at the University of Southern California. But an unfortunate accident, which broke Petros foot in August 1999, shattered his dreams.
After the accident, Petros underwent several operations, and after months of rehabilitation, Petros returned to the field in 2000. His teammates honored him with the "Most Inspirational Player."
He did not play football professionally, but his love for the sports turned him a broadcaster. He worked for radio in summer 2001. Until now, he has hosted programs including Petros and Money Show, The Ticket, and Bonus Hour. 
More From LiveRamp Up:- Sue Perkins & Wife-Like Partner | Why Openly Gay Couple Won't Have Kids
During his initial years on Radio, Petros was hosting on Television as well. With his interesting broadcasting style, he has won many hearts and has hosted several television programs including Pros vs. Joes, The Challenge, and NBC's Football Night in America.
Petros is currently co-hosting a program on Fox Sports Radio titled Petros and Money Show where he earns an annual average salary of $52,096.
He has apparently accumulated a hefty sum to his name through the salary he earns from his professional obligations; however, he remains mum when it comes to revealing the exact figures of his net worth. 
Stay with us for the emerging updates on Petros Papadakis!