Blessed with the Greek goddess features, actress Laura Slade Wiggins through her enchanting beauty and acting skills in the TV series, Shameless, attracted several male followers to praise for her grace and expertise. But despite being surrounded by handsome members, Laura Slade has completely stashed her love life from the media reach.
Is the primary reason for keeping low-key dating life to prevent unwanted paparazzi, or is she maintaining a barrier between her personal life and professional life?
Dating Life With Former Boyfriend
While flipping through the dating life of Laura Slade, a few sources linked the actress with American actor James Preston. Laura was said to be in an affair with the actor in 2011.
Failed Relationship:- Kaya Jones Married With Husband? Or Ex-Boyfriend Trauma Disgusts Dating Idea?
Though none of the celebrities confirmed the dating news, they were spotted together holding hands at the Milk Studios in Hollywood while Pop Candies TV took an interview about their thoughts on Two and a Half Men.
Well, the relationship must have ended as Laura was said to have mingled with a mysterious man in 2014 while James was reported to be single.
Married To Stuntman
Laura's mystery boyfriend turned out to be none other than Kyle Weishaar, whom she had first met in 2008. Kyle is a stuntman by profession and has worked in several movies.
The couple eventually got married in June 2018 in a romantic-themed wedding held in Colbert, Georgia. For the wedding, the bride was dressed as a princess in a white gown; whereas, her Prince Charming looked flawless in a black tuxedo.
The marriage was not an end to their romance, but a start to a new chapter in the couple's lives. The husband-wife duo loves taking vacations and regularly go out on dates.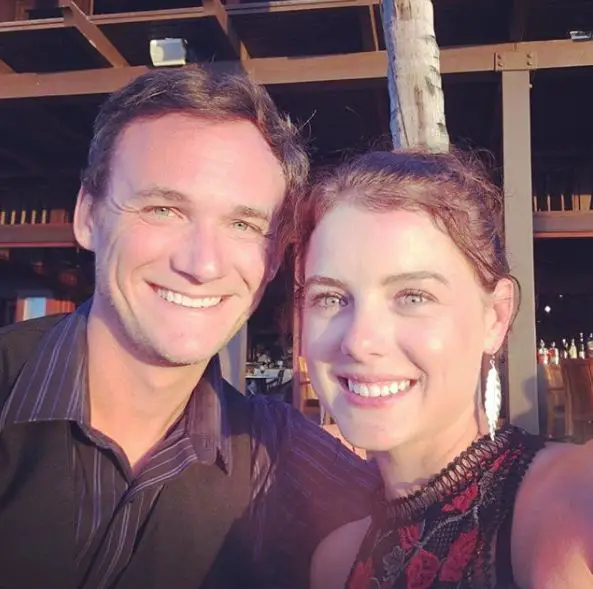 Laura Wiggins and husband Kyle Weishaar on a date in October 2018 (Photo: Laura Wiggins' Instagram)
Kyle has been a supportive husband throughout their marriage. Even when Laura lost her family dog Pistol in February 2019, he was right by her side to comfort his wife.
Caring & Loving Life-Partner:- Pam Oliver Bio Unravels: Family Issue, Supportive Husband | Explicit Details
The couple hasn't yet started a family, but fans are hoping to see the duo parent a child on their own.
Young Achievement At An Early Age:
At a young age of 28 years, Laura has embraced with tremendous success and wealth. She entered the entertainment field through her movie debut "Dance of the dead" in 2008. Since then, she has been gaining works and popularity, allowing her to accumulate the total net worth of $2 million.
Lauren is still working as an actress as she has undertaken three major movie projects Rings, Stolen from the Cradle and Jax In Love for the year 2017. With early success, it's sure for the actress to blossom her career path and become a famous face of Hollywood in the upcoming era.