Entertainment
Pam Oliver Bio Unravels: Family Issue, Supportive Husband | Explicit Details
Famous NFL reporter Pam Oliver, through her open and straightforward interviews, has overwhelmed the crowds with her astounding works in the FOX Sports Broadcast. For the kid, who grew up watching Sports channel, paved her way as the highest- profile sportscaster with many highs and lows of her life.
However, even after being an established reporter, Pam is still experiencing highs and lows in her life. The former CNN Sports producer is blissfully married to her husband however, turmoil came after she was discovered to be infertile and could not have any kids.
Now, with a supportive husband on her side, the Dallas, Texas native is set to win all the obstacles and stand strong through all storms!
Oliver's Biggest Tragedy: No Children With Her Husband
Pam Oliver was first in a long-term relationship with her now husband Alvin Whitney before she tied the knot with him in 1990.
NFL Quarterback:- Ryan Nassib, NFL Quarterback Stats, Salary & New Contract
However, before the love connection sparked, her husband, Whitney was in a marital relationship with his former wife Vanessa Whitney. The ex-couple had three children named Aiyana, Khail and Anissa Whitney together.
With the looks of Pam's married life, the scenario stands contrary for Pam and Alvin has no children and no news of any surprises of "baby on the way" till date.
It was only after Oliver's avowal that the world was acknowledged about the disheartening story about Oliver being diagnosed with the Uterine Fibroid, i.e. the popular anchor cannot have any kids due to her infertility.
Being unable to foster a child of her own is the biggest melancholy for a woman.
With the grief some episode in Oliver's life, the journalist still stays hearty and mothers her three stepchildren and treats them as her own. She is joyous in spending time with her family and at peace in accepting her conditions.
Other NFL Star:- NFL Star Randy Moss Turmoil; Why Didn't He Turn Girlfriend Into Wife?
Despite being a lady with a net worth of $6 million, she chooses not to waste it all in the surgical procedures and the fertility treatment. She embraces the adversity and verges upon the bittersweet reality.
Vows To Stay Forever: A Supportive Husband With Three Daughters
The condition of Oliver was not what people would label it as easy. But, in contempt of even such a hurdle, Oliver hasn't forgotten how to smile.
All the credit goes to her husband Alvin Whitney who with his undeniable supportive nature hasn't failed to care for her.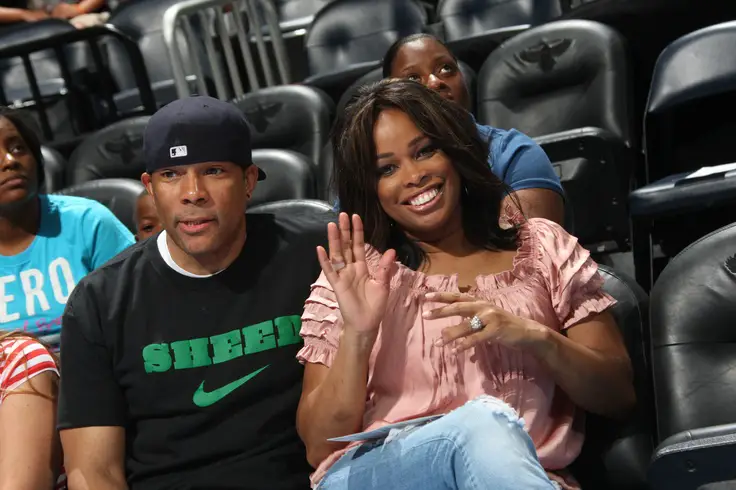 The happy couple spotted together (Photo: Fabwags.com)
Many marriages fail due to this reason, but Oliver and Whitney have kept it strong and have carried their married life beyond just an ordinary tie.
And such case was possible only because of the two parties bounded by love coming under deep understanding.
With such a support at her back, Oliver still manages to carry on her superb personality on screen. 
Pam Oliver Bio: Age, Husband, Daughters, Net Worth, Height and Family
The female NFL sports reporter, Pamela Donielle Oliver was born on March 10, 1961, in Dallas, Texas to parents, John Oliver and Mary Oliver.
You May Also Like:- Political Column Pat Buchanan Wiki: Trump Talks, Books, Net Worth & More
The 57 years old FOX reporter, who stands at the height of 1.77m, has been an astonishing reporter in FOX and ESPN and is reaching greater heights in her every step. 
Oliver, being a popular sportscaster in the history of NFL, earns a salary of around $1 Million which contributes to her net worth of $6 million.