Entertainment
Lauren Sivan Dating! Moved On From Could-Be Husband?
Former Fox News reporter, Lauren Sivan is also an actress who foot stepped in the Hollywood world with the 2013's movie, Drunk History.
With the movie, she started garnering recognition both as a 'Journalist' and an 'Actress,' which in return has boosted her fan base, who prefers keeping track of her life happenings. Well, many of you should already be aware of the fact that the Lauren was once engaged to her boyfriend. So, did she took her relationship further to the nuptials or has she parted ways without turning fiance into her husband?
Keep reading to get your answers!
Lauren Sivan's Relationship Status Now
Lauren Sivan was engaged to get married to the Fox News correspondent, Rick Leventhal back in, September 2005. Their wedding date was set for February 2006. But sadly they canceled their wedding a week before the set date and decided to wait.
Before their wedding, Rick and his friends even went to Las Vegas for his bachelor party. Leventhal who has two children from his previous marriage with Penny Daniels stated about their wedding cancelation,
"Our canceling the wedding had nothing to do with my bachelor party or her bachelorette weekend. We just decided to wait."
Additionally, Rick noted about their relationship saying,
"We're still very much together. We went to South Beach together for a few days last week. We spend every possible minute together and that will absolutely continue."
Well, as per reports the two were living together until 2010's August, but since then there hasn't been any update on their relationship status which makes their fans believe they have parted ways. However, the official confirmation from the involved parties is still due as of now.
Also, since it's over a decade of their engagement, the 40-year-old actress seems to have moved on from the relationship, considering the update she provided on her dating status through her social media account.
Back in October 2015, she tweeted about her boyfriend that reads,
"I know more about Jim Carrey's sometimes girlfriend than I know about my own boyfriend."
Moving on, back in December 2017, while replying to a tweet, Luren hinted that she has a boyfriend. But the context is still unclear since the account of the person posting the original tweet that she replied to has been suspended.

Lauren Sivan's hints on a possible boyfriend (Photo: Lauren Sivan's Twitter)
Despite her tweet on 'Boyfriend,' Lauren has not mentioned anything further that would help us track her current relationship status. Probably, she wants to maintain a low-key affair after her broken engagement!
Lauren Sivan's Life At Glance
Lauren Sivan was born as Lauren Paige Sivan on 6th April 1978 in the United States. She graduated from George Washington University in 2000 with the bachelor's degree in Journalism and political science.
The very first job of Sivan was at WETM-18 News in 2003. After gaining some working experience, she was offered a contributor role by Fox News Channel's, Red Eye in 2008.
Later, in 2010, Lauren got her master's degree from Long Island University, and in the same year, she started working for News 12 Network. After a year working as a reporter at KTTV Fox 11 in Los Angeles, she has worked with many companies in her early career. Well, all the jobs she undertook should indeed have paid her with a handsome salary the figure of which is unknown.
Moving on from her career, Lauren is a family person as she loves spending time with her family the instances of which is available on her social media accounts.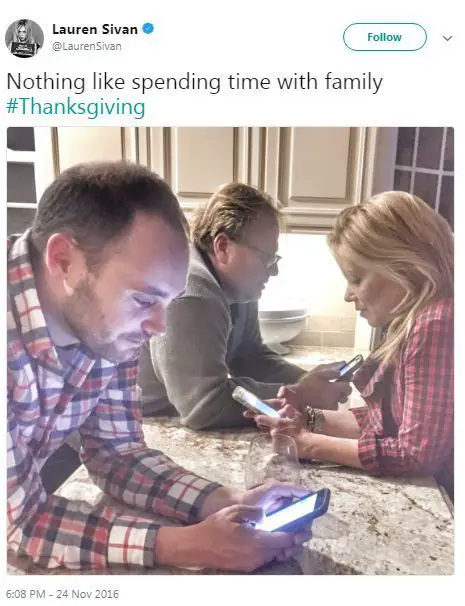 Lauren Sivan with family on 2016's Thanksgiving Day (Photo: Lauren Sivan's twitter)
Sexual Harassment Issues
Did you know, Lauren is one of the women who got sexually harassed by the Hollywood producer Harvey Weinstein? Well, the severe issue came to people's attention after Lauren revealed that in 2007 Weinstein once trapped her in the hallway of a restaurant and masturbated in front of her.
Lauren at first did not come forward with the accusation since she was in a long-term relationship and was intimidated by Weinstein's media power. But she later opened up about the incident that left her shocked after New York Times revealed that, Weinstein had settled at least eight sexual harassment claims. The victims of the harassment include Rose McGowan, Ashley Judd, Paz De La Huerta, Annabella Sciorra among others.
Moreover, after many ladies came forth shedding light on the matter, Harvey was expelled from the member of Academy of Motion Picture Arts and Science. Not only that, his second wife, Georgina Chapman has also left him after the sexual harassment news aired.