Entertainment
Meet Lesbian Player Layshia Clarendon's Wife & Know About Her Married Life
Layshia Renee Clarendon is an American Basketball player playing for The Connecticut Sun in the WNBA. Openly lesbian, she is married to her college girlfriend...Standing at the peak of her career, she earns a salary figure of...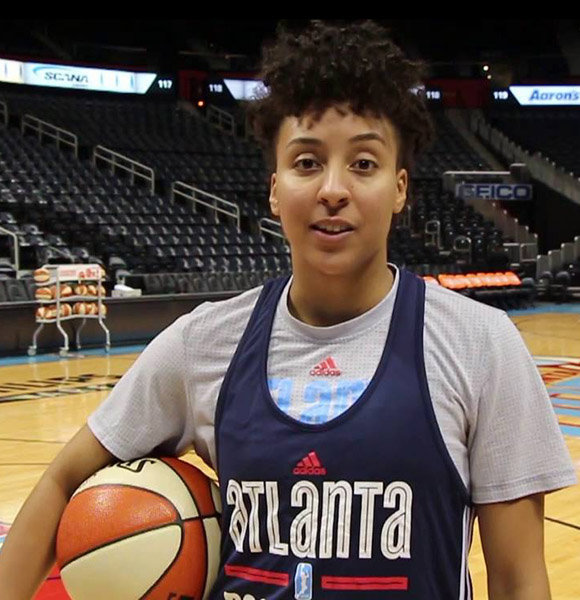 American Basketball player Layshia Renee Clarendon is amongst one of the very few athletes from the sport who is proudly vocal of her lesbian sexuality. 
Coming from a sports background, where many hesitate to reveal their true identity, Layshia shines like a new ray of light, proving that a player's sexual identity has nothing to do with their ability.
But the best bite is openly lesbian Layshia's romance with the love of her life. The star is officially off the market for she is happily married to her lesbian partner. 
With a settled personal life at home, Layshia has thus gone to excel tremendously in her professional career. A key figure of the USA Women Basketball team, the point guard, thus stands tall and proud at the peak of her career.
Coming Out As Lesbian: "Very Existence Challenges Every Racial, Sexual And Gender"
Born to religious parents in San Bernardino, California, Layshia faced quite a struggle in coming out to her parents about her sexuality, especially witnessing their reaction post her sister coming out as a lesbian.
However, after she gathered a little courage to come out in the open, her parents have been fully supportive of the basketball star. Since then, the player has not looked back.
You May Also Like: Glory Johnson Ends Her Married Life With Her Lesbian Partner, Meet Her New Boyfriend
Following the support from her parents, Layshia has thus kept it no secret about her real identity. In an essay written to the Players Tribune in 2015, she identified her true self with a self-confession.
"I identify as black, gay, female, non-cisgender and Christian. I am an outsider even on the inside of every community to which I belong. My very existence challenges every racial, sexual, gender and religious barrier."
The San Bernardino, California's native's open attitude has thus helped the point guard in more than one way.
Player Happily Married To Wife: Wedding As "Magical Day"
Following her open sexuality, Layshia had no hesitation in performing her wedding nuptials with her college sweetheart Jessica Dolan on 12 November 2017.
Over the wedding ceremony held at Hotel Shattuck Plaza in Berkeley, Layshia married her longtime girlfriend and read out her wedding vows loud and clear. Following their honeymoon in Napa, Layshia and Jessica, a marketing consultant representing female Olympic athletes, have been together ever since.
Layshia Clarendon along with her wife, Jessica Dolan. (Photo: Layshia Clarendon's Instagram)
Don't Miss: Basketball Player Sylvia Fowles: Neither Married nor Dating a Boyfriend, Where is She Now?
Marking their first wedding anniversary on 12 November 2018, the lesbian player took to Instagram to wish her wife a happy wedding anniversary with a heartfelt caption.
"I can't believe it's already been an entire year since this magical day! It's never perfect but we always communicate, grow and learn. Cheers to 1 down and so many more to go!!! Also grateful for our peeps who show up and support us daily."
With the duo endlessly in love for each other, they look all set for happily ever after in one another's company.
Bio Reveals Age, Height and Career Details
Layshia, age 27, currently performs her responsibilities as a point guard in WNBA for The Connecticut Sun. Standing in at the height of 5'9" and a body weight measuring 64 kg, Layshia has all the physical attributes it takes to reach the top of her game.
The basketball star, who started her career with college basketball where she represented the University Of California, soon signed her first WNBA contract in 2013 as she started her career playing for the Indiana Fever.
She then moved on to the Atlanta Dream in 2016 and excelled there up until 2018, where she became part of The Connecticut Sun.
Read Also: Rising Basketball Star Jewell Loyd: No Dating, No Boyfriend​​​​​​​
Standing today at the peak of her career, Layshia earns a decent salary figure for her career at the WNBA. Though the exact detail of the contract has not yet been revealed by the point guard, she is estimated to earn around $115k per annum as salary figures.
This along with her several partnerships and endorsements thus builds up a massive net worth for the basketball star.