Entertainment
Leela James' Partner From Music Industry, Parents To Two Kids, Soon-To-Be Husband?
The word life is an acronym for more profound meaning: Living In Family Efficiently.
So, the best part of living a life is to have a happy family life, and the most important thing to have a happy family life is to have love. Leela James, in this respect, can say she has a great life because she has a great family.
Want to know how? Well, stay with us as we reveal all about Leela James's family life and also reveal about her husband, who she had hidden away from everyone till now.
Happy family Feat Husband, Kids
Leela James, an American RnB singer, is a happy mother personified. On 30 May 2015, she tweeted that she had married, but didn't reveal the identity of her husband.
Discover:- Olly Murs Dating Status Now: Who Is Singer's 'Troublemaker' Girlfriend?
A  year later, on 3 February 2016, she posted her photo with an engagement ring, captioning "I said yes." She later deleted the post. 
And on 29 March 2016, she welcomed her newly born son to the world. She called the day as her best day and thanked God for her son's healthy delivery and also labeled her son "prince" through her Instagram.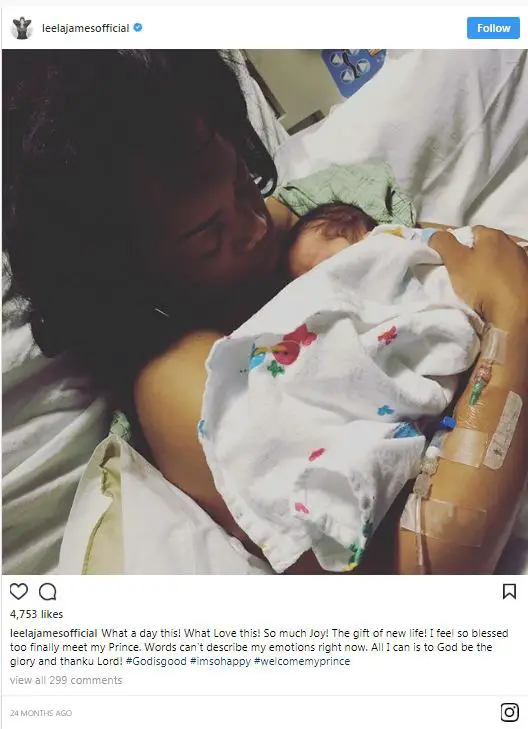 Leela and husband turn parents, son born (Photo: Leela James's Instagram)
Similarly, Leela James is also a proud mother to her daughter.  She is also close to her parents. She has praised her father for raising her and being there for her daughter with all love and care.
But she had hidden about the identity of her son's father until she finally deiced to reveal him in 2016. She uploaded a photo of her son and another guy playing drums, writing "like father like son."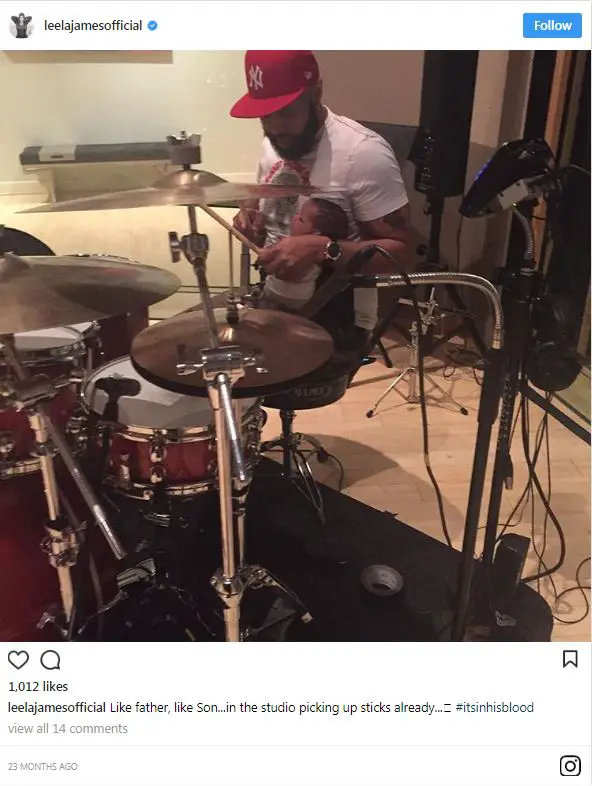 Leela James reveals son's father identity in 2016 (Photo: Leela James's Instagram)
The post explained the identity of her partner, and he was identified as professional drummer Rischard Jenkins, an Evans Drumheads player since 2011, who has been playing for Leela James Tour since 2013.
He has also played for numerous celebs including R&B singer Anthony Hamilton.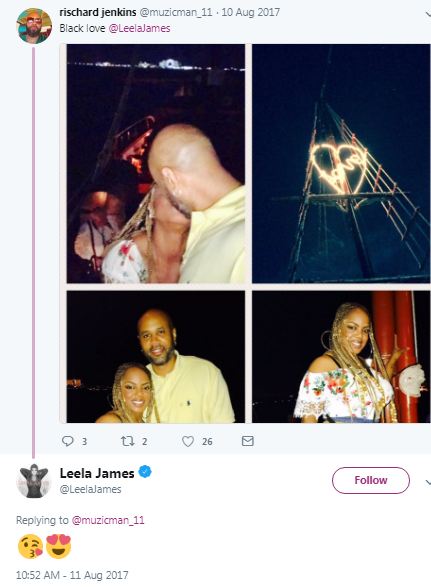 Leela James's partner Rischard Jenkins, also from the music industry (Photo: Rischard Jenkin's Twitter) 
She shared a snap of her kissing him goodnight on Instagram in 2016. Back in 2013, they had wished each other "good morning" on Twitter. Also in 2017, Leela and Rischard celebrated his 43rd birthday weekend together. 
American professional drummer Rischard mentions Leela with names "boo"  and "baby" on social media. However, the duo hasn't publicly announced their relationship except on social media, one website has mentioned him as her "boyfriend." 
You May Also Like:- 'Bad Things' Singer Machine Gun Kelly & Halsey Dating? Relationship Rumors As Diva Splits
Consequently, it is not known whether they are married or not, but the 2015 Twitter post of hers suggest the former. 
If they are not married, it seems like the drummer will prove to be an excellent father and understanding husband, plus he is also from the music industry just like Leela. He even wished her "Happy Mother's Day" on 13 May 2017.  
Leela James seems to have a happy family; has a handsome partner and adorable kids.
Married In A Fairytale Wedding; D'Concierge Designed Wedding
Just when Leela's fans were beginning to believe that their idol couldn't be happy with the partnership arrangement with Rischard, the Fall For You singer upped a notch by marrying Rischard.
On 25 May 2018, Leela let the world know that she and her now-husband, Rischard had married via Instagram.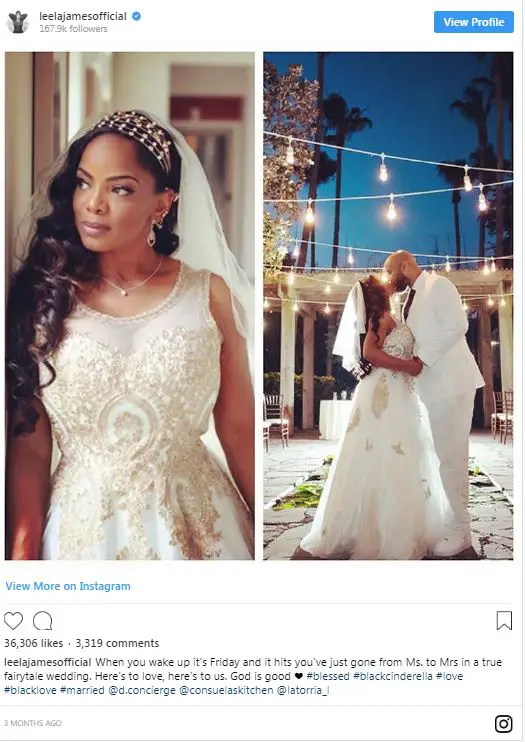 The details of the wedding remains a private affair. However, judging by the photos from the wedding, one can't help but think that the ceremony was held in an intimate setting, and only attended by close family and friends including her daughter and the surviving parents of the married couple.
However, here's what we do about the wedding are: that their wedding set was designed by D'Concierge Design and that the food at the reception was cooked by Chef Brandy Hinds-Bonne. Also, Publicist and family friend, La'Taorria Lemon was the designated bridesmaid.
You Don't Want To Miss:- 'You & I' Singers Halsey & Boyfriend G-Eazy Split & Fans Are Mourning!
About a week later, she put out another post on Instagram of her smelling flowers on the day of her wedding - a rumination on her marriage to her husband, Rischard - whose caption read:
"Sometimes you have to live in the moment and take the time to smell the roses"
Her marriage should provide enough materials for her new album, no? Because as we know, for an artist, experience precedes the act of creation. 
From Newbie Singer To Billboard No 1
In 2012, James released her fourth album Loving You More... In The Spirit Of Etta James, which featured cover songs of various artists including Etta James's' biggest hit At last.
Leela's last album "Did It For Love"  was released in 2017. It was the best album she had managed till date and a huge commercial hit.
Leela Jame's retrospects on motherhood (Photo: Leela Jame's Instagram)
The single from the album, "Don't Want You Back" reached number 1 on Billboard' Adult R&B Songs chart on April 15, 2017
The singer, started her music career in 2004 when she acted as tour opener for the band Black Eyed Peas. Her debut album, A Change is Gonna Come, was released on 21 June 2005. She later released a further five albums after her debut album.
Similar:- Janelle Monáe & Tessa Thompson Dating Revealed As 'Ragnarok' Actress Outs As Bisexual
Her single My soul, from the album entitled the same, was her highest charting song in Billboard US R&B, which peaked at number 37 in US and 7 on US R&B in  2010.
Leela James, The Fall For You hitmaker, was labeled "Baby Etta" in her childhood because she shared a common name with legendary American blues and RnB singer Etta James. The comparison, however, was apt not only because of their common names but also their similar husky but soulful voices.
The LA native singer has an established fan following due to her original voice and heart touching lyrics, which has helped her earn a net worth of $1.5 million.