Entertainment
Lincoln Lewis Dating A Fit Gal After Busty Girlfriend Affair Ends
Vacations are something that gives us a break from our monotonous routine. Who wouldn't love to go for a holiday? And if you are on vacation with your loved ones, you are obvious to have lots of fun. Well, The Home and Away actor Lincoln Lewis recently roamed around the beach with his busty blonde girlfriend.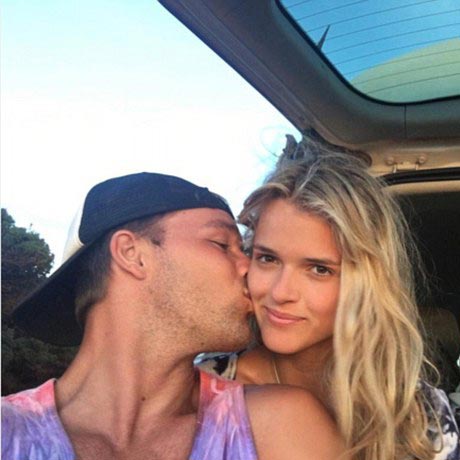 The former Home and Away actor Lincoln Lewis chose the different career than her father.
But the acting career turned to be truly fruitful to the handsome man, who has attracted many beautiful ladies. The heart-throbbing actor's dating life with the cladding bikini model was envied by their fan.
And as a result, the couple could no longer sustain their relationship even after reconciliation. But as of now, the dashing actor is once again engaged with the beautiful lady and he seems to be more than happy.
Dating Life Goes Ups And Down; Split With Girlfriend After Reconciliation
The 30-years-old Lincoln was looking for a girl with a great sense of humor. He finally seems to have found his dream girl who is absolutely hot and sexy. He found his soulmate in Chloe Ciesla, a busty blonde model.
Rugby league star Wally Lewis's son Lincoln first revealed about his romance with this sizzling lady by sharing their pictures on Instagram on March 23, 2016. 
Other "Home And Away" star:- Sarah Roberts Wiki: Dating Goals & Partner, Hinting A Wedding?
Their love seems to be stronger than ever. Chloe shared a romantic picture of them in Perth in May. It appears that they had a wonderful vacation together.
The lovebirds haven't been able to stop themselves from broadcasting their romance with endless snaps on Instagram. Chloe Instagrammed the beautiful picture from their romantic getaway on March 2016.

Lincoln Lewis, Chloe on a romantic vacation in March 2016 (Photo: Lincoln Lewis' Instagram)
On May 14, 2016, Chloe posted a romantic picture on her Instagram account.  In the picture, the couple is seen standing on a rock, in front of a beach at sunset, hugging each other as they bend for a lip lock.
Updates On "Home And Away" Star":- Rhiannon Fish Is Not Someone Who Holds On To Past Dating Affairs! Moved On With A New Boyfriend?
Bikini babe, Chloe, is not shy at all to go topless. Chloe shared (on April 12, 2016)  an image of her standing in the beach with arms stretched high into the air, wearing nothing but a pair of loose-fitting 'baggy pants'.
It seems that the couple enjoyed a lot during their vacation in Perth.

Lincoln Lewis tweets on vacation (Photo: Lincoln Lewis' Twitter)
With their certainly good dating life going well, the couple was facing the hard times with their relationship. So, shortly after nine months of their relationship, the couple drifted their ways before rekindling their romance in June 2017.
However, their rekindling romance could not sustain like their previous romance and they again split after almost a year of reconciliation. Seemingly this split is not meant for the reconciliation as the dashing actor has moved on with the new girlfriend who is from out of the celeb world.
Don't Miss:- Indiana Evans Isn't Dating - Publically! A Big No To Dating or Having Affair?
New Girlfriend Alert! Thinking To Get Married?
Lincoln Lewis spilled the beans on his break up with the cladding bikini, Chloe Ciesla model on July 2018.
While talking to Daily Mai Australia in July 2018, the Australian actor he is no longer dating his model girlfriend. But hinting on his new dating life, he stated he is not single.
Discover:- Melissa George Has Trouble When It Comes To Husband! Is A Fighter Because Of Kids
After some days of confessing about his new dating life, he went public with his beautiful girlfriend named Sarah Burgess on Instagram.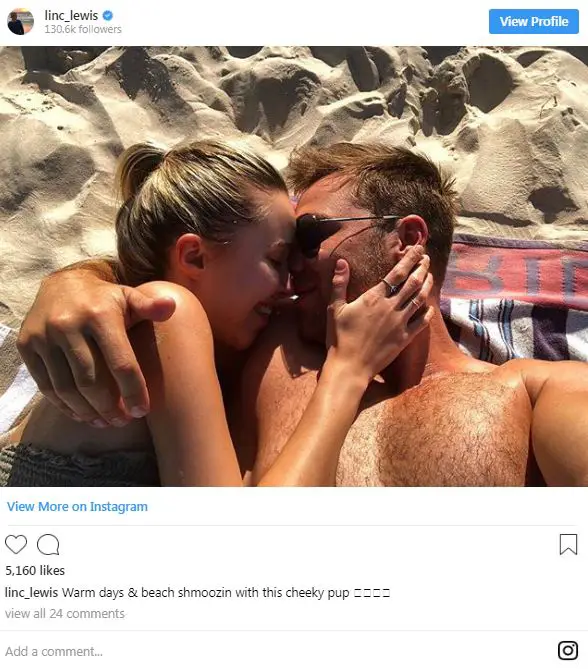 Lincoln Lewis, girlfriend Sarah chilling on the beach (Photo: Lincoln Lewis' Instagram)
Since he had stated to Daily Mail that he is happy with her new girlfriend, it seems they could not get over to each other. When the outlet asked the actor is he has thought to get married to Sarah, he instantly claimed that he cannot say anything about marriage at the moment.
Don't Miss:- Christie Hayes Finally Married To Her Husband, Why Was Their Wedding Cancelled Before?
Previously, he experienced five failed relationships before dating Chloe Ciesla. He was also linked with Courtney Thorpe, former Miss World Australia in 2014. He also dated co-star Rhiannon Fish for around two years i.e. from 2010 to 2012.
There were also rumors about his relationship with Olympic swimmer Stephanie Rice. He previously dated Katrina Risteska from 2009 – 2010, Monique Swart in 2008, Indiana Evans from 2007-2008, and Eliza Taylor from 2003-2004.
Bio
Born on 24 October 1987, Lincoln Lewis is best known for his portrayals in Tomorrow, When the War Began, Slide and Home and Away. He attended Carmel Catholic College in Thornlands.
He has also appeared on Dancing With the Stars. Lincoln began his acting career at the age of thirteen. In the year 2009, Lincoln's sex tape scandal spread like a wildfire. He also admitted that he filmed a sex tape with a teenage TV starlet. He has recently appeared in House Husbands, series 3 and Gallipoli.