Nigerian blogger and entrepreneur, Linda Ikeji is now an inspiration to millions of young girls: not just in her native land but all over the world. Her success story is a motivation to her admirers, but many of her fans are not aware of the hardships, which Linda underwent during her struggling phase.
From being born in a family with poor financial conditions and nearly getting sexually assaulted by a rich man to getting abandoned by her boyfriend during her pregnancy, Linda faced all the traumas unimaginable.
Finally, now she has a loving child and a stable career beside her, she maybe soon getting married. So, who is the lucky guy, who persuaded the beautiful Linda for a wedding? Dig in to find out!
Relationship With Baby Father Turns Sour During Pregnancy
Linda Ikeji might be looking to get married in a romantic ceremony shortly, but her previous relationship wasn't a bundle of joy though it turned out a blessing for her as she got to be a mother from the failed romance.
Linda dated a man named Sholaye Jeremi, a businessman in Nigeria. The pair first met in 2015 at a local diner named Wheatbaker Restaurant and soon began dating. 
Although Linda and her then-boyfriend, Sholaye often talked of marriage and starting a family, the relationship between the two soon turned sour as Linda's fame overshadowed their romance.
Recommended:- Rita Ora, Relationship With Ex-Boyfriend Again? She Just Split With One
The couple tried fixing their broken affair in 2016, but the attempt remained worthless. In 2017, as both Linda and Sholaye were single, they tried a new approach to fix their relationship.
They started dating again and even talked about having a future together. The partners also discussed having a child of their own; however, when Linda became pregnant with a baby, Sholaye's attitude towards her changed drastically.
The once madly in love couple became estranged, and Linda eventually boycotted her former boyfriend out of her life.
After nine months of pregnancy, Linda gave birth to a healthy baby boy named Jayce in September 2018. Her son, whom she considers the greatest blessing of her life, is only a few months old, but he has already become a celebrity in Nigeria due to his charming looks and loving mother.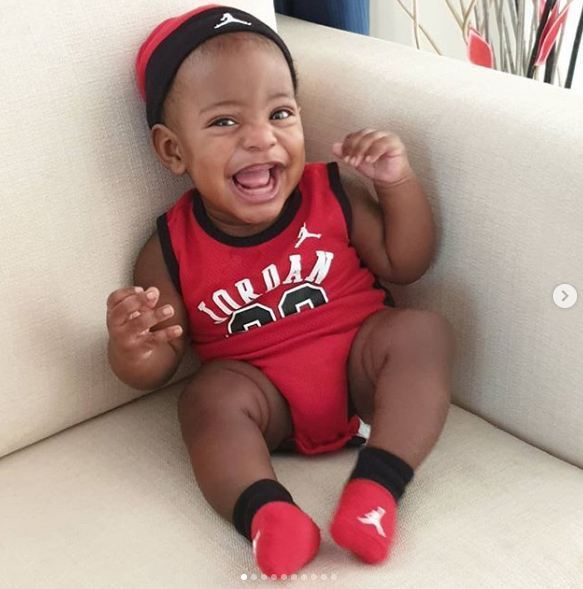 Though a toddler, Linda Ikeji's son Jayce is a charmer (Photo: Linda Ikeji's Instagram)
Also Read:- Carlos PenaVega & Wife Pregnant With Second Baby! Another Kid En Route
With Jayce swiftly growing, Linda is one happy mom to have found such a flawless child. 
Wedding Rumors; Engaged To Ex-Boyfriend!
Linda, age 38, seems to have thoughts on finally settling down with a husband and family.
The highest paid blogger in Nigeria, whose net worth is not disclosed, was reportedly set to get married to comedian Mr. Hyenana after he shared a picture of the two on Instagram alongside a wedding invitation in February 2018.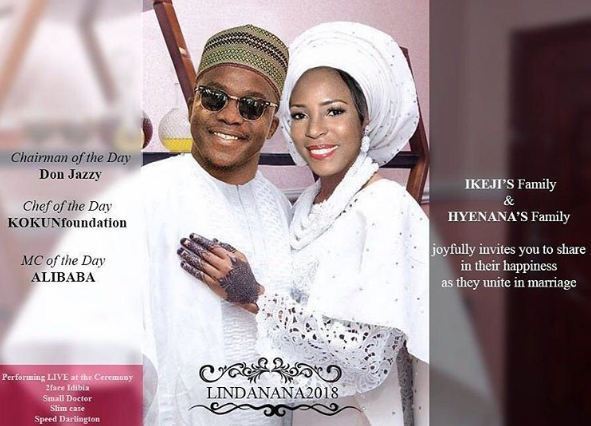 Comedian Mr. Hyenana shares invitation for his alleged wedding to Linda Ikeji in February 2018 (Photo: Mr. Hyenana's Instagram)
However, the wedding rumors were crushed when the picture turned out to be photoshopped and was meant as a joke by Hyenana.
Fake Wedding In Out Vault:- Adriana de Moura Faked Getting Married! 2013 Wedding With Husband, Divorced?
Nevertheless, in March 2018, Linda got engaged to her ex-boyfriend. Although the name of her potential husband has not been revealed, fans suspected that the man was none other than Linda's baby father Sholaye. Further reports are yet to surface out.