Entertainment
A Look At Sami Gayle's Bio: From Boyfriend To Hair And More That You Won't Find In Her Wiki
When an actor rises to fame their fans desires to know every detail. Similarly, Sami Gayle has claimed fame with her role as Nicky on "Blue Bloods" and her short hair look is loved by her fans and carries with elegance. Thus, this article aims to give more than her wiki page.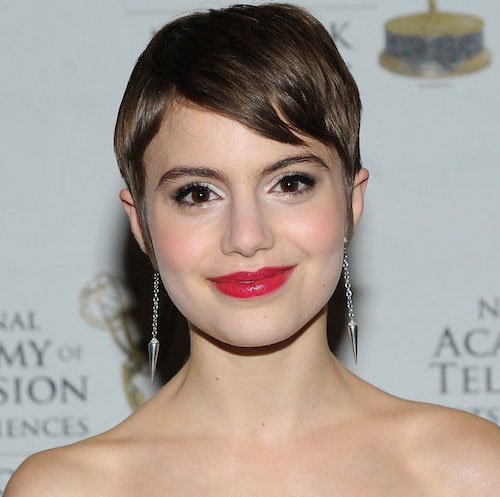 When an actor rises to fame, their fans desire to know every detail. Similarly, Sami Gayle has claimed fame with her role as Nicky on "Blue Bloods, " and her short hair look is loved by her fans which she carries with elegance.
With the ninth season of the popular CBS drama underway, the question about Sami's obscure dating history is a hot topic to discuss among the show's audiences.
Let's delve right into the Blue Blood star's biography to learn more!
Sami Gayle's Wiki-Like Bio Including Age, Parents & Hair
Sami Gayle was born on January 22, 1996, in Florida. Sami's father is an attorney, and her mother owned business. She was home-schooled followed by Advanced Placement curriculums in all subjects and was ranked in Public Forum Debate.
Besides being an actor, Sami is a professional dancer too, and at the age of 11 she moved to New York to be trained at an acclaimed professional dance school on the Upper West Side "Steps on Broadway."
Discover:- Rosalyn Gold-Onwude Married & Husband | Multiple Dating, Found Soulmate?
Sami made her acting debut with "Baby June" Broadway Revival of Gypsy. And in 2007 she performed in Broadway show "Dr. Seuss How The Grinch Stole Christmas! The Musical and twitter post shows the pictures from those days.
Further, Sami made her appearance in "As The World Turns," but her claim to fame was with her main role in "Blue Blood" as Nicole "Nicky" Reagan-Boyle. With Blue Blood, Sami's hairstyle became popular. She and her hair stylist Michael Pettine even made a video to show her fans how Nicky's look is achieved and maintained.
Sami made her film debut starring opposite Adrien Brody "Detachment" which released in February 2012 the in the U.S and also shared that she is doing the question and answer for "Detachment" through twitter.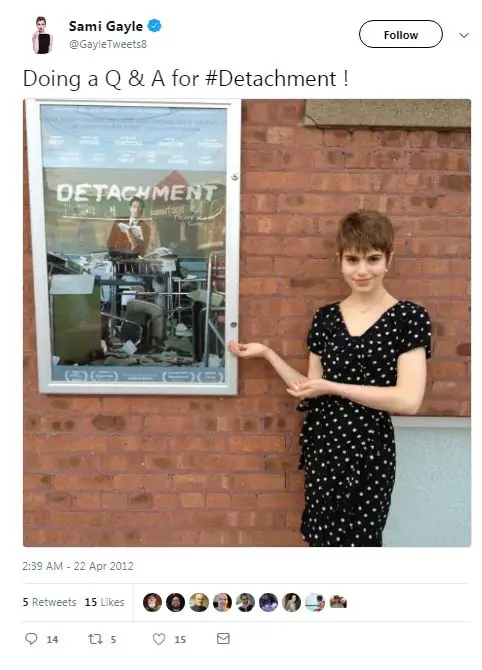 Sami promoting her movie Detachment on Twitter (Photo:- Sami Gayle's Twitter)
Sami Gayle, age 22, started her career with Broadway and did Television roles on CBS 'As the World Turns'(2009-100, 'Blue Blood'(2010-2017), 'Royal Pains'(2011) and her film credit includes 'Detachment'(2012), 'Stolen'(2012), 'Congress'(2013), 'Hateship, Loveship'(2014), 'Vampire Academy'(2014), and 'Noah'(2014).
Books & Food Substitute For Boyfriend & Dating?
Moreover, Sami loves to read books, and her favorite book is "The Awakening." She even posted a photo where she is reading a book on a beautiful day in New York on Twitter.
Interesting:- Phil Mattingly Keeps Married Life With Wife A Secret; Does That Make Him Gay?
Further, Sami and her family have volunteered with a magical nonprofit resort called 'Give Kids The World Village' for kids with life-threatening illnesses and also made an appeal through a twitter post to spread the word.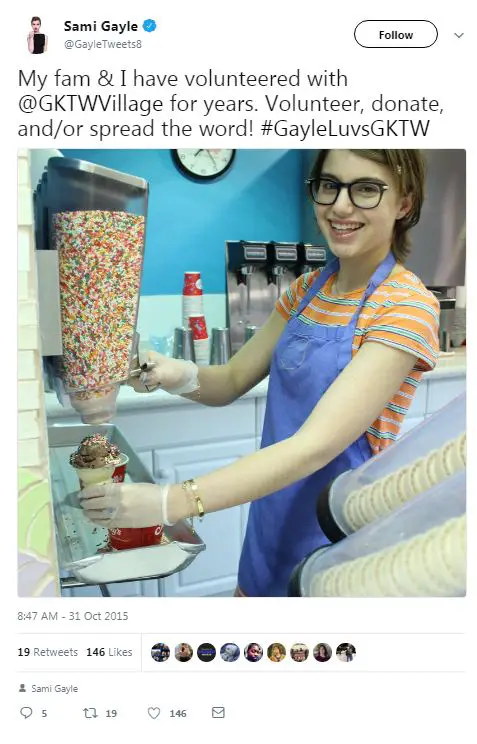 Sami does charity work with her family (Photo:- Sami Gayle's Twitter)
In an interview, Sami is a big foodie and revealed her culinary awakening and said,
"It was a turning point when I ate the best scone I ever had. I came back and went on a hunt to make the perfect scone myself.' She also went on a pie-baking bender, acquiring cookbook after cookbook in pursuit of attaining pie nirvana. But the dish she's best known for among family and friends is her icebox cake."
On the occasion of Valentine's Day, she wished her followers, but her love life is a mystery in itself. Neither, she has been spotted romancing with a boyfriend, nor her dating life has made headlines.
But, Sami has someone special who she refers to her love and baby, and it is her cute dog "Licorice" a Yorkie!
Sami even celebrated her 21st birthday with the crews of "Blue Blood" and expressed that is an honor to be surrounded by them and thanked them too.
Future Boyfriend Tasked With Impressing 2 Families
Sami has been on Blue Bloods for almost a decade now, having starred on the CBS drama at the tender age of 13.
Naturally, her fellow co-stars - namely Tom Selleck, Donnie Wahlberg, and Bridget Moynahan - would want to look after their 22-year-old co-star. Over the years, Sami has built a family-like relationship with the trio of her co-stars.
Like a good family, they look out for Sami's well being with regards to her dating life as revealed by her Hollywood Life interview, where she was quoted as saying:
"There's just a second round of screening. It's not just my family, which is hard enough, but there is a whole other family."
The Detachment actress might not have a boyfriend at this very moment but let this be a warning to those who are interested in dating her.