Entertainment
Marie Harf Bio: Fox News Reporter Wedding To Height & Essential Details
Days before the United States President Donald Trump's Supreme Court nominee, Brett Kavanaugh was scheduled to take a stand before a committee hearing - after two women had come forward alleging him of sexual misconduct. Fox News contributor, Marie Harf got in on an on-air scuffle with fellow Fox News political analyst Brit Hume on that very matter.
At the very least, the 37-year-old's fierce defense of the alleged sexual misconduct victims was an understatement. This wasn't the first time that she had paraded demanding a swift justice against the perpetrators of sexual harassment cases.
After all, she began her career working as a federal government employee immediately after earning her Master's Degree. While still working for the US Government, she got married to her longtime boyfriend, Joshua Paul Lucas in an intimate wedding.
Let's delve more into Marie's bio to get closer into her wedding with Joshua, her pre-Fox News career and of course, her body measurements.
Fox News' Marie Harf's Bio Including Her Wedding
Growing up, Maire had the unfortunate onus to carry on her parent's legacy. Her father, James E. Harf's a revered St. Louis educator and is currently employed as the associate president of the Center for Global Education at Maryville University. Likewise, the Fox News analyst's mother, Jane Ax Harf,  is the director of the University Clean Energy Alliance of Ohio. 
Discover:- Beautiful Sophie Dymoke: Blissful Married Life With Her Husband And Baby, Her Bio?
To Marie's credit, she did little more than eclipse her parent's legacy. Born on 15th June 1981 in Granville, Ohio, Marie was a straight-A student throughout her school days. After completing her high school education from Granville High School, she enrolled at  Indiana University Bloomington. Later, she graduated from Univesity of Virginia with a Master's Degree in Foreign Affairs.
The Granville native began her professional career working as an analyst for CIA and worked her way up to the notorious institution's hierarchy before being appointed as its spokesperson. She also played an instrumental role in Barrack Obama's re-election as the President of the United States in 2012, as she helped craft national security and communication strategy for the then president, Barrack Obama.
Her contribution to Barrack Obama's re-election didn't go unnoticed. In June of 2015, Marie was appointed as the Senior Advisor for Strategic Communications to Secretary of State John Kerry, essentially signaling a career height for the Fox News analyst.
At present, the 37-year-old Indiana University alum serves as a co-host of Fox News Radio's Benson and Harf, after joining the famed news network in 2017.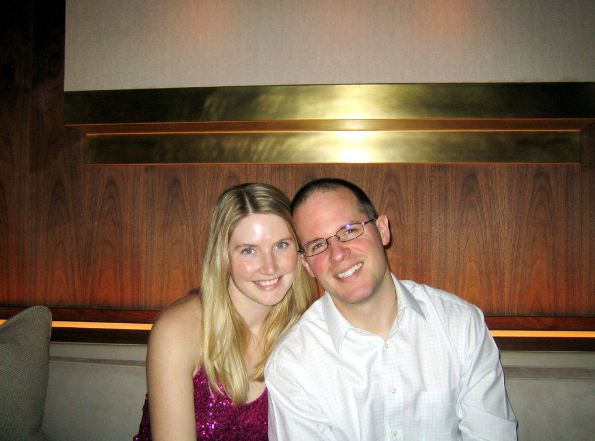 Marie and her husband, Joshua smile for a photo (Photo:- New York Times)
When Maire's not occupied with her duties as a Fox News analyst, she enjoys spending time with her husband, Joshua Paul Lucas. According to her bio: Joshua, who's also the same age as her, graduated magna cum laude from Yale and had a Master's Degree in Diplomacy and Law from Tufts University.
Interesting:- Andrew Joblon Age 35 Wiki: From Age To Wedding Day With Claire Holt
Marie and her husband, Joshua got married on 14 April 2012 at the Vienna Presbyterian Church in Vienna, Va. Their wedding was officiated by the couple's friend and an Anglican priest, The Reverend Erin E. Blair.
Ever since the day of their wedding, Joshua has become an object of envy to Marie's fans; male fans, to be precise. To many of Marie's fans, Joshua is the luckiest man alive. Given the Fox News contributor's goddess-like physical attributes, who would blame them?
Marie Barf's Body Measurements Including Legs, Height & Weight
No one encapsulates the phrase "beauty with the brain" as the 37-year-old Fox News contributor does.
In addition to being one of the most intelligent women working on TV today, Marie's a heaven-sent goddess. Boasting the body measurement of 36-26-37 inches( 91-66-94 cm) and 142 pounds(64 kg) in weight, she's beauty personified.
 You Better Not Miss:- Lamar Miller Fantasy Stats: Contract Plus No Injury, Career Stats To Peak
Standing a little under 6 foot(182 cm) in height, her long legs seem to do all the talking. For a woman, the University of Virginia alum strikes as an imposing figure - essentially towering over her female counterparts and male, in some cases - because of her height.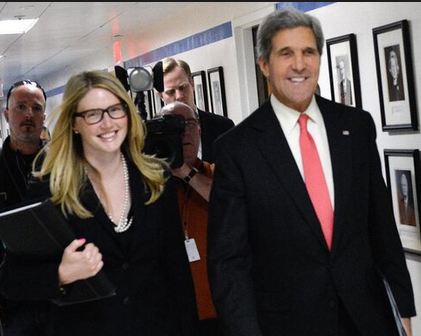 Marie next to former Secretary of State John Kerry (Photo:- Save Jersey)
Back when Marie was still working for the US Government, she was often photographed alongside then-Secretary of State John Kerry, standing toe to toe. John, who stands 6 feet 3 inches(190.5) in height, didn't have to hunch his back while talking to her -- a feat every woman dreams of achieving.