Entertainment
Mark Consuelos' Wife Reveals Much About Their Married Life; A Perfect Family Holders
In today's time, many celebrities create headlines for break up, splits or divorces few people create headlines with their blissful married life which makes people even more curious about the secret to their happy married life.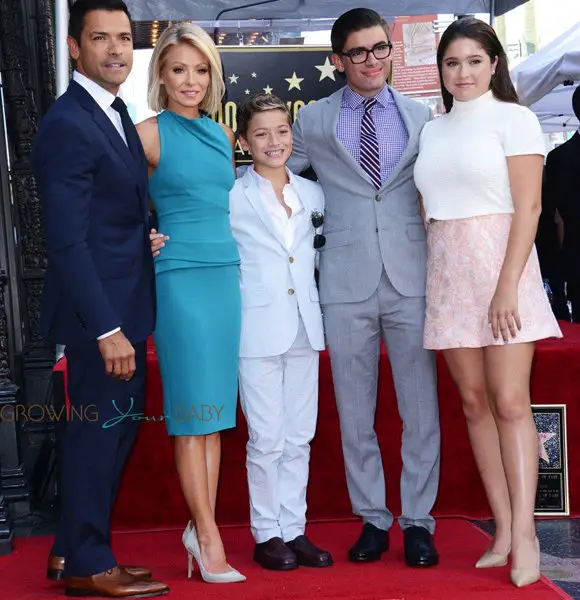 In today's time, many celebrities create headlines with break up, splits or divorces. However, there are a few stars, who create headlines with their blissful married life which makes people even more curious about the secret to their happy married life.
Falling into the latter category is the aspiring actor Mark Consuelos, who's married life has created a lot of noise as Mark's wife Kelly Ripa revealed about their married life, which remained a matter of interest to all the fans around the globe. But what did she reveal? Well, let's dig in to find out.
Wife Reveals Secrets About Married Life:
Mark Consuelos' wife Kelly Ripa told a bedroom secret in the presence of Mark when he co-hosted his wife's show "Live With Kelly" in February 2017.
Wife & Family:- Mario "Souleye" Treadway Wife, Wedding, Children
In the interview, Kelly candidly revealed about their marriage, when she said,
When there's special married couple time in our house — do you know what I'm talking about? Because there's kids watching, so I'm just going to say, let's call it special grownup time. He's immediately mean to me afterwards, and I don't like that!"
Moreover, she elaborated,
"I think it's bizarre, He becomes short with me. You know what I mean? Like irritated."
While Mark blushed and laughed along with the audience, Kelly continued,
"And I'm like, 'Oh, now you're irritated? You were so loving three minutes ago!'"
In an interview, back in September 2016, on the show "Watch What Happens Live," a caller asked Mark to spill the beans of his happy married life. Gushing about his blissful married life with Kelly, Mark shared,
"We really dig each other, I'm really crazy about her."
Mark continued,
"I'm crazy about her."
Moreover, when Mark wife's pal and presenter of the show "Watch What Happens Live" Andy Cohen told Mark a great thing about them is that they bang a lot and awkwardly smiling, Mark said,
"We keep it going! I'm bananas over my wife."
Perfect Family With Wife And Children:
Mark and Kelly met on the sets of "All My Children" in 1995, sparks flew between them, and they started dating, then finally, they had a elope wedding on 1 May 1996. On the occasion of marriage anniversary in 2013, Kelly shared a picture from their wedding in 1996, via Twitter.
Family Talks:- Nick Viall Bio, Family, Dating, Married
However, the couple nearly finished their married life before they even started it. Mark revealed during an interview that he and his wife once broke up prior to their marriage. However, the duo soon reconciled again and eventually got married.
In the span of 23 years of the wedding, they share three children together: Michael Joseph Consuelos (b. June 2, 1997), Lola Grace Consuelos (b. June 16, 2001), and Joaquin Antonio Consuelos (b. February 24, 2003). 
Kelly shared a rare family picture with husband Mark and their children via Instagram where the family appeared to be happy in each other's company.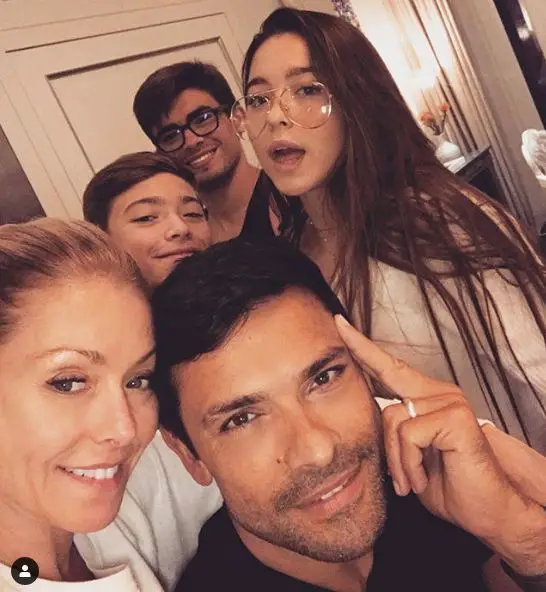 Mark Consuelos and wife Kelly Ripa alongside their children in November 2016 (Photo: Kelly Ripa's Instagram)
The couple's children are growing up and have reached the age where they can get offended by their parents' activities.
When Kelly shared a throwback picture of herself with her husband in 2019, their daughter Lola was grossed out. The couple's first born, Michael, on the other hand, is following his parents' footsteps. He is pursuing a career in acting and even appeared in the 2018 season of The CW Television Network's show, Riverdale.
Gay Rumors!
Even after being happily married for 23 years, Mark is rumored to be a gay and all thanks to his remarkable performance in theater play "Standing on Ceremony: The Gay Marriage Plays" where Mark portrays the role of a gay and also kisses his co-actor, Craig Bierko. 
Gay Speculations:- Theo Von Dating Status Amid Gay Rumors | Family Insight
In an interview, when Mark was asked why he did not use his tongue while kissing, he replied,
"I'm warming up to it little bit. I don't want to be so easy."
Also when Kelly was asked about her opinion on the kiss her husband, Mark shared with Craig Bierko, Kelly said,
"As an actor, there's something voyeuristic and perversely sexy about watching my husband"
American actor Mark Consuelos is famous as Mateo Santos in All My Children(1995-2010) which won him nominations and awards too. Simultaneously, Mark has appeared on other television shows like Road Rules (1997), Third Watch (2001), Friends (2001), Missing (2005-2006), Alpha House (2013-2014), Queen of the South (2016).
His film credits include The Last Place on Earth (2002), Wedding Daze (2006), Cop Out (2010), A Walk Among the Tombstones (2014), All We Had (2016), Nine Lives (2016). With his passion, hard work and dedication he has successfully earned a handsome salary and gathered a net worth of $40 million.
Further, his wife Kelly is worth three times than her husband. She claims a net worth of $120 million along with an annual salary of $22 million.