Marla Gibbs married while she was in her...gave birth to three beautiful...ended her marriage in...sister, Susie Garrett, also peaked in the American...released an album, It's Never...helped her to accumulate a net worth of...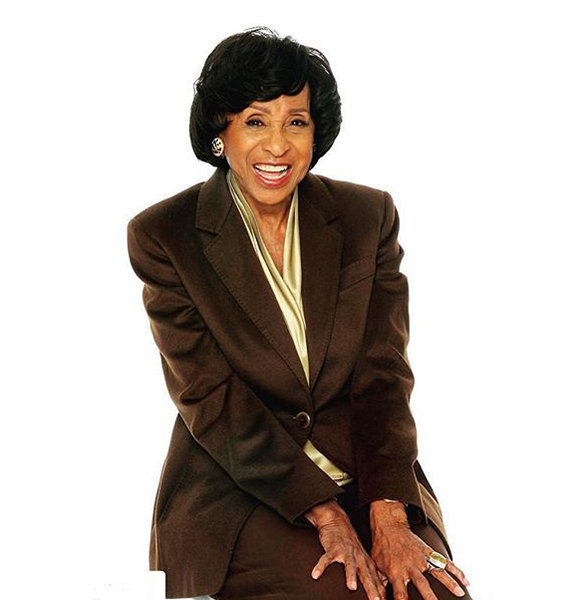 Marla Gibbs was nominated for Emmy in the category of Outstanding Supporting Actress in a Comedy Series from 1981 to 1985 as well as for Best Performance by an Actress in Supporting Role at the Golden Globe Award in 1985. All the nominations had come for her part in the CBS comedy, The Jeffersons.
Before her acting career took off as Florence Johnston with the groundbreaking TV series The Jeffersons, Marla worked as a reservations agent for United Airlines.
Bio: Career And Status 
On 22nd May 2019, the eight-time NAACP Image Award-winner wowed her fans with her astounding appearance in a 90-minute-long ABC Live Special, Live in Front of a Studio Audience: Norman Lear's All in the Family and The Jeffersons.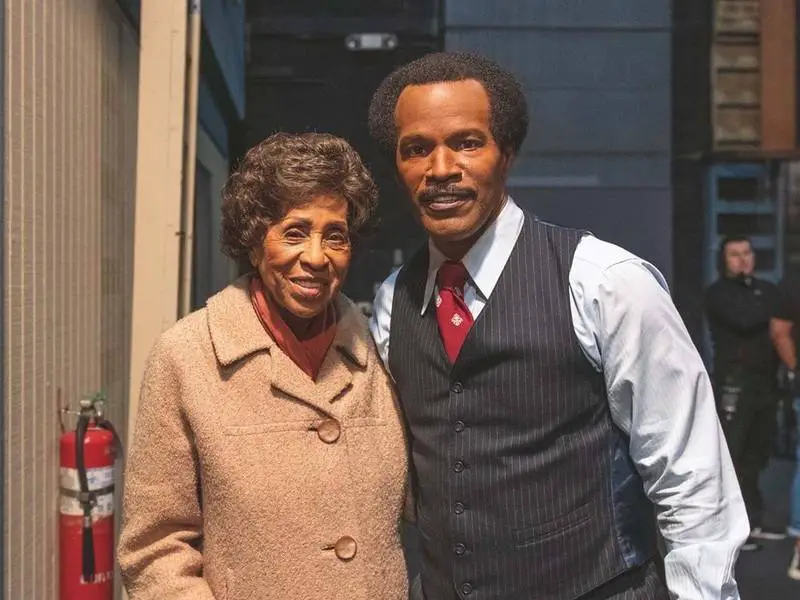 Marla Gibbs with Jamie Foxx on the ABC Live Special in May 2019 (Photo: hiphopdx.com) 
The show re-created the classic sitcom, The Jeffersons, with the last living member of the show's core cast, Marla. She gracefully slipped back into her role of the back-talking-Fiesty-maid for George Jefferson (played by Jamie Foxx) and Louise Jefferson (played by Wanda Sykes).
More About Jamie Foxx:- Jamie Foxx Reveals Dating Affair With Actress Girlfriend Slowly; Has Any Plans On Getting Married To Her?
Besides the popular sitcom, Marla has done quite a few shows, such as ER, Cold Case, Pryor's Place, and The Hughleys. Not only she played the lead actress in the NBC sitcom 227, but she also performed on a big screen with bold roles as in Lost & Found and Border to Border.
Marla has kept herself busy with sporadic roles in movies such as Format Lemon (2017) and Love Jacked (2018) to her television role as Miss Simpson in The Neighborhood in 2019. 
Family: Parents And Children
The well-loved star of sitcoms such as Fresh Prince of Bel-Air had an introvert and painful childhood in the absence of her mother, Ophelia Kemp. The truth is that she was only four when her parents got divorced, and her mother left home to pursue her dreams.
While growing up, the now 88-year-old Marla found support and help from her wonderful auto mechanic father, Douglas Bradley.
Looking for someone to be dependable support on her own life, the actress got married while still a teenager.
During her marriage with the military man Jordan Gibbs, she gave birth to three beautiful children: Angela Gibbs, Dorian Gibbs, and Joseph Gibbs. After 17 years of marriage, she had enough with the relationship. So, she ended her marriage in 1973.
Another TV Star:- Emily Simpson Husband, Family, Net Worth, 2019
Despite the turmoil in her married life, Marla raised her kids with extreme discipline, some even say with a heavy hand. Interestingly enough, her children also walked on the same path of the entertainment industry, which Marla paved for her freedom.
Out of her three children, the champion actress' daughter, Angela Gibbs, followed her footsteps. She went on to appear in TV shows like Sanford and Son. The veteran artist has also been a part of movies such as Together Brothers, Drumline, and Think Like A Man.
Marla's son Jordan Jr - age 28 - is a cameraman at Universal Studios; whereas, her youngest daughter Dorian is a graduate of USC's drama department.
Apart from her children, the Illinois native's old sister Susie Garrett also peaked in the spotlight as a black actress of theatre and television. Susie featured in Wicked Stepmother (1989) and on the TV series, Punky Brewster. Unfortunately, she passed away in 2002.
Net Worth Info
The natural haired African-American actress is also a singer. She released an album titled It's Never Too Late in 2006. Her voice even echoed in the animated TV series,101 Dalmatians: The Series (1997); she also sang the theme song to the film, Stanley's Gig (2000).
With the diverse platform and immense talent, the actress of height 5 feet and 8 inches, i.e., 1.73 m. has spellbound her fans all around the world. Even with the late start in her acting career at age 41, her acting career of five decades has helped her to accumulate a net worth of $4 million now as of 2019.