Entertainment
How Does Wanda Sykes Manages Her Kids And Married Life With Her Busy Career?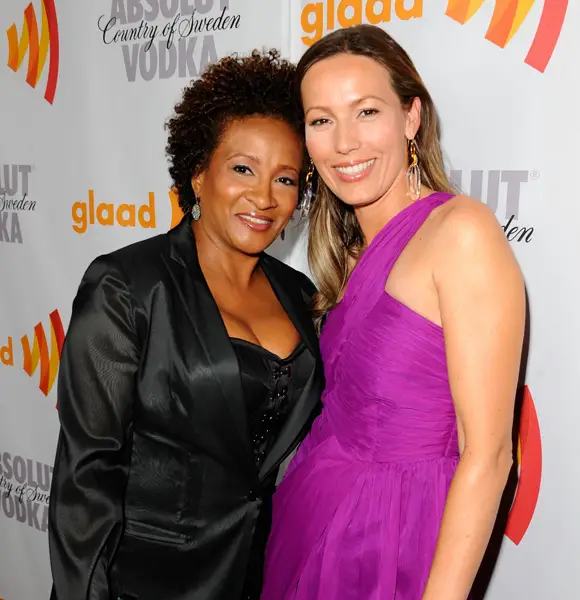 Quick Information
Ex-Husband

Dave Hall (m. 1991–1998)

Lesbian

Yes

Official Site

wandasykes.com

Body Measurements

34-34-36 Inches

Eye Color

Brown

Hair Color

Black

Hair

Short

Feet (Shoe) Size

9 (US)

Weight

55 Kg (121 Lbs)

Height/ How Tall? 5'2" (1.57 m)
College

Hampton University

High School

Arundel High School

Career

1987–present

Net Worth

$6 Million

Dating/Affair

No

Date of Birth Mar 07, 1964
Wedding Date

October 25, 2008

Divorce/Split

Yes (Once)

Wife/Spouse

Alex Sykes (m. 2008)

Relationship Status

Married

Daughter/s

Olivia Lou Sykes

Son/s

Lucas Claude Sykes

Brother/s

Harry Sykes

Mother

Marion Louise Sykes

Father

Harry Ellsworth Sykes

Ethnicity/Race

African-American

Zodiac Sign

Pisces

Birth Name

Wanda Yvette Sykes

Profession

Actress

Nationality

American
Wanda Sykes, a primetime Emmy Award-winning writer, is a stunning woman who is happily married. Not only the famous comedian has a partner, but she also shares kids with her partner and has managed her married life and professional life well.
Let's find out more about her family.
Wanda Sykes's Kids
Known as Barb Baran on CBS' show The New Adventures of Old, Wanda Sykes, age 58, first revealed her sexuality in 2008, and in the same year, she married her wife, Alex Sykes, whom she met in 2006. Alex Sykes is a French-born businesswoman.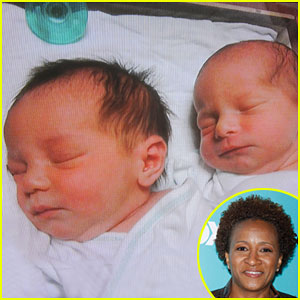 Wanda Sykes' twin kids, son Lucas Claude and daughter Olivia Lou (Photo: justjared.com)
Wanda and her wife, Alex Sykes, welcomed twins, son Lucas Claude and daughter Olivia Lou, in 2009.
Included In The List Of:- Top 10 Black Lesbian Celebrities Relationship Status
On the happy occasion, Sykes's rep Danica Smith said,
All are happy and healthy and at home,"
Later, Wanda first talked about her kids' delivery in an episode of "The Tonight Show With Jay Leno" in 2009. She then stated,
 "Babies are very inconsiderate! Everyone said twins should be here at 35 weeks but nothing! Lots of waiting and they finally induced at week 39. I was [in the delivery room] when they did the C-Section. When the doctors tell you "Don't look this way," don't look that way. It was not pretty."
Also, when Jay asked if the twin babies calmed down after they reached home, she hilariously added,
"No! All hell broke loose! It's like they were tag teaming us, you put one down and then the other one starts crying. There is nothing twin-like about these babies, they are just two babies. I mean, I don't even think they know each other."
Amazingly, the same-sex marriage activist seems to be managing her professional life and personal life hand in hand.
In an interview with Windsor Star in 2015, Wanda had said she wouldn't bring her kids to work. She said,
"I don't like bringing them on the road. I look at it as work. If I worked at a construction site, say, driving a forklift truck, I wouldn't want the kids joining me there. It's the same thing as going on tour."
She then continued,
"Sometimes, if I know she's in the audience, I will deliberately bring up something we had been discussing just to test it on the audience. If they agree with me, I'll tease her about it afterwards."
While Wanda was against bringing her kids to work, she did spend quality time with her kids.
The American celeb showcased one of her beautiful moments with her kids in August 2017. Wanda and her kids were seen spending time painting on canvas together in the video featured on Micheal Stores' Youtube channel. 
Previously, in an interview with PEOPLE in August 2014, Wanda had talked about parenting and her bond with kids. To People, she had said, 
 "As a parent, it's just good to sit down together and keep them busy and do something together as a family."
According to Vulture, she spoke about being sleep deprived as a result of parenting in 2016. She admitted to thinking of returning one of her kids since she was unable to get adequate sleep. Don't worry it was just a joke. She loves her kids.
She also noted how difficult it was for her to assist her children with their schoolwork. Summer vacation was the most difficult for her since she had to read books with her children. She described herself as a mess as school was about to begin, and they were unable to finish their books on time.
In the interview with The Hollywood Reporters, Wanda also mentioned how weary she and her spouse were during the pandemic. They had to split household tasks and care for their children. During the pandemic, Wanda worked as a cafeteria woman, janitor, and hall monitor in her home. She expressed her exhaustion and inability to spend quality time with her wife.
Even if Wanda's life was difficult, it's comforting to know that she managed to hit a healthy balance between job and family. She seemed to be happy, despite having faced so much suffering in her life.
Wanda Sykes Comes Out As Gay!
The Virginia native publicly came out back in November 2008 at a protest rally after California voters passed "Proposition 8", a ban on same-sex marriage. During the event, Wanda gave a spontaneous speech revealing her sexuality at the event, which she had "no intentions" of making.
Fellow Lesbian In Our Vault:- Meet Lesbian Player Layshia Clarendon's Wife & Know About Her Married Life
Also in 2010, she had given a worthwhile stand-up comedy performance titled 'I'ma Be Me - Gay vs. Black,' published by HBO, where she joked about the differences between being black and gay.
Later, in an interview with CNN in June 2011, Wanda explained how she came out during the protest rally, stating, 
"I kind of shocked myself. I was in the middle of it, and it was from anger."
Also, the former writer of The Chris Rock show added the pros and cons of coming out during the interview, saying,
"The worst thing, I guess, is just dealing with it, you know, like with family, and it's not necessarily the worst thing but, man, it's like every day I get invited to some gay event, you know. It's like, can you come to this gay event? Can you come support this? And it's like, good Lord, if I go show up at all these gay events, I'm not going to make any money. I'm going to be a broke gay. I'm going to be the brokest lesbian out there." 
In the same month in 2011, Wanda also appeared on the show, PIERS MORGAN TONIGHT, where she said it was hard being gay than black.
Later, she also went to Oprah's show, Oprah's Next Chapter in October 2013 to spill the beans about her lesbian sexuality. 
On the show, the Hampton University graduate revealed that she first disclosed her sexuality to her mother over the phone when her age was 40.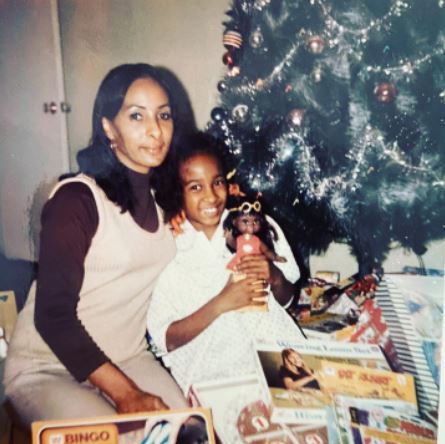 Wanda wished her mother on mother's day. (Source: Instagram)
She also added that her mother disbanded plans to visit her after the revelation. However, Wonda's mother later accepted Wanda's sexuality and children. 
A former contracting specialist at the National Security Agency, Wanda, began to understand that she was different in grade school. She was confused about her sexuality at first, but she started dating women after her divorce from her husband of seven years, Dave Hall, an award-winning record producer. 
Nevertheless, on The Oprah Winfrey Show, the famous actress/comedian also said that she was finally able to share the intimate connection, which was lacking in her first marriage, after meeting her wife.
However, she had previously cleared that she didn't divorce her husband because of her sexuality.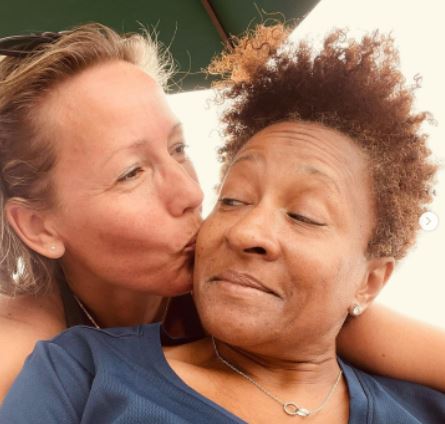 Wanda completes 13 years together with her wife. (Source: Instagram)
Similarly, in 2015, she also elaborated about her coming out in public in an interview on the Meredith Vieira Show. Later in 2017, Wanda also made her appearance on The Ellen Show. It was her 30th Appearance on the show.
An actress in the 2018 movie Hurricane Bianca 2: From Russia with Hate, Wanda talked about comedy and her kids with Ellen Degeneres, who had portrayed the first openly gay or lesbian lead character on television. 
Likewise, in August 2017, Wanda brought same-sex parenting to Disney Jr.'s 'Doc McStuffins,' reasoning her decision to join the show was for personal reasons. She stated, 
"I love the show. My kids watch the show. My daughter went as Doc McStuffins for a couple halloweens. [The episode] was not about them being a same-sex couple. They just happened to be. It's so funny because that's the way my kids watched that episode. They didn't say, "Hey, it's two moms. They said, ""Hey, do we have an emergency plan?""
It must have been an emotional coming-out process for Wanda. And in 2018, she sent out a tweet commemorating the ten years since coming out as a lesbian.
Regardless of her struggle with coming out, she always stood up for others.
Quits Roseanne; Netflix Stand-Up Special In 2019 
In 2019, nobody embodies the title "Social Justice Warrior" wholly as Wanda does. A standup comedian, Wanda not only fights for LGBTQ rights but also doesn't horse around when it comes to race-related issues.
Roseanne Star In Our Vault:- Ames McNamara Wiki: Age, Family, Siblings & Interesting Details On The Young Actor
For instance, when Roseanne's lead Rosanne Barr made racially-charged comments on Twitter in May 2018, she retaliated by announcing that she wouldn't be returning as the show's producer.
In subsequent interviews, however, Wanda appeared a little more empathetic towards Roseanne and even went as far as professing a desire to have an open dialogue with the actress.
Later that year, Netflix announced that it would be airing the Evan Almighty star's first-ever stand-up special on a streaming platform in 2019. Titled "Oh Well," Wanda's Netflix release will see her touch on a wide array of topics including Cardi B, the government shutdown, and of course Trump Presidency.
There were a lot of ups and downs for her, but she has overcome them all and established herself as a well-known star.
Wanda Sykes Career
Wanda Sykes was born on 7 March 1964 in Portsmouth, Virginia to a banker mother and US Army veteran father. She is a graduate of Hampton University.
The award-winning writer/comedian/actress first started her career working for the National Security Agency after she completed her education. After NSA, she then began stand-up comedy in the later 1980s. In 1991, Wanda married American record producer Dave Hall and got divorced in 1998.
Wanda is mostly known for her funny stand-up comedies and even ranked Entertainment Weekly's 25 Funniest People in 2004. She has also starred in various TV series such as Curb Your Enthusiasm (2000), Wanda at Large (2003), Wanda Does It (2004), Vampirina (2017), Broad City (2017), and Blackish (2017).
Bio You Might Like:- Steve Damstra Bio, Net Worth, Wedding
The famous comedienne has also worked in movies such as Monster in Law (2005), Evan Almighty (2007), Rio (2011), Ice Age: Continental Drift (2012), Ice Age: Collision Course (2016), and Hurricane Bianca 2: From Russia with Hate (2018).
For her worthful contribution to the comedy world, she earned a Comedy Central Commie Award for Funniest TV Actress in 2003. Wanda also turned herself into a writer by publishing her first book called, Yeah I Said It in September 2004. 
From her successful career, the Portsmouth, Virginia, native has been able to enjoy a net worth of $10 million.
Wanda is currently living in peace with her wife and kids. She is still working on several other projects, and we will see her again. We will definitely keep you updated. Until then, stay tuned.