Entertainment
Martha Raddatz Bio: ABC Reporter's Family Detail - Married Life To Religion
Martha Raddatz,  ABC News Chief Global Affairs Correspondent, has been married twice before sharing the marital bond with her current husband......The couple exchanged the wedding vows in ... and have been together for......Before that, Martha was married to ... in ... with whom she even shared......But the marriage ended in a divorce in ... like her previous marriage with......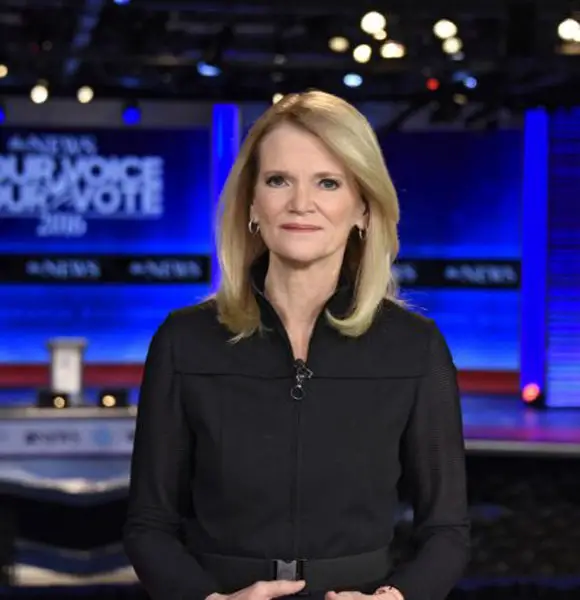 An American reporter, Martha Raddatz has done it all from getting into the field in Afganistan to hosting the Presidential debate. She has been around for a decade covering national security, foreign policies, and political news. 
Martha, who has reported from safe zones like the Pentagon to conflict inflicted areas around the world, possesses not only a bright career but also a loving family of her own. Thanks to her reporting job, Martha did not have a stable relationship in the past. But despite the ups, downs and the broken affairs, the  Idaho native has been finally blessed with a family.
It turns out that she had been married twice before, but both of them ended in divorces only to find an everlasting love with her current husband. Here is what her bio reveals of her past relationships and the one she currently shares with her husband. 
Married Twice Before, Divorced On Both Occasions
The ABC News' Chief Global Affairs Correspondent exchanged the wedding vows with two of her former husbands but on both occasions couldn't succeed to maintain a prosperous marriage, causing her to divorce both of her ex-partners.
Interested In: Ana Navarro Married Chief Boyfriend! Furtive Husband Revealed, A Wedding In Secrecy
Martha, who has not revealed her inclination towards a political party, previously shared the marital bond with Ben Bradlee Jr. It is not known when the pair tied the wedding knot but the duo shares a child together. Martha's relationship with Ben blessed her with their firstborn, Greta Bradlee Williams. 
After the birth of Greta, Martha and Ben parted ways as they ended their vows with a divorce. Being a single mom, Martha raised her daughter by herself while also finding her way into the male-dominated society of political reporting.
Despite the end of the marriage, the reporter, who has an estimated salary of $106,562, did not give up her faith on the sacred bond and gave it another try while she tied the wedding knot with a Jewish lawyer and businessman named Julius Genachowski. The couple was pronounced husband and wife back in 1991 in a grand wedding ceremony which was even attended by Barack Obama. 
Martha and Julius also share a baby together. They are proud parents of Jake Genachowski. The couple was together for a decade but eventually found themselves drifting away from each other.
You May Also Like: Is Mark Simone, The Savage Radio Host Married? Family, Salary & Facts
Later in 2007 Martha and Julius signed the divorce papers finally ending their marriage officially. However, despite the end of their relationship, both Martha and Julius have remarried finally finding their significant other.  
Found Love With Husband
Despite two failed marriages in the past, Martha found her faith in marriage restored when she exchanged the wedding vows with Tom Gjelten, who is an award-winning National Public Radio correspondent covering religion and faith issues.
It is not disclosed how Martha and Tom met and fell in love but the couple has been together for over two decades. They tied the nuptial knot back in 1997 and have been together since then.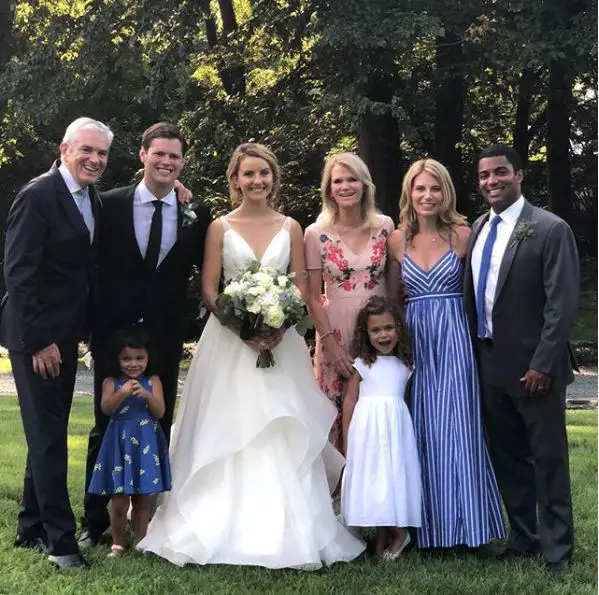 Martha Raddatz with husband Tom and family. (Photo: Martha Raddatz'a Instagram)
Don't Miss: Leigh Sales Separated Apart | Divorce From Husband Didn't Drown Her, How?
The pair does not share any children together but is proudly parenting Martha's children from her previous marriages. At the age of 65, Martha is not only a proud parent but also a grandparent to her grandkids.