Entertainment
Did Matt Bennett Have Dating Affair With Co-Stars Liz Gillies & Ariana Grande? Gay Rumors - Result of Obscure Girlfriend History
The oral talk of the celebrities covers their relationship issues for the most part, and the conversation goes more intense if it is an unusual association between partners. Matt Bennett represents one of such cases, who has been a victim of gay rumors, precisely due to his obscure relationships with his girlfriend.
 After witnessing a sweet and adorable Matt Bennett as Robbie Shapiro in Victorious, but to a whole contrastive scenario, the world saw a dark and kinky Matt on March 4 with his original monologue that was titled "I Want To F**k A Demon."
But is this monologue sufficient to decide whether the artist is gay or not?
A look into Matt's personal life can be a bit more helpful to know whether or not dows Matt identifies himself as gay.
Is Matt Bennett Gay Or Dating Girlfriend?
The Nickelodeon sitcom, Victorious brought three friends together; Matt Bennett, Elizabeth Gillies, also known as Liz Gillies, and Ariana Grande, when they got featured in it. 
While the series was called off in 2013, these three friends still hang out together and are seen now and again. Furthermore, the series also starred Victoria Justice, Avan Jogia who portrayed Beck Oliver, Leon Thomas III, and several others.
Read Also: Stephen Hillenburg, Spongebob Creator Dies; Cause Of Death At Age 57
The three have been spotted together on several occasions, the last of which came in January 2017. The three were spotted jointly in Los Angeles event to aid in the fight for women's rights. While Ariana made her presence at the event beside her busy schedule, she didn't make any posts with her friends Bennett and Liz.
However, Liz flaunted a picture with Matt, addressing him as marching buddy.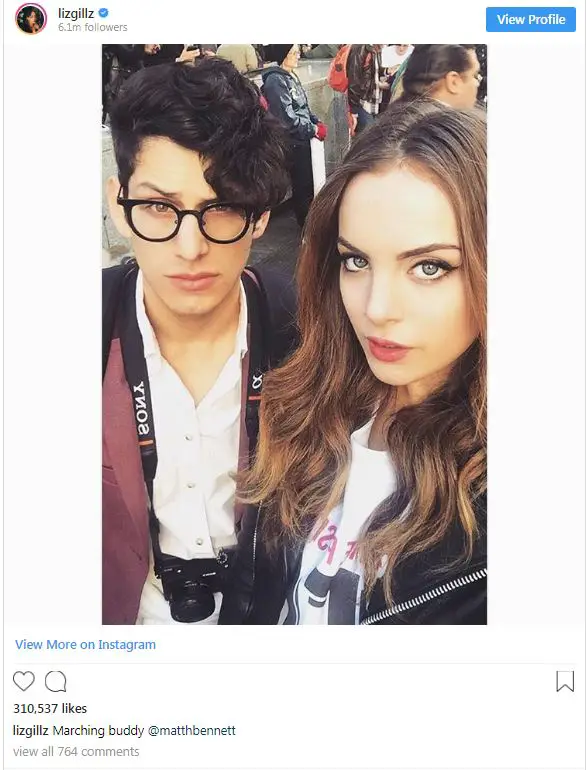 Matt Bennett alongside his rumored girlfriend Liz Gillies. (Photo: Liz Gillies' Instagram)
According to the sources, the three have been in regular communication.
Related: Is Elizabeth Gillies Dating Someone? Her Fans Are Confused Who Her Boyfriend Is
In December 2016, the trio foregathered for the holidays; Bennett took to Instagram to show off a photo to assure his friendship with Ariana.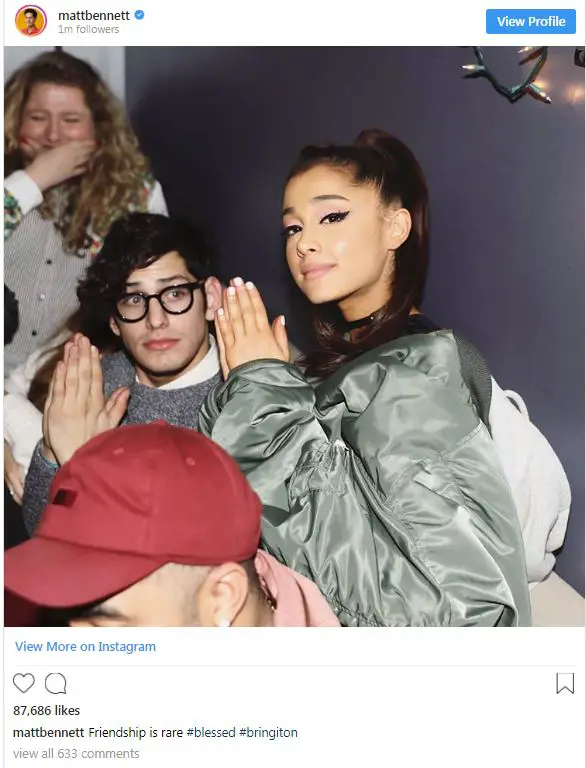 Matt Bennett poses alongside his former co-star Ariana Grande. (Photo: Matt Bennett's Instagram)
Moreover, Bennett and Liz got featured in Ariana's "One Last Time" music video.
Furthermore, the three friends again got featured in the series called "Sam & Cat," where Ariana was in one of the leading roles, while the other two appeared as guest stars.
However, the guest stars are supposed to have an incredible moment while being on the set. One of the captures from the set even got socialized with a caption  "My boy & I," which apparently shows the bonding between Liz Aand Matt. 
While Matt seems to be maintaining a friendly relationship with Ariana, there appears to be some extra pinch of love feelings between Matt and Liz.
Matt is believed to be dating his so-called girlfriend Liz, but the relationship's petite flames haven't taken the shape of fire. The two, however, are seen together but not as a part of their dates. Perhaps, they want everything in a concealed manner!
However, in recent times, they have decided to step it up a notch and have given more hints about their relationship. Matt took to Twitter to wish his girl on her birthday with a witty yet sweet birthday post.
"My ding dong daddy from Dumas @LizGillies is celebrating her 25th birthday today. But let's not forget the time she was unprofessional and flipped me the bird on a red carpet. Not a good look, Liz."
Similarly, Liz has also termed Matt as her "boy" in one of her tweets.
"Oooo, look at my boy! He's all glowed up!"
Though the official confirmation regarding their dating status has not yet been revealed by both of the stars, the hint provided by both Matt and Liz hints towards the same direction that they are all ready to make their relationship official.
Not Gay But Remains Fully Supportive Towards Gay Men
Matt's association with his rumored girlfriend Liz definitely assures a fact regarding Matt that he is not gay. Meanwhile, he supports the same gender relationship and is, indeed, a fan of the ones who are open to gay people.
Don't Miss: Eddie Izzard Despite Partner History, A Heavily Rumored Gay; Here's Why
In an interview with his organization's first PSA in 2011, Matt gave his views on gay people and also asked the public to be more respectful towards them.
"It doesn't make you any less of a man, or make it look like you're into men, if you're friends with a man who likes men. Let's just get along. We are, in fact, all men. And men don't let other men disrespect men, man. They just don't. So if you're a real man, man up and stand up for your man friends who like men."
He also passes the message for everyone to live their life the way they want to.
After Victorious, Matt made a guest appearance in Games in the episode "Tiny Pickles" and contributed to Fresh Off The Boat in 2016 and The Stanford Experiment and Me Earl Dying Girl in 2015.
He has been active since 2009 and is in the field still in 2017. As of these days, he produces monologue videos for Youtube.