Entertainment
Is Congressman Matt Gaetz Married? Personal Life Details
Matt Gaetz is an American Lawyer...politician currently serving as the U.S. representative of Florida's 1st congressional district...born on 7th May 1982 in Hollywood, Florida...graduated from Florida State University in 2003 with a B.S. in interdisciplinary sciences...is unmarried and his sexual orientation is straight...strongly believes that Cannabis should be legalized...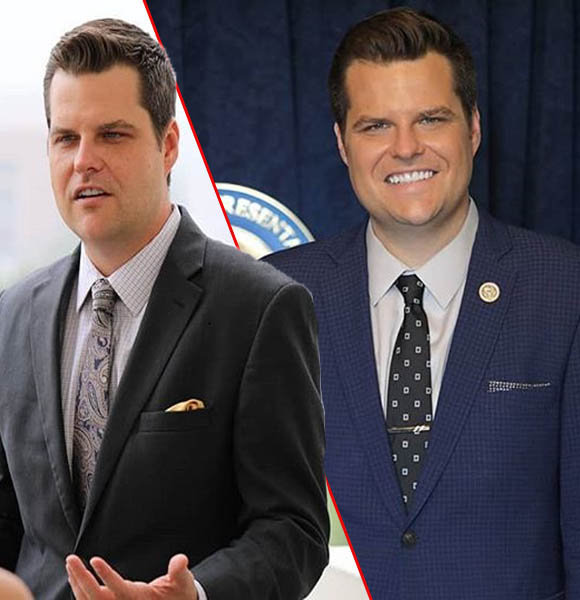 Matt Gaetz is an American lawyer and a politician - who now serves as the U.S. representative of Florida's 1st Congressional District. He assumed the position in 2017 and was also a member of the Florida House of Representatives, representing the state's 4th district from 2010 to 2016.
The political leader is most known as a proud Trump supporter and a member of the Republican Party. He often gets the spotlight for taunting his Democrat colleagues by questioning their patriotism.
Matt Gaetz's Bio
Matt Jerry Gaetz was born on 7 May 1982 in Hollywood, Florida. His father is Republican politician Don Gaetz - who also served as the Senate President from 2012 to 2014, while his mother is Victoria Gaetz.
Matt also has a sister in his family named Erin Gaetz, who runs a digital content firm called Southpaw.
This Might Interest You:- John Neely Kennedy & Nancy Pelosi Clash, What Just Happened?
Matt graduated from Florida State University in 2003 with a B.S. in Interdisciplinary Sciences. He then enrolled at the College of William & Mary - where he got a Juris Doctor degree in 2007. Later, he worked at a law firm in Fort Walton Beach after graduating from law school.
Dated A 21-Year-Old, Girlfriend Now
Matt remains unmarried as of 2019!
However, he hasn't been single all his life. Previously, he dated a girl - who was 21 at the time of their relationship. But, Matt didn't reveal his ex-girlfriend's identity due to security reasons. He feared that it might put her life in danger as he often received threats from people who were very likely to hurt him or anyone close to him.
He pleaded to the progressive magazine Mother Jones to keep her identity a secret:
"I am pleading with you not to identify them. Identifying puts them at risk." 
According to Mother Jones, the woman went on to become a Democratic congressional intern.
After that incident, he hasn't been linked romantically with any other names and probably doesn't have a girlfriend or a wife.
Matt Gaetz Now, Arrest
Matt came into a controversial spotlight since the impeachment inquiry against Donald Trump on 24th September 2019. Many call him a fierce defender of Trump, and it isn't without reason. Like many incidents before, he has made his support for Trump evident.
Matt openly criticized Democrats on his opening speech on 11 December 2019 in the House Judiciary Committee. In his own words:
"Now with no crime and no victim, House Democrats impeach because they have no agenda for America."
He went on to point out how shallow the impeachment was via a statement.
"This is the fastest, weakest, thinnest, most partisan, impeachment in American Presidential history."
While Matt's words made sense and had some people look positively at him, he immediately killed those favorable impressions by starting rumors that George Soros was funding migrant caravans. But it wasn't the worst part. The last straw that broke the camel's back was Matt trying to reduce Hunter Biden's credibility by bringing up his substance abuse history.
More About Hunter Biden:- Hallie Biden, widow of Beau Biden is Dating her Former Brother in Law Hunter Biden
Matt's words came back to bite him in no time. He was arrested in 2008 for driving under the influence (DUI). While he wasn't convicted, the mugshot was released on the internet.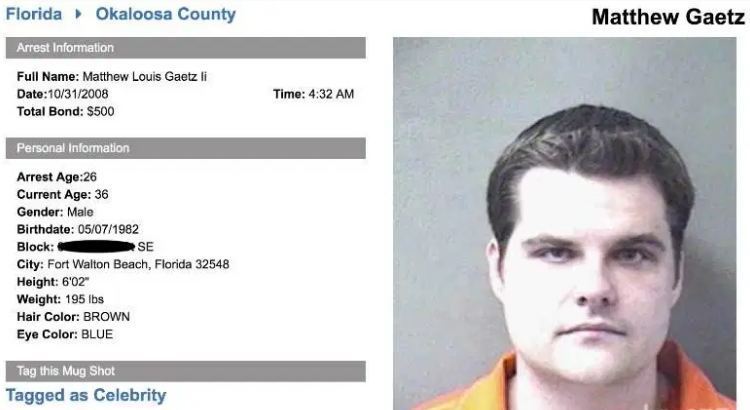 Matt Gaetz was arrested in 2008 for DUI (Photo: arrests.org)
Hank Johnson was recognized to speak after Matt wrapped his speech up. Hank pointed out Matt's inappropriate words:
"The pot calling the kettle black is not something we should do. I don't know which members, if any ... have been busted in DUI. But if I did, I wouldn't raise it."
Unfortunately, Matt seems to have paid no heed to Hank Johnson's words as he talked about the issue of Hunter's substance abuse once again. Needless to say, it didn't end well, and he received a lot of flak.
Political Stances
Matt is a rare Republican politician - who supports the LGBTQ movement. For this reason, he is looked upon favorably by gay people.

He firmly believes that cannabis should be legalized because of its medical benefits.

He is an avid supporter/defender of Donald Trump.

He advocates for people's rights to carry weapons openly if they possess a concealed-weapons permit.