Entertainment
UFC's Max Holloway MMA Stats & Records, Net Worth, Wife, Facts
Max Holloway is an MMA fighter playing under the brand of UFC...holds various records in the Featherweight division of the UFC...his height, weight, and age details are given below...was married to his ex-wife from...has a son named Rush with his ex-wife...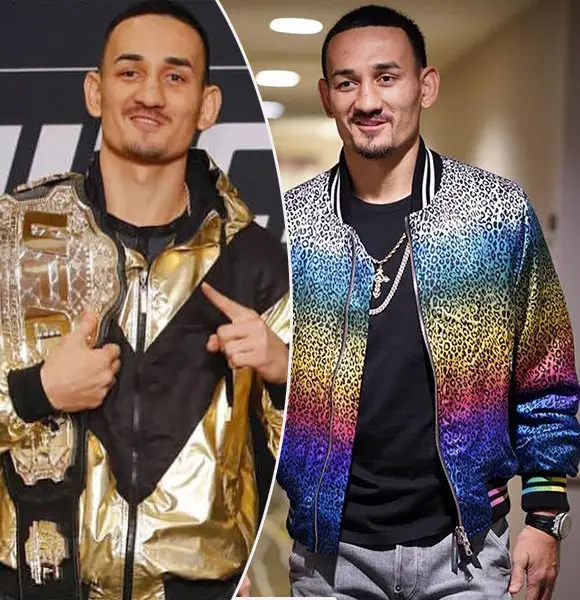 Max Holloway is a mixed martial artist who fights in the UFC. 
The MMA fighter started his fighting journey after graduating from Waianae High School in 2010, where he first started learning kickboxing. But, his professional MMA debut came on 11th September 2010 in the X-1: Heroes where Max won his debut fight against Duke Saragosa through a unanimous decision.
Since then, Max, who is learned in various martial arts such as kickboxing, Jiu-Jitsu, and Muay Thai, has made a name in the MMA scene while fighting under the UFC brand. A tough opponent for anyone, he has fought 26 matchups, which include fights against artists such as Conor McGregor, Jose Aldo, and Dustin Poirier.
MMA Stats: Fights And Records
As we are on the subject of Max's MMA career, let's know it in a little more detail. As mentioned above, Max started his professional fighting career against Duke Saragosa and won the fight inside three rounds.
Max went on a four-game winning run since his debut - all of which occurred before his UFC career. He won the second match of his career with a Knock Out against Bryson Kamaka in the first round, a match which was held on 6th November 2010.
Another MMA Fighter:- Frankie Edgar MMA Stats, Main Event, Records & Net Worth Details
After four wins, Max decided to enter the UFC and was immediately matched up with an established fighter, Dustin Poirier. And this match turned out to be his first loss, as he submitted to an armbar submission move from Dustin in the first round.
Max bounced back from the upset in his first UFC game and won three back-to-back games. Unfortunately, his short winning run came to an end against Dennis Bermudez on 25th May 2013. Following that match, he again lost to legendary fighter Conor McGregor on 17th August 2013.
Two consecutive losses probably filled him with so much motivation that he managed to finish his opponent, Will Chope with a knockout, following the match against Conor. This win, which came on 4th January 2014, initiated his 13-match unbeaten run.
During this streak, he won four consecutive title defense matches against Brian Ortega, Anthony Pettis, and twice against Jose Aldo.
However, Max's amazing run of wins came to an end on 14th April 2019 when he lost his Lightweight title to Dustin Poirier. The loss came after a five-round match decided by unanimous decision.
But Max qualified for another title match, this time against Frankie Edgar, for the Featherweight title. The match took place on 28th July 2019, and Max won the title, again with a unanimous decision on his favor this time around.
Read More:- Shayna Baszler Husband, Lesbian, Family
Fighting his 7th consecutive title match, and this time defending his Featherweight title, Max fought and lost against Alexander Volkanovski on 15th December 2019.
All in all, Max has won 21 of his 26 matches in his career, losing five and drawing none. And Max still has a fair amount of time left in his fighting career, being just 28 years of age as of December 2019.
Career In Numbers
Career Record - 21W-5L
UFC Record - 17W-5L
0.42 knockouts per game
45% striking accuracy
83.3% takedown accuracy
0.42 submission attempts per 15 minutes
Ten career wins by knockouts and nine via submission
Most wins in UFC Featherweight history - 16
The longest winning feat in UFC Featherweight history - 13 consecutive victories
UFC record for most significant strikes landed - 1,937
Max's Personal Life: Wife And Children
Max is currently single. But, he used to have a decent married life before his divorce with his baby mama.
The record-holding UFC fighter married Kaimana Pa'aluhi, his then-longtime girlfriend, on 14th February 2012. The couple had a son named Rush Holloway, who was born on 4th January 2013.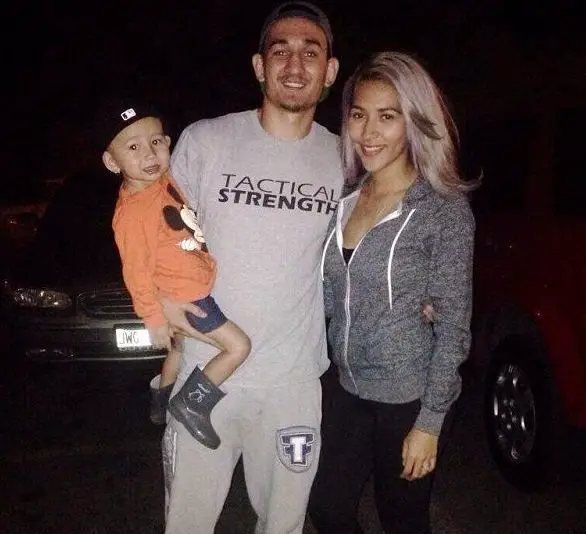 Max Holloway with ex-wife Kaimana Pa'aluhi and son Rush Holloway (Photo: Married Biography)
But, the relationship went south, and the marriage didn't last for long; the dates of the split are conflicting between 2014 and 2015.
Life After Divorce
Max waited for a while before getting back into the dating game again. But he got back into being in a relationship and dating Moani Hara, a model, and Hulu dancer. Their companionship was finally made official when Moani joined Max in the Octagon after his second successive fight against Jose Aldo on 2nd December 2017.
However, it seems as though the lovely couple has broken up. Moani posted pictures with another guy on her Instagram in 2019. On the other hand, there also is no recent news about Max and Moani.
Interesting Facts: Age, Height, Weight, Net Worth
Max was born on 4th December 1991 in Honolulu, Hawaii, USA.
His full name is Jerome Max Keli'i Holloway, but fans know him by his nickname Blessed.
Max stands at the height of 5 feet 11 inches (1.8 meters) and weighs around 145 lbs. He has a reach of 69 inches.
Max has had a great career in MMA fighting, and his net worth supports that fact. He owns an estimated net worth of around $2 million. He earned a payout of $350,000 during a match in UFC 236 against Dustin Poirier on 14th April 2019.