Entertainment
Is Max Minghella Dating Now? Or Focusing On Movies and Building Career After Having Multiple Girlfriends?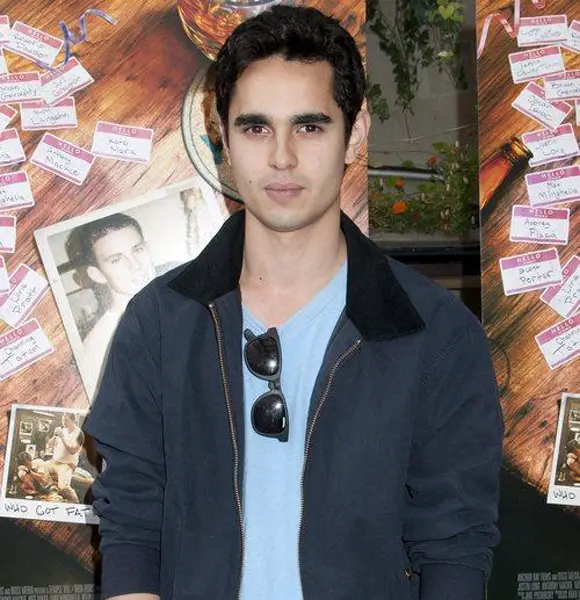 After seeing different celebrities portraying different characters on-screen, who wouldn't like to know about their real life?
People often find the personal life of celebrities attractive, don't they? Well, celebs relationship status, dating, an affair usually grab the attention of most of the people out there.
A celebrity, which one sees portraying the character of womanizer might be a "one woman man" in real life. Likewise, a person who represents the role of "forever single man" in any of his acting credits might have been involved in many dating and affairs.
In this context, let's navigate about Max Minghella's love life, whose character Nick develops feelings for June Osborne/Offred in The Handmaid's Tale.
Girlfriend Details
Max met his girlfriend Elle Fanning when he directed her in his directorial debut 2019 movie, Teen Spirit.
The director-actress duo's relationship turned into that of lovers, and the couple started painting the town red with their love. On 6th May 2019, the TV actor and his girlfriend graced the prestigious pink carpet of Met Gala.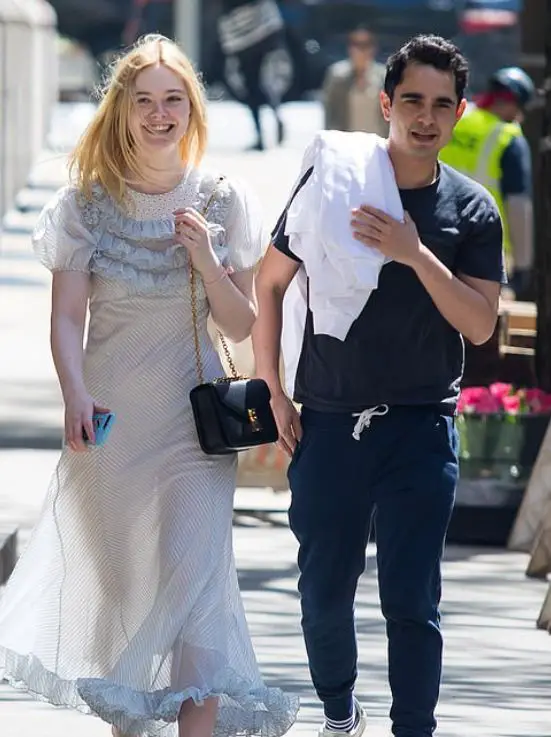 Max Minghella reacts as he strolls NewYork with his girlfriend, Elle Fanning on 2nd May 2019 (Photo: www.dailymail.co.uk)
Well, the major event appearance came after The Handmaid's Tale actor and his girlfriend's name first got linked when they were seen holding hands in July 2018 at Florence, Italy.
While still, a 21-year-old, Max's girlfriend has been in the movie business for 19 years as she debuted at age two via the movie, I Am Sam. A receiver ofTeen Choice Award and Scream Award, Elle has worked in film namely Super 8, The Neon Demon, We Bought a Zoo, Babel and Maleficent. The talented runs in the family as Elle boasts a famous actress-sister sibling, Dakota Fanning.
Max's Past Dating Affairs
In July 2015, The Social Network actor Max appeared to be cozying up with actress Eve Hewson. Max and Eve looked happy as they strolled around New York.
But he didn't utter a single word to the media since he was speculated to be dating the gorgeous Eve Hewson. However, they were still assumed to be dating though they didn't make several public appearances together and didn't utter a word about each other in any interviews.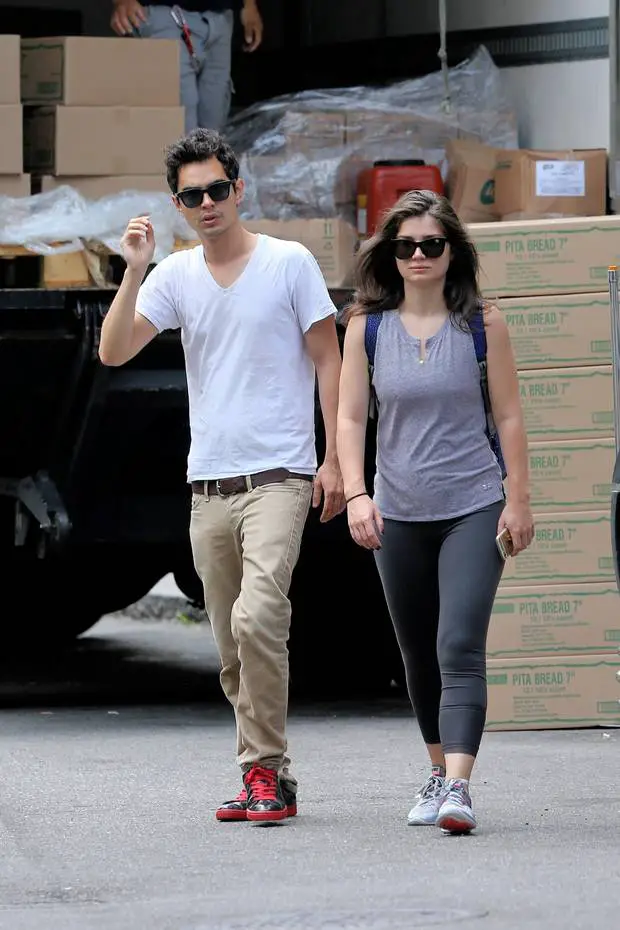 Max Minghella pictured with Eve Hewson in Soho, New York City (Photo Credit: Independent)
The freshly single pair mingled, as Max had already ended his relationship with House of Cards star, Kate Mara and Eve parted her ways with her boyfriend of four years, James Lafferty.
Explore Handmaid Tale's Actress:- Charlie Riina Age, Dating, Boyfriend
When Max was in a relationship with Kate, they broke up and got back together for a few times. But according to Us Weekly, they seriously ended their relationship in September 20111. According to an insider-
"Max and Kate have broken up and gotten back together a few times over the course of their relationship, but this one looks like it's sticking. The relationship just ran its course."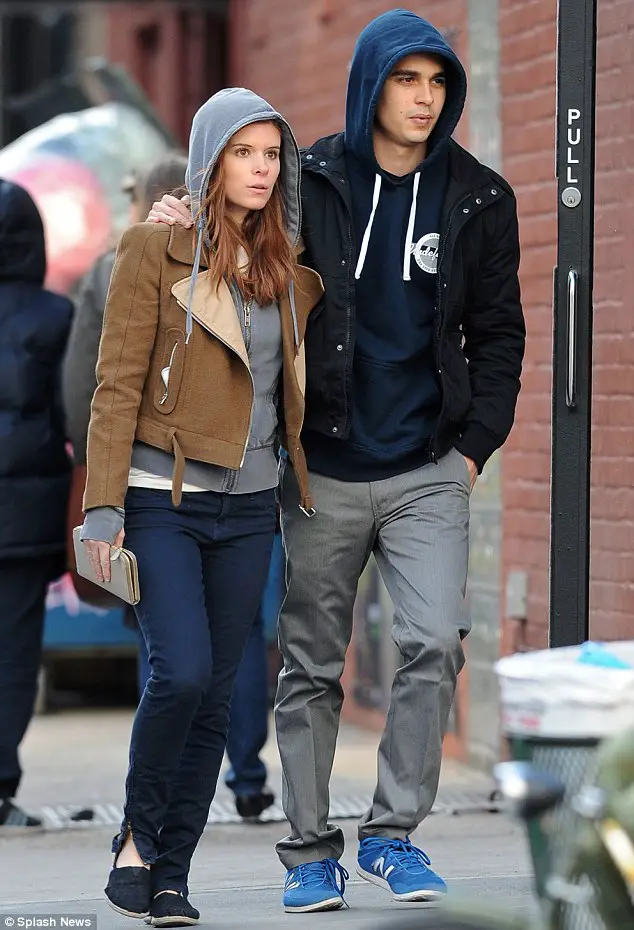 Max and Kate spotted together on their casual wear in April 2013 (Photo Credit: Dailymail)
Max was first introduced to Kate by her younger sister Rooney Mara on the set of The Social Network. They eventually fell in love and began dating in 2010.
In February of 2013, when Max was still dating Kate, he took Twitter to talk about her, where he revealed that Kate probably spends 40% of her time reassuring Max about his sub-par Ed Burns impression on 25th February 2013.
Max's Career & Family 
Max seems to be busy inclining his career to the new height of success. He appears on the American television series The Handmaid's Tale, which is based on the 1985 novel by Margaret Atwood. He has worked in movies like Fluffy (2016), and The 9th Life of Louis Drax (2016).
Well, Max is also famous for appearing in The Mindy Project (2013-2014), The Internship (2013), The Ides of March (2011), The Social Network (2010), Art School Confidential (2006), and Bee Season (2005). However, Max's net worth remains disclosed.
Broadway Actor With Twin Name:- Openly Gay Matt Doyle In Dating Bliss! Boyfriend Is A Heartthrob - Affair On Fleek
Born to choreographer mother, Carolyn Choa, and late Oscar-winning director Anthony Minghella, Max didn't receive anything from his father's bulk of £7.5 million fortune, whereas his sister Hannah Minghella received £20,000 and a quarter of his work's royalties.