Entertainment
MSNBC's Kristen Welker Of Mixed Ethnicity Is Finally Married! Became A Power Couple With Marketing Husband
MSNBC's Kristen Welker Of Mixed Ethnicity Is Finally Married! Became A Power Couple With Marketing Husband Kristen Welker- the White House correspondent for NBC News knows the feeling of standing patiently on the waiting list as the reporter walked the aisle in her 40s. No kidding right?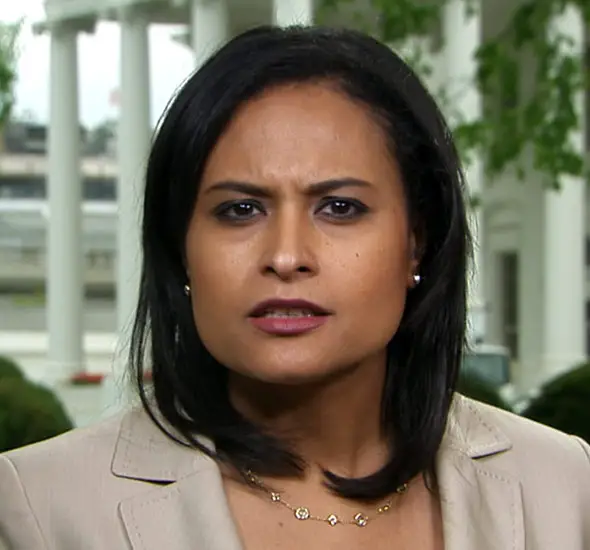 Quick Information
Career

2001-present

Lesbian

No

Body Measurements

37-27-38 inches

Feet (Shoe) Size

8 (US)

Weight

137 pounds (62 kg)

LinkedIn

https://www.linkedin.com/in/kristen-welker-b252b6/

Instagram

https://www.instagram.com/kristen.welker/?hl=en

Twitter

https://twitter.com/kwelkernbc

Facebook

https://www.facebook.com/KristenWelkerNBC

Eye Color

Black

Hair Color

Black

Hair

Long

Height/ How Tall? 5' 3" (1.60 m)
Education

Bachelor of Arts

College

Harvard College

High School

Germantown Friends School

Date of Birth Jul 01, 1976
Net Worth

Not Disclosed

Wedding Date

4th March 2017

Divorce/Split

Not Yet

Husband/Spouse

John Hughes

Relationship Status

Married

Children/Kids

Not Yet

Mother

Julie Welker

Father

Harvey Welker

Ethnicity/Race

Mixed

Zodiac Sign

Cancer

Profession

Journalist

Home Address

Washington, D.C.

Birth Place

Philadelphia, Pennsylvania, United States

Nationality

American
You never know when love strikes you. A person may find love or better yet, their soulmate at a young age while some may have to wait a little longer for that sweet miracle to touch them; but eventually, everybody wins. It is just the matter of time!
Well, Kristen Welker- the White House correspondent for NBC News knows the feeling of standing patiently on the waiting list as the reporter walked the aisle in her 40s. No kidding right?
Kisten Welker is Married Now!
On March 4, 2017, the NBC News correspondent Kristen Welker exchanged wedding vows with her husband John Hughes- a marketing director in a wedding ceremony organized at the Hyatt hotel in The Bellevue, Philadelphia; where she kissed her new husband into her life.
The ceremony was attended by famous personalities including Chuck Todd, Andrea Mitchell, Kelly O'Donnell, Chris Jansing, CNBC's Aditi Roy, contrast executive David Cohen and FNC's Ed Henery.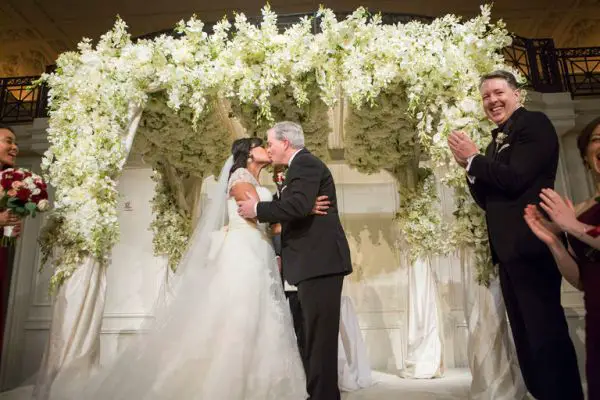 Kristen Welker and John Hughes sharing a wedding kiss on their wedding day on March 4, 2017 (Photo: The New York Times)
Following the wedding, Kisten Welker shared a group selfie from the pre-easter walk with the new in-laws through an Instagram post on April 15, 2017. It is a surprise she remained single for so long; her love story with John reflects that she was waiting for a man who respected her and what she does.
It seemed just yesterday that Kristen and John Hughes exchanged their wedding vows, but it's already a year. The couple celebrated their first anniversary at the Gridiron where her husband was in a White bow-tie.
She clarified in the caption that the couple had planned to be white bow-tie in their every anniversary. She took to Instagram on 4 March 2018 to announce their first paper anniversary where the couple was spotted enjoying their anniversary party.
Not only Kristen is busy enjoying the wedding anniversary, she indeed is busy covering the historic meeting between President Trump and Russian President Putin. On 15 August 2018,  White House correspondent Kristen Welker also reported on the President Trump's revoking security clearance of his critics and career intelligence officer, John Brennan who is also an NBC News Analyst.
How Kisten Welker meet John Huges?
In an interview with article.philly.com in July 2016, she revealed how she met John for the first time. She said,
"I'm 40 years old. I say that to give hope to other women who maybe haven't found The One in their 20s. So two summers ago, my best friend from high school's mother said, "I'd really like you to meet John Hughes." He is their family friend's son. I had just about given up on the idea of finding someone, but we had dinner in Philadelphia, and the rest is sort of history."
How John Hughes Won Kristen Welker Heart?
Kristen Welker and John Hughes decided a date at a restaurant in Center City in October 2014. She arrived impeccably dressed in a skirt, and his first impression was very impressive. Revisiting the beautiful moment, when John was waiting for her outside in a blazer, Kristen said,
"It was just about the most chivalrous thing a man can do,"
John, at first sight, felt that he was going out of his league. But he stood to his ground after noticing Kristen's nervousness when she forgot to pay the taxi she arrived in. To impress her, John had a simple yet effective plan to win Kristen's heart, which was to make her laugh.
"Suddenly, I was so cool to him,"
Kristen nearly missed her second date as she had to cover the interview of former President Mr. Barack Obama. Kristen was tired and even had second thoughts to rain check the date, but she did not. The interview made her two and a half hours late, but John waited patiently.
The couple talked about work, life, hobbies, and family. But the turning point, on the date, occurred when John gave her an envelope.
The envelope contained a crossword puzzle of the presidential trivia which John had handwritten cleverly along with the clues. Sharing the same incident, Kristen stated,
"That's the moment he got me, As a White House correspondent, it was so touching, and it marked him different than anyone else I ever dated."
Kristen, for the first time, met a man who valued her work in a way no one had ever before. Kristen expressed,
"He allowed me to be me, And he's incredibly calm, while I'm typically talking 100 miles a minute."
Dream Proposal from John Hughes!
It was a regular Friday night for Kristen and John on June 24, 2016. They were on their way to a restaurant for dinner when out of nowhere John got down on one knee and popped the question she had been waiting for all her life. And the answer was a definite yes.
The beautiful moment was captured on-camera by runner Anna Perkinson, who happened to be jogging near Lincoln Memorial. Talk about coincidence!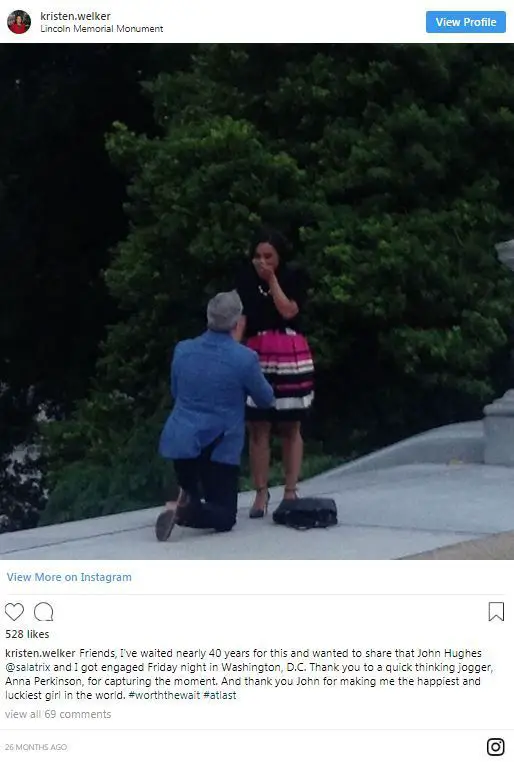 John Hughes got down on his knee to propose Kristen Welker (Photo: Kristen Welker's Instagram)
Kristen later shared a picture of the moment right after the proposal, where their smile shouts out their happiness, through an Instagram post on June 26, 2016.
Also, Kristen had talked to Today around two months before the proposal about how boyfriend(now husband) John and her parents helped her stay focused while she was busy reporting on the 2016 presidential campaign trail for NBC. 
Her Ethnicity and her Motive to Cover the Election:
"My mother [who is African American] ran for city council when I was in ninth grade and college, and a few reporters asked her why she was married to my father, who was white. It just angered me and made me feel that voters and candidates deserve a more elevated level of discourse. I want to press candidates to articulate policy."

-Kristen Welker on her motive to cover the election
Kristen Welker: A Short Bio
Kristen Welker was born on July 1, 1976, in Philadelphia, Pennsylvania to an interracial couple; mother Julia Welker, a prominent Fairmount realtor and former councilmember candidate, and loving father. 
And during the visit to Clinton event in Philadelphia, she ran into her pre-school teacher and thanked for the firm foundation she had as a child. She shared a picture from the event through an Instagram post on August 16, 2016.
She comes from a multi-racial family where her father belongs to white ethnicity, and her mother belongs to black ethnicity. However, despite the multi-racial roots, Kristen is American by nationality. Welker graduated from the Germantown Friends School in 1994, and Harvard College in 1998, in Bachelors of Arts, with a major in History.
She worked as a reporter in different television stations around the country, finally settling as a news correspondent for NBC News in 2010. Kristen, who has also reported for MSNBC, was later named the official White House correspondent for NBC in December 2011, which gave her the opportunity to travel around the world along with President Obama.
She covered the US 2016 election cycle was also assigned to cover the DNC, which took place in her hometown Philadelphia. 
Quick Fact: Did you know that Kristen Welker, Hallie Jackson, and Kasie Hunt are all from Philadelphia?  Well, now you do!
Kristen was one of the NBC's women power to cover the 2016 election including Hallie Jackson, Andrea Mitchell, Chris Jansing, Kelly O'Donnell, Katy Tur and  Kasie Hunt.