Entertainment
Meteorologist and Former Beauty Pageant, Samantha Mohr: Married life, Husband, Divorce Alerts?
Being crowned Miss Georgia, she proved that she is an example of beauty with brain.  She is now a television personality and even at the age of 54, her charm has not faded a bit. Did you make a guess who is she? Yes, we are talking about the gorgeous meteorologist, Samantha Mohr. Samantha Mohr was crowned Miss Columbus in 1985.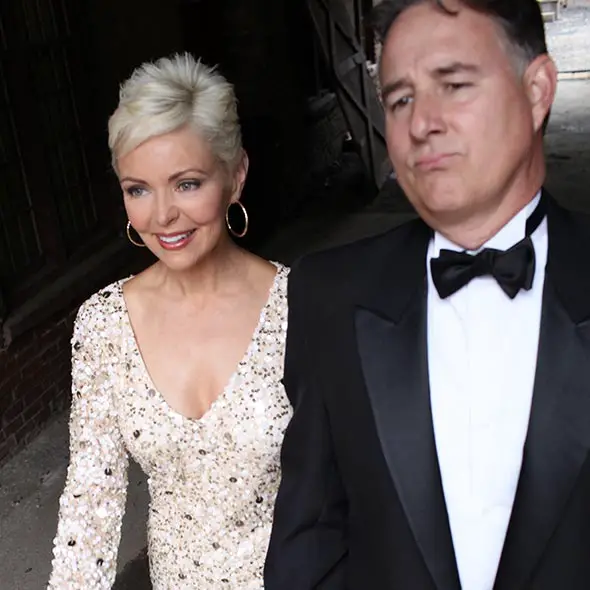 Being crowned as Miss Georgia, she has proved that she is a true example of beauty with brain.  She is now a television personality and even at the age of 56, her charm has not faded a bit. 
Success and fame came early in life for Samantha Mohr. Her face got renowned all over the world through the beauty pageant, whereas her brains have made her an outstanding meteorologist making her one of the most popular reporters in that field.
Currently, married and living life with her husband, daughter and her puppies, there is nothing more Samantha Mohr could ask in life!
A Successful Star For Samantha Mohr!
The topic is about the gorgeous meteorologist, Samantha Mohr. Samantha Mohr was crowned as Miss Columbus in 1985. This success led her way to enter to Miss Georgia pageant.
Related Article: Manushi Chhillar Becomes The Miss World 2017! Adds A Crown To Her Bio
Continuing the achievements, she won the title of Miss Georgia on June 22, 1985. Samantha was only twenty-three years old when she won the title. She shared in an interview that Miss Georgia, before her, Bobbie Eakes inspired her to compete in Miss Georgia:
"I was a musical theatre buff who loved the stage but never pictured myself as a queen!  But a few weeks after watching Bobbie Eakes compete in Miss America as Miss Georgia I ran into her on the campus of UGA.  I stumbled and stammered as to talk to her (she was a big deal) and she said: "have you ever thought of competing in a pageant?" That is all it took!   Bobbie planted a seed that took root.  The next year I entered my hometown local pageant Miss Columbus and that next June I was crowned Miss Georgia!  If I had not run into Bobbie, that falls day on the UGA campus I would never have been Miss Georgia!  The influence we can have others is incredible! You never know who you will inspire along your path."
She also represented the state in Miss America but unfortunately, she couldn't grab the title.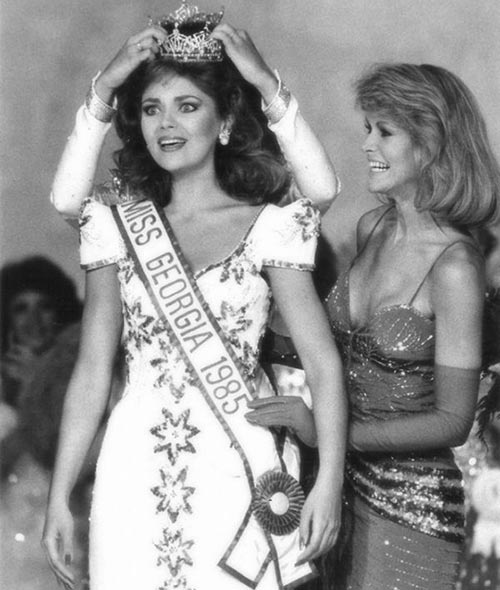 Caption: Samantha Mohr being crowned as Miss Georgia (Photo: afterthecrown.com)
With an early fame knocking down her door, Samantha has used every bit of her effort in becoming someone big in her life. Her breakthrough after winning the crown has opened more gates for something big in her life!
Samantha On Getting Married To Husband: Now A Proud Mom!
But, beyond her early beauty pageant days, Samantha Mohr entered into a beautiful family tie after getting married to Kent Matthews. Kent was her boyfriend before the marriage.
Discover More: Cancer Survivor Dallas Raines: Tumultuous Relation Of Wife & Daughter To Family Moments
The couple has a daughter, Allison Matthews. Like her mother, Allison is pursuing her career in Journalism. She is studying journalism at the University of Georgia. The family of three lives happily in Marietta.  Samantha's husband Kent enjoys cycling, snow skiing, and hiking.
There are no hints that the couple will get a divorce.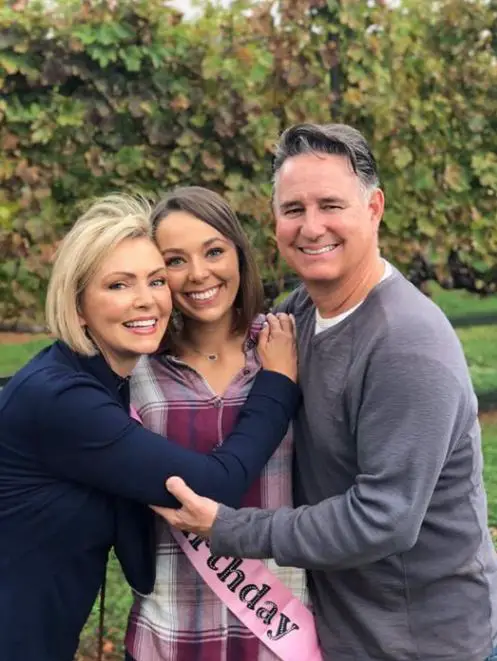 Samantha posts a picture of herself with husband, celebrating daughter Allison's birthday (Photo: Samantha Mohr's Facebook)
An incredibly talented, Samantha Mohr has graduated twice, first, she earned Bachelor of Science in speech pathology then Bachelor of Arts in broadcast meteorology.
She has served as a meteorologist in different channels including KTVK/Phoenix for Good Morning Arizona, CNN center, the weather channel, HLN for weekend express. 
Similar Story: Weather Forecaster Joe Bastardi Eternal Love With Wife | Family Status Now
She has contributed 26 years of her life with the Weather Channel. She is popularly known for her grandeur experience as a meteorologist for the 11Alive in Atlanta, Georgia. She is one of the 11Alive Storm Trackers Meteorologist, alongside led by Chief Meteorologist Chris Holcomb.