Entertainment
Is Metro Boomin Age 25 Still With His High School Girlfriend? | Tour Dates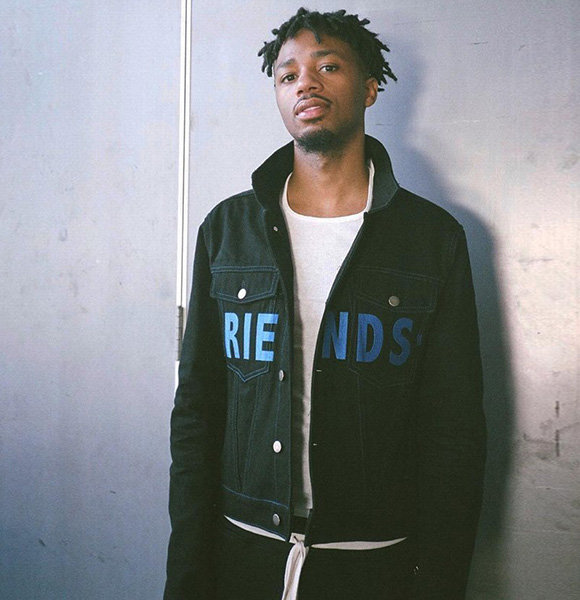 The music industry is blessed with another gem Metro Boom who is an American record producer and songwriter. While Metro had his hands in the industry since he was in high school with his progressive career, he has been regarded as the most "in-demand hitmakers in the world." 
With his prominent and vivid voice in the rap, Metro has garnered tons of admirers for himself who are more eager to know the romance that he shares currently. While most of his followers are acquainted with his high school romance, hardly any of them has any idea about the love that he now shares. 
The current matter of interest among his fans is regarding the relationship that he once shared with his girlfriend. 
Still Dating High School Girlfriend? 
Metro Boom, whose real name is Leland Tyler Wayne, is best known for his successful recordings with artists Migos, Savage, Future, 21 Savage, and Gucci Mane back during the mid-2010s. 
Right when Metro was taking steps towards his future as a musician, he shared a loving romance with his girlfriend Chelz Boomin. The relationship between the two began during late 2011 sometime around October of that year.
Take a look at: Lady Leshurr Dating; Plenty Partner Talks Suggests Boyfriend, Revealed?
With their budding romance, both Metro and Chelz were open about the love that they shared. They often tweeted sharing the insights on their relationship among their followers.
According to one of Metro's tweets, Chelz was his first and only girlfriend in high school. He often mentioned Chelz as his girlfriend but he officially revealed the relationship only in July 2012.
Back then, they had been together for six months and had been cherishing each other's presence to the fullest. Likewise, the pair carried on with their romance and was public about the relationship that they shared.
Months later in January 2013, Metro admired Chelz for being by his side. He expressed his excitement through the tweet divulging his love for her. He wrote,
"OH MY GOSH I LOVE @_CottonBall_ MAN THAT'S MY GIRLFRIEND MAN SHE A RIDER MAN AWWWWW MAN. OH MY." 
On the other hand, even Chelz was vocal about her love for Metro. She too posted a picture of him while reminiscing the moments when they had lunch together.
Adding to their moments together, the pair even made a cake together. On April 2015, Metro posted a picture with his girl standing beside him holding the cake. He captioned the picture writing, 
"Me and bae @_cottonball_ made a cake today"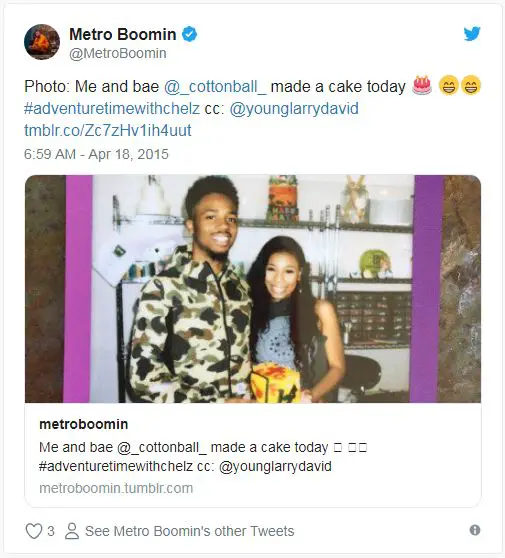 Metro Boomin's post with high school girlfriend Chelz. (Photo: Metro Boomin's Twitter)
The couple went along with the relationship for almost four years. They were last seen together in 2015 and since then neither Metro nor Chelz has made any posts regarding the romance that they shared.
Discover: Proud Gay Kevin Abstract Dating Bliss - Boyfriend With Sharpest Jawline
Their silence led to speculations that the pair might have parted ways. As there has been no statement from either of them the reason of them parting ways is still a mystery. 
"Retired From Rap", Tour Dates
Metro Boomin, who is also a record executive, has been climbing the rap's rank since high school. He started composing his own beats since the early age of 13. Just when he was in the 11th grade, Metro traveled all the way to Atlanta to pursue his career in music.
Since then, the Ric Flair Drip singer has been releasing his hits songs making a place for himself in the world of music. In June, he even launched his own label Boominati Worldwide forming a partnership with Republic Records and Universal Music Group. 
As of recent, Metro, who has a massive net worth of $8 million, announced that he would be retiring from rap posting the news through a story on his social media. He teased his retirement on the Instagram story as he wiped his account clean of pictures he had previously posted.
He even updated his bio writing 
"Retired from rap."
More From Liverampup: Queen Latifah Former Girlfriend Pregnant; Has Anything To Do With It?
However, long after the announcement, Metro had booked tour dates till September. Even though it is not known how true the news of the retirement is, Gucci Mane offered Metro $1 Million cash to come out of the retirement just for a day.