Entertainment
Michael Boulos Bio: Tiffany Trump New Beau, His Age, Ethnicity, Family
POTUS Donald Trump's "shithole country" remark about African nations in January 2018 didn't go down all too well with the officials of the stated nations, Nigeria included.
As fate would have it, the 45th President of the United States had the onus to welcome his daughter Tiffany Trump's latest love interest, who just so happens to be from - wait for it - Nigeria to the White House over for Christmas dinner.
Coming from a wealthy family, Michael Boulos - Tiffany's beau - the man, who made the sitting US President the laughing stock of the world is a popular name back in the African continent. Delve into the enigmatic figure's biography to learn more including his age, net worth & ethnicity!
Michael Boulos Bio Unveils Age & Ethnicity; Family's Net Worth In Billion
Before gaining notoriety as the Tiffany Trump's boyfriend, Michael - whose family migrated to Nigeria from Lebanon before his birth - was an established name back in his native homeland because of his family's wealth.
Born and raised in Lagos, he along with his brother Fares - best recognized by his stage name Farastafari - led a life of luxury while growing up, all thanks to their family's generational wealth.
The Lagos Nigeria-native's father, Massad Boulous spearheads the Nigeria-based businesses: Boulos Enterprises and SCOA Nigeria -- a transportation service company and an equipment supply business respectively.
Bio You May Like:- What Is Rachel De Barros Age & Net Worth? "All Girls Garage" Star's Bio
Although there seems to be no definitive figure to outline Bolous family's fortune, it's likely that Michael and the co.'s net worth is atleast in billions.
Currently based in London, England, the heir to his father's multi-billion dollar business - who is of Arab-American ethnicity - finished his college education from the City University of London by studying Management Finance & Risk.
Now pushing 40 years of age - judging by the recent photo with his girlfriend Tiffany - Michael looks all set to hoard all the limelight because of his association with America's first family.
Tiffany Trump's Father Hosts Michael Boulous In The White House
Going by his girlfriend's father's blatant critique of his homeland, one would expect Michael to hold resentment.
On the contrary, the relationship between him and Donald couldn't be better. Following the 2018 Thanksgiving celebration, which saw the duo meet each other for the first time, a source claimed:-
"Tiffany is happy she has so far been able to keep things with Michael under the radar. But she introduced him to her family at Thanksgiving, and he comes across as a very intelligent young man from a great family. There was no mention of the president's unfortunate comment about African nations."
Any rumors suggested that Michael and his love interest's father didn't get along well was put out swiftly once Tiffany shared a snap of them - what seemed like from a Christmas celebration - at the White House.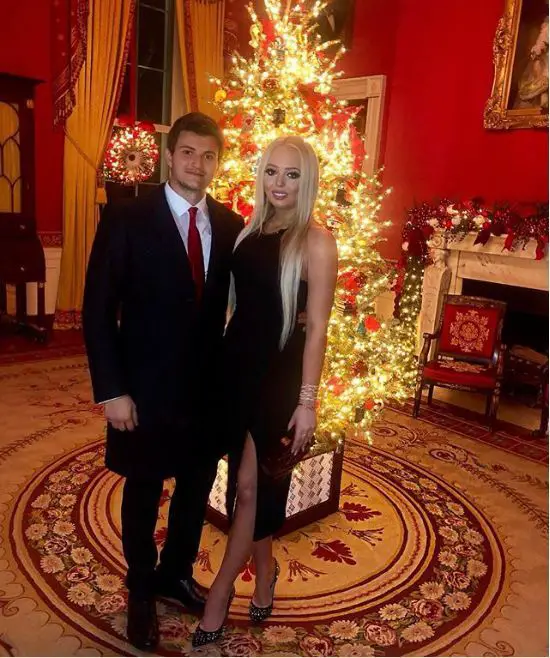 Michael and his girlfriend, Tiffany celebrate Christmas at the White House (Photo:- Tiffany Trump's Instagram)
At the time when Michael and Tiffany got introduced to each other, the latter was still reeling from the breakup from her longtime ex-boyfriend & college sweetheart, Ross Mechanic.
Donald Trump Related:- Political Column Pat Buchanan Wiki: Trump Talks, Books, Net Worth & More
Although the smitten couple has opted to keep their romance as lowkey as possible, they made a rare public appearance in September of 2018 when they attend the Taoray Wang show in New York Fashion Week.
Since meeting at a party via mutual friend Lindsay Lohan in Mykonos, Greece in the summer of 2018, the lovebirds' relationship continues to blossom into an adorable bond right before the prying eyes of America and beyond.