Entertainment
Mike Colter Finally Responded to the Criticism Regarding His Personal Life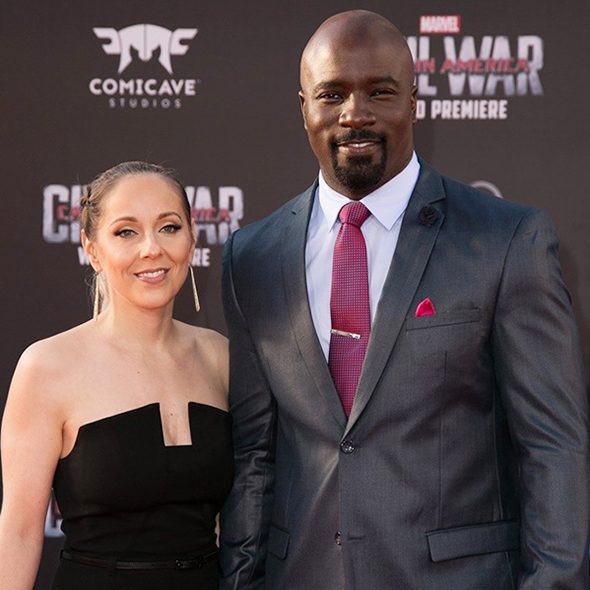 Quick Information
Wife/Spouse

Iva Colter

Eye Color

Dark Brown

Hair

Bald

Weight

N/A

Height/ How Tall? 6'3" (1.91 m)
College

Rutgers University

Net Worth

$2 Million (Estimated)

Dating/Affair

No

Gay

No

Wedding Date

2016

Divorce/Split

Not Yet

Date of Birth Aug 26, 1976
Relationship Status

Married

Daughter/s

Naiella Colter

Mother

Freddie Marion Colter

Father

Eddie Lee Colter Sr.

Ethnicity/Race

African-American

Zodiac Sign

Virgo

Birth Name

Mike Randal Colter

Profession

Actor

Birth Place

Columbia, South Carolina, United States

Nationality

American
Marvel's "Luke Cage" star Mike Colter faced criticism for his interracial marriage with his beloved wife, Iva Colter. However, he hasn't stood calm but instead has hit back at the criticism.
Mike Colter's Married Life - Wife & Kids
The criticism occurred when a photo of Mike and his wife Iva got shown on "The Wendy Williams Show." According to Madame Noir, some of the audience were not happy and stopped cheering.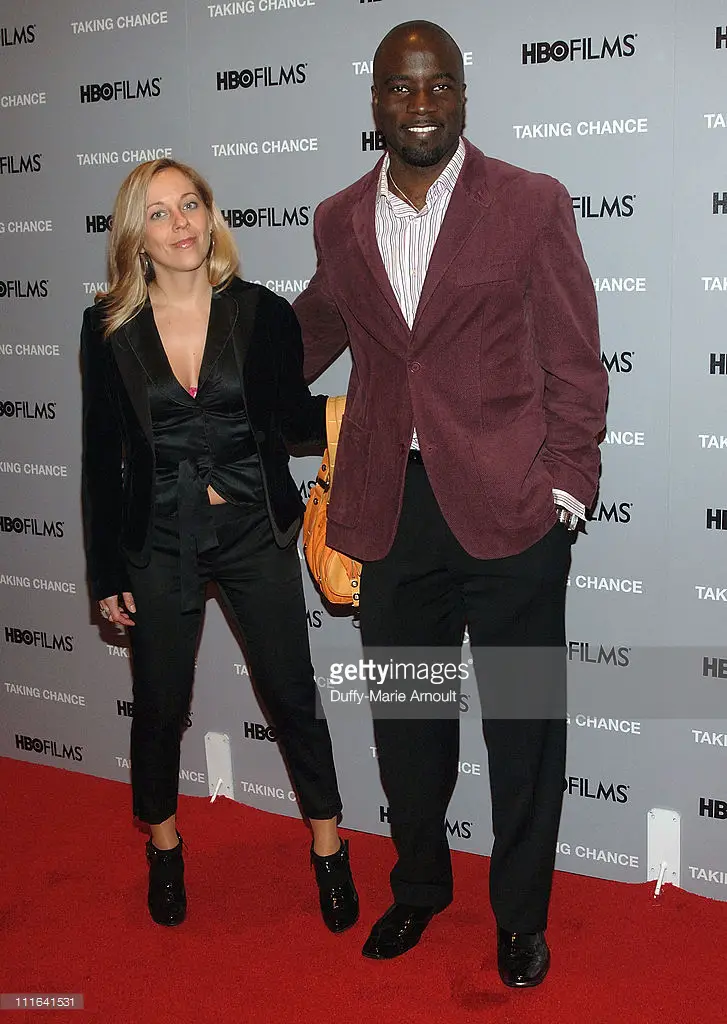 Actor Mike Colter and wife Iva Colter attend the premiere of 'Taking Chance' on 11 February 2009 in New York City (Photo: Daily Entertainment News)
Similarly, in the TV One poll titled "Luke Cage's Got A White Wife — Mad Or Nah?" 21% of the people responded, "Not gonna lie — I'm a little hurt."
In an interview on The Breakfast Club, Mike got asked about Wendy Williams's episode, where he responded to the criticism. He explained-
"I love my [African-American] sisters. People always go, 'Man that's his type.' If somebody caught a sista walking around with a 6'7″ brother, is that her type? Next week you see her walking with a short guy or Spanish guy — do we have to have a type? I'm a human being,"
Also, he added that the person should have inner beauty rather than physical beauty that will fade away as time goes on. He stated:
"I look at people for character and what's inside. Physically — that's one thing — but you gotta be on the same page. I met my wife when I was struggling in grad school. She stuck with me for 16 years. It's a long ways! She was with me and she's held me up many times, and I've held her up before. People don't understand [that] when it comes to being with somebody long term, it's way more than skin color that's gonna make it work. Love is love."
See Also:- Camila Nakagawa Bio: Father & Ethnicity Detailed - Personal Life Facts
Mike married his long-term girlfriend, Iva, in 2016, whom he met during college. Iva is now a Netflix executive. In a recent interview with elle.com, Mike discussed his feminist side, where he also spoke about his wife. He said-
"Yeah. I respond to women who have their stuff together, who are in charge, who don't need men to do things for them."
He further added;
"I want a woman to have her own thing, you know? My wife is very smart, she's got a doctorate degree, she's got her own career going, she doesn't need me to take care of her. I respond to powerful women. I'm not intimidated by that, I like that, it's not something I shy away from, so I don't want women who are looking for me to take care of them. To me, that's a turn-off. I respond to strong, powerful, independent women."
Mike and his wife Iva have a baby daughter together, who was born in 2015. The handsome hunk himself gushed about his daughter in the show with Wendy Williams.
The Luke Cage actor seems to be very concerned about the privacy of his personal life, especially regarding his daughter, as no picture of his daughter is flashed in the media.
Wife Pregnant With Second Child
Mike Colter and his wife, Iva Colter, then became pregnant with their second child.
The actor announced the happiest news on 21 June 2018 and also gushed that the couple was delighted and nervous simultaneously. He also revealed that Iva was six months pregnant. 
"It's a new member of the family. While it will shift focus for us again, Niles will probably be affected the most, so we are making she sure feels comfortable and excited with the change."
He added that they were looking forward to having another girl, so they were excited about it. The baby announcement was revealed a day before season two of Luke Cage was slated to hit the Netflix.
After the news about their new member aired, fans also took to Twitter to congratulate them. Some also envied their relationship by stating Iva to be the "luckiest woman in the world."
Baby Bliss!
Mike Colter and his wife Iva's married life changed as the duo welcomed their second child (also a second daughter) in October 2018.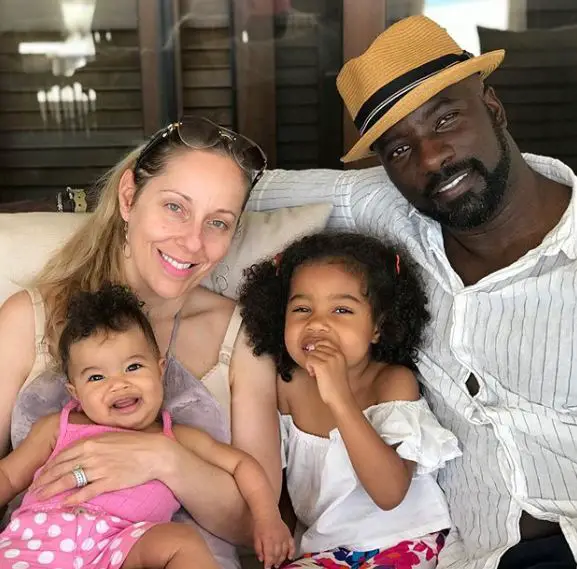 Mike Colter and wife Iva Colter with their daughters circa June 2019 (Photo:- Mike Colter's Instagram)
Sharing the news via Instagram, the former Jessica Jones actor shared an intimate snap of himself and his youngest daughter. The post also doubled as an important announcement.
Father Of Two:- Carlos PenaVega & Wife Pregnant With Second Baby! Another Kid En Route
While thanking Marvel and Netflix for letting him portray the role of Luke Cage, Mike shared that the beloved series wouldn't return for another season. Towards the end of the lengthy caption, he expressed optimism as he wrote:-
"As one door closes, another has opened, with the birth of my 2nd daughter..."
True to his words, a plethora of projects lined up in 2019 for Mike. As of August 2019, projects starring him, such as Black and Blue, Fatale & America Is Still The Place is in post-production. So was the TV series Seis Manos. Around the same time, he got cast in the pilot for Evil.
Workout, Interviews & Net Worth
However, Forty-years-old-actor has not maintained privacy in his professional life. The leading black superhero from Terence Crutcher and The Defenders, Mike Colter, has appeared in several movies.
And with good looks, a well-toned body, and natural acting skills, he has established himself in the industry. According to Celebrity Net Worth, Mike has accumulated a net worth of $2 million.
Also Read:- Luann de Lesseps Got Criticism From Co-Stars of "The Real Housewives" About Getting Married
Mike Colter has received not only praise for his acting skills but also for his physique. There are rarely such interviews where the hosts don't question him about his body and workouts. While playing the title character in the Netflix series Luke Cage, he gained 35 pounds of muscle to play the role.
He discussed his body and exercise in detail in an interview with Mensjournal. Fans wishing to develop a body like a Mike can follow the exercise regime suggested by a two-time Olympian athlete, Nick Katlin.